A Landscape Architect's Perspective
Introduction
You may be wondering, what is landscape ecology? Landscape ecology refers to the study of how ecosystems within a defined region interact with one another and how these interactions influence ecological processes.
As a layman first and then a landscape architect, I have always been fascinated by the outdoors and the interaction between natural ecosystems and the land, as well as the impact of factors such as air, water, and human intervention on nature. The study of landscape ecology is essential in understanding these patterns and interactions, and how they affect ecological processes.
Unfortunately, as humans we have often exploited nature for our own gain, leading to environmental degradation. However, as a landscape architect, I am constantly exploring ways in which we can contribute to protecting the environment for the benefit of current and future generations. It is crucial that we all take responsibility for our actions and work towards preserving natural resources for a sustainable future.
Pune and its Diversity
The rich biodiversity of the city is attributed to its location in the transition zone between the Western Ghats (Sahyadri) to the west and the Deccan Plateau to the east. As a result, the city serves as a habitat for hills and forest species from the Ghats region and grass and scrubland species from the plateau area, attracting them to the region.
As a landscape architect, my experience with the city of Pune has been fascinating. At first glance, coming from a city like Mumbai, Pune didn't seem significantly different. However, I soon realized that Pune has much more to offer than what meets the eye. The city has been blessed with natural features such as lakes, streams, hills, recreational open spaces, and biodiversity-sensitive zones, all of which have contributed to the thriving flora and fauna.
Ecological hotspots
Pune is not only known for its vibrant and youthful culture but also for its abundance of natural features and ecologically sensitive zones. The city boasts many ecologically biodiverse spots, with some of the most prominent natural features being the Hills of Pune – including Parvati Hill, Vetal Tekdi, and Hanuman Hills – and the Rivers and Lakes, such as Pashan Lake and the Mula Mutha River, as well as birding spots like the Dr. Salim Ali Bird Sanctuary and biodiversity parks.
In this article, we will delve into the interaction between humans and nature in two of the most prominent ecological hotspots located in the heart of the city – the Hills (Parvati – Taljai) and Rivers of Pune (Mula-Mutha). We will explore what makes these areas ecologically sensitive, the impacts of human intervention, and what steps we can take to improve the situation and preserve these ecologically sensitive zones.
Hills of Pune
Due to its strategic location in the ecological hotspot of the Western Ghats, the city is endowed with numerous hills, which have resulted in a remarkable green cover. The ecology of the hills is characterized by a diverse range of flora and fauna, including several endemic and endangered species. Parvati and Taljai hills are two of the most prominent hills of Pune. During my visit to these hills, I got a glimpse of the rich culture as well as the vegetation and fauna of this place.
Parvati Hill is a popular tourist spot, situated in the heart of Pune city. It is a 2,100 feet high hill and is famous for its Parvati temple, which is a popular pilgrimage site for Hindus. The hill also houses several other temples and monuments, including the Peshwa Museum and the Samadhi of Nanasaheb Peshwa. The hill is covered with tropical and subtropical forests and is home to several species of birds and animals.
Taljai Hill is located in the southern part of Pune city and is known for its Taljai Mata temple, which is a popular pilgrimage site for Hindus. The hill is covered with a dense forest cover and is home to several species of birds and animals. The hill is also known for its medicinal plants, which are used for various purposes in Ayurvedic medicine.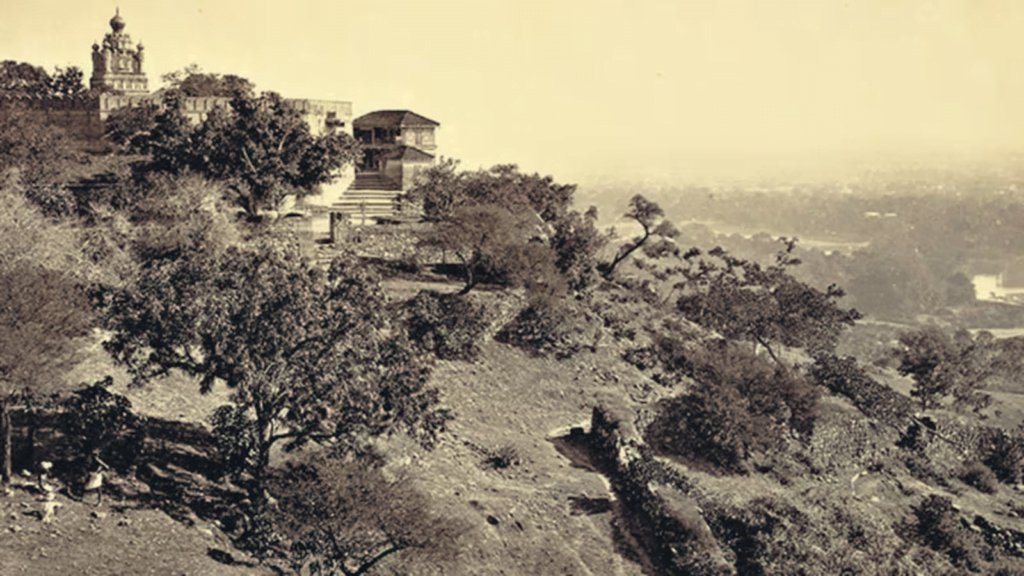 Rivers of Pune
Mula and Mutha Rivers are two major rivers that flow through Pune city. The river flows for about 50 km through Pune city and merges with the Mutha River at Sangamwadi. The river is a vital source of water for Pune's drinking, industrial, and agricultural needs. The river also supports aquatic life and is home to several species of fish, crabs, and freshwater turtles.
The Mutha River is another major river that originates in the Western Ghats and flows for about 45 km through Pune city. The river has been subjected to severe pollution due to the release of untreated sewage and industrial waste. The high pollution levels have led to a decline in the river's aquatic life and pose a significant threat to public health.
Role of a Landscape Architect
Landscape architects play a crucial role in preserving the hills and rivers of Pune by designing and implementing landscape plans that promote sustainability, conservation, and ecological restoration. The main reason for the degradation of these features is encroachment, illegal settlements, waste dumping, and discharge of sewage, which have led to the loss of vegetative cover, decline in the habitat of fauna, and in the river's aquatic life.
Why this Unit?
The Hills and River unit (consisting of Parvati-Taljai hills and Mula-Mutha river) is located in the core area of the city and possesses various ecological characteristics that shape its culture, biodiversity, and surroundings. These characteristics are interlinked through the presence of birding spots, parks, and other natural and man-made features. The unit is unique as it incorporates three essential elements – Land, Water, and Vegetation. Therefore, it is essential to examine the strengths, weaknesses, and threats posed to this unit and explore the opportunities it provides. This will enable us to develop effective solutions to conserve, strengthen, and implement landscape interventions to enhance the overall well-being of this ecological unit.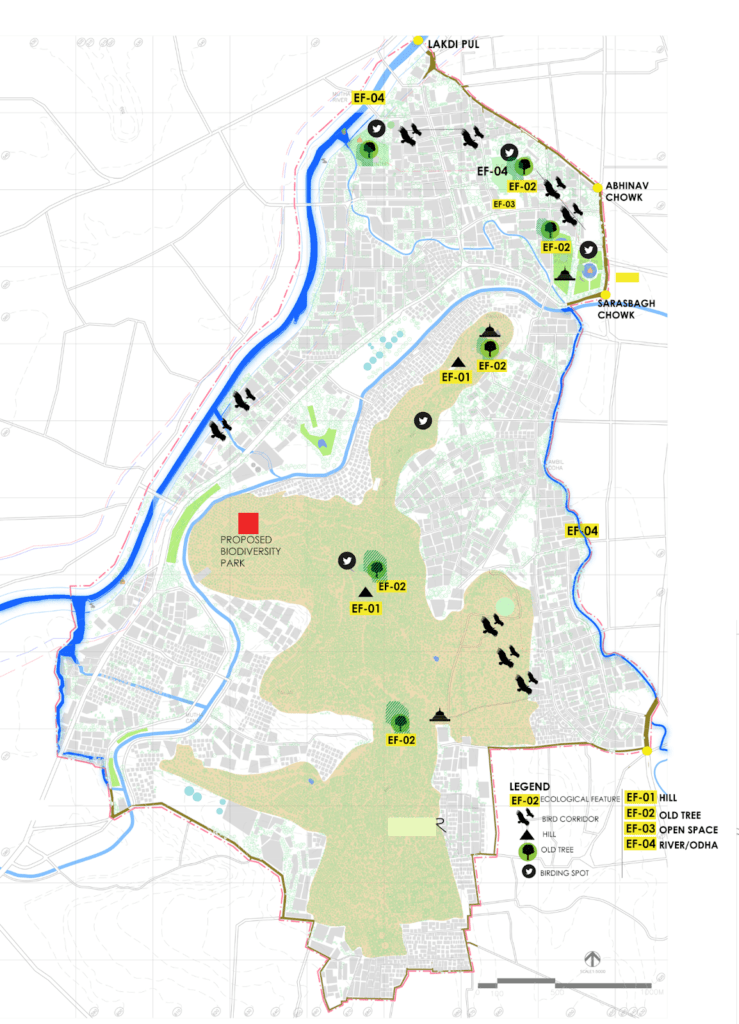 Analysis and Solutions
Unit Analysis
The Partis Diagrams, presented below, are representative diagrams showing the analysis of the unit. They emphasize the existing circulation, cultural, ecological, and landscape features of the unit. These diagrams aid in understanding the current natural and man-made conditions of the site and assist in identifying the unit's strengths, weaknesses, and opportunities.
Strengths / Values
Cultural – Temples and Monuments
Social – Jogging tracks, Visual connections, Recreational areas
Ecological – Biodiversity, existing old trees, dense vegetation, flora, fauna
Weakness / Threats
Encroachment
Non-native vegetation
Human interference
Channelization of river
Waste dumping & Pollution

Opportunities / Solutions
Preserve –
Forest on hills
Ecology of old trees
Birding Spot
Cultural significance
Designed landscape
Reinforce –
Cultural and Social Significance
Visual connections
River Edge
Bird corridor
Create –
Recreational areas along river edge
Buffer between hill and hill settlements
Visual pockets on hills
Creation of Biodiversity park
Circuits
What's next?
As a landscape architect there are many ways to analyze the current site situations through a critical lens with respect to ecology, conservation, sustainability and design. However, what can you do as a resident of the city or or someone with limited resources? It can be challenging to take action towards improving the wellbeing of the city and its natural features. However, there are several initiatives that can be taken at an individual level such as –
Plant Trees: One of the most effective ways to improve the environment of Parvati – Taljai hills and Mula- River is to plant more trees. You can organize a tree-planting campaign in your local area or neighborhood, and involve your family and friends in this initiative.
Organize Clean-up Drives: Organize clean-up drives in your locality, especially around the hills, to remove garbage, litter, and plastic waste. You can also educate people about the importance of keeping the environment clean.
Reduce, Reuse, and Recycle: Adopt the mantra of reduce, reuse, and recycle in your daily life. Reduce the usage of plastic, reuse items instead of throwing them away, and recycle waste products.
Spread Awareness: Spread awareness about the environmental challenges that the Hills and Rivers are facing, and educate people about the importance of preserving the ecosystem.
Volunteer: Volunteer your time and effort to local NGOs and organizations that are working towards preserving the environment. You can also participate in their programs and initiatives to help improve the situation.
Be a Responsible Tourist: If you visit the Parvati -Taljai hills and Mula-Mutha River, be a responsible tourist. Avoid littering, stay on designated trails, and use eco-friendly products.
Reduce Water Pollution: Take initiatives to reduce water pollution. Avoid throwing garbage or other waste products into the river. Use eco-friendly cleaning agents in your household and do not let the sewage directly flow into the river.
By taking these initiatives, we can all contribute towards protecting the environment and preserving the natural resources of Hills and Rivers of Pune.
Conclusion
In conclusion, Pune has several ecological hotspots which are facing several environmental challenges. These challenges include deforestation, soil erosion, pollution, and degradation of the ecosystem. Landscape architects can play a critical role in addressing these issues by developing solutions that balance ecological, social, and economic considerations.
To improve the situation, landscape architects can focus on solutions such as green infrastructure, urban forestry, biodiversity conservation, and sustainable water management practices. In addition to landscape architects, citizens can also play a vital role in protecting and preserving these natural resources by taking initiatives such as planting trees, organizing clean-up drives, reducing waste, spreading awareness, and volunteering with local NGOs and organizations.
Overall, by working together, landscape architects, citizens, and local governments can protect and preserve the ecological hotspots of Pune for future generations to enjoy.