A set designer is a person who designs and creates sets for movies, television, and theatre. Set designers use various aids to create scenes: visual script, thumbnail sketches, detailed sketches, and scene models.
The crossover of Set design and Architecture
Common traits
Both architects and set designers use flat two-dimensional construction drawings to convey the content of the three-dimensional structure. Set designing has a similar ability, which can trigger specific emotions and create a mood through the use of perspective, space, proportions, light, color, details, and proportions. It helps define the role and promote the ideas of the playwright.
The Differences
Unlike architecture, set designers must consciously create a short-term, mobile, and non-rigorous architectural environment, and usually only observe from one direction. Theater sets do not need to have complete integrity in the structure they represent. The set designing and lighting create a three-dimensional illusion, which can manipulate time and place. The public will not go through the room to experience the quality, proportion, mood, and emotion created by their space. The set designer developed a world for the play, and the world became a real construction project, finally presenting the world they imagined to the audience.
How to proceed?
Research
The first step in starting any career should be research and brainstorming. Before embarking on any profession, it is important to understand its pros and cons. Creative careers like set design and architecture require a lot of effort and time. It's even more difficult to change specialization. Therefore, it is important to conduct a thorough investigation and consult with the people associated with these occupations.
Strengthen the skill set
Every profession requires a set of skills. It is very important to list them and work harder to take up a successful career. Here are some of the skills that are preferable in set designing:
Artistic knowledge
Design skills and knowledge
Deep and meticulous, attention to detail
Ability to use initiative
Ability to cooperate with others
Accepting criticism and working under pressure
Excellent oral communication
Skilled in computers and knowledge of working in major software packages with confidence
Institutions that offer related courses
Ramesh Sippi Academy of Cinema and Entertainment, Mumbai
Film and Television Institute of India, Pune
National Institute of Design, Ahmedabad
Gain professional experience
You can start with a set designer's assistant, an intern in the art department, a prop maker, or a runner in film or television, and then gradually improve. You need to find practical experience and build your portfolio of design work to show off to potential employers. You can gain relevant experience by participating in the following activities:
Theater or cinema for students
Local or community theater for amateurs
Independent low-cost cinema
Renowned Set Designers
Sabu Cyril
Sabu Cyril is an Indian film art director and production designer, mainly engaged in Hindi film work. He has also worked in Malayalam, Telugu, and Tamil films. He won the Best Production Designer category at the National Film Awards for his films "Enthiran", "Om Shanti", "Kaalapani" and "Yuva". He also won several Filmfare Awards for Best Art Direction for his films Anniyan and Hey Ram.
Nitin Desai
Nitin Chandrakant Desai has raised the art direction and set design standards for the Indian entertainment industry. His career began when he helped the famous art director Nitish Roy star in the soap opera "Tamas" (1987). It was released under the direction of Vidhu Vinod Chopra, 1942: Love Story. He is widely regarded as a master of setting scenes for period dramas. He has won the National Film Art Director Award in Hum Dil De Chuke Sanam (1999), Dr. Baba Saheb Ambedkar (2000), Lagaan (2001), Devdas (2002), admirals of Filmfare, IIFA, and Screen Awards, including the Maharashtra Film Award for Harishchandrachi Factory (2009).
His other famous works are Akele Hum Akele Tum (1995), Vijeta, Maachis (1996), Pyaar Toh Hona Hi Tha (1998), Mission Kashmir (2000), The Legend of Bhagat Singh (2002), Munnabhai MBBS (2003) ), Mangal Pandey: The Rising (2005), Lage Raho Munna Bhai (2006), Gandhi, My Father (2007), Jodhaa Akbar, Fashion (2008) and Once in Mumbai (2009). These 2018 projects include Farzand's Digip Lanjekar, a drama based on the life of Kondaji Farzand.
Sharmishta Roy
Sharmishta Roy is an art director and set designer who has won a three-time Filmfare Award for Best Art Direction. The super talented art director also has a national award in her award-winning repertoire; won the award for his work on Meenaxi: A Tale of Three Cities (2003).
After her debut as a freelance art director, Yeh Dillagi (1994) has appeared in more than 30 movies over the years. Some of her famous works as an artistic director include Dilwale Dulhania Le Jayenge (1995), Dil To Pagal Hai (1997), Kuch Kuch Hota Hai (1998), Mohabbatein (2000), Koi Mil Gaya (2003), Ta Ra Rum Pum (2007) and Ok Kanmani (2015). In addition to the art direction, Sharmishta Roy has also served as a production designer for many films and has performed in Meenaxi: Tale of 3 Cities (2004) and Bunty Aur Babli (2005).
David Rockwell
American architect and designer David Rockwell is the planner of adult playgrounds. His creations cover high-end restaurants, luxury hotels, penthouses, cultural institutions, and dazzling theatrical setting designs, which have a clear hedonistic nature and cater to hedonists from all over the world.
Frank Gehry
The architect Frank Gehry used 80 rolls of paper to transform a place that is not suitable for theatrical performances. Architect Frank Gehry filled the stage with crumpled paper for Mozart's opera "Don Juan" recently produced. The performance was held at the Walt Disney Concert Hall in Los Angeles, which was designed by Gehry and opened in 2003. Scattered among the crumpled papers, the white platform can be moved, forming a massive staircase in the center of the room of the concert stage.
The orchestra surrounds the performance from behind rather than in front, drawing the audience closer to the action. Architect Frank Gehry inserted a theater at the bottom of a tower in New York City.
The architectural set design in Indian cinema
Bajirao Mastani
Set in the 17th century, the love story of Bajirao and Mastani in Marata has an impact on the architectural set design. A set designer for the film Sujeet Sawant spoke about the hard work behind the huge set. He told the basic task given was to create the magnificence of Maratha. The series has been studied for 89 years and a total of 23 ensembles have been created. The most difficult task is to create Shaniwaar Wada in Pune that no longer exists.
Now it is just a ruined room, and we must extract from the ruined room how it looked in the 17th century. They created this complete wada in the movie city of Mumbai to shoot 3 courtyards."
Discussing the set design work, Sujeet told that there were 500-600 people working every day 45 days per stage.
The Great Gatsby
The architectural set design of this movie is inspired by Art-deco. The design of the house is based on the great houses of the early 20th century on the north shore of Long Island-Oheka Castle, La Selva, and the lighthouse. The design of the residence is based on the great houses of the early 20th century on Long Island's North Coast: places like Oheka Castle, La Selva, and the lighthouse.
Although Gatsby's bedroom has traditional arched windows, the decor is the latest 1920s charm, with polished wood, harlequin silk wallpaper intertwined with wood ribbons, and Martin-designed gray and gold Art Deco rugs. The magnificence of Gatsby's mansion is in stark contrast with Nick's neighboring residence, which is considered a cozy country house.
Outside, a porch with an Adirondack swing overlooks flower beds and small lawns, while Stickleyesque furniture, quarter-cut oak beams, and moss-green tiles evoke an atmosphere of art and craftsmanship inside. "This is to find what we think is the typical pattern of Long Island," Martin explained and materials that reflect Nick's innocent nature. Then there is a Georgian red-brick mansion, where Nick's cousin Daisy and Gatsby's obsessive Daisy lives with her unfaithful husband Tom.
Partly inspired by the Old Westbury Gardens on Long Island, this home (its exterior was built in a recording studio and added digital enhancements) immediately conveys the state of establishment. Martin said that the luxurious Hollywood Regency and decontamination furniture in the living room, contemporary art, and formal gardens are designed to "contrast Daisy with the new money fantasy Gatsby." The details and craftsmanship are awe-inspiring.
Bahubali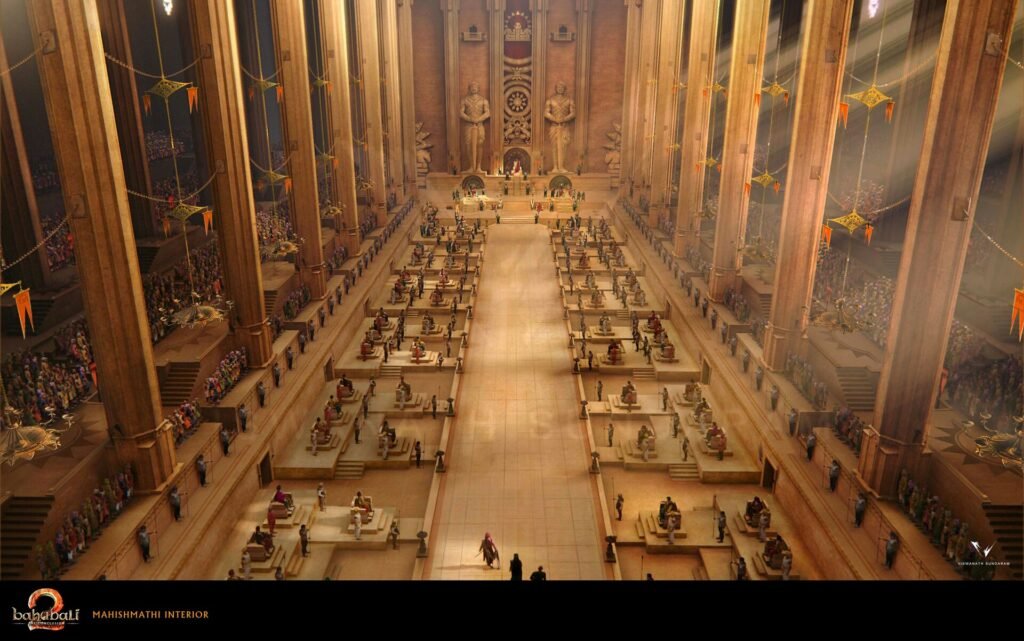 Sabu Cyril talks about the hard work and details of creating SS Rajamouli's fantasy epic. The film has a heavyweight Telugu cast and extensive use of CGI, but one of the most compelling aspects is the evocative scenes of Cyril. They include waterfalls that reach into the clouds, the kingdom of Mahishmati, and exquisite weapons and accessories. Waterfall dominates the opening shots of the film, featuring the character of Bahubali, trying to conquer the water wall and the water source mountain.
When Baahubali balances with one hand next to the rock and dances on the rock like a goat, the question arises as to how much of the rock surface is real and how much is the result of a computer-generated illusion that extends its height. "We photographed the waterfall in Kerala, and 30 meters is real," Cyril revealed. "We recreated 8 slices at Ramoji Cinema City and combined these slices with actual waterfalls." Fibers were used to simulate rocks, and a huge water tank deployed five high-pressure pumps to make water flow over and over again. The water is recycled throughout the shooting process.
There were other wonders beyond the waterfall, such as valleys full of flowers and frost. Cyril told they imported 6 million rupees worth of artificial flowers from China. Another key part was the Mahishmati Kingdom and its palace, which features penis statues and multi-layered structures with subtle but intricate carvings. The production design was extended to accessories such as thrones, weapons, and armors. For example, the metal inlay on the throne emphasizes its robustness, while the lines of the armor are simple and bold to highlight its liveliness.