Introduction
Trends in home décor have changed, and urban architecture design has taken the front seat. Its popularity has grown over the years and has gained much attention from many new homeowners. This is mainly because of its minimalistic yet impactful designs. It holds a sophistication that you can achieve in any home.
Urban architecture is all about making any space functional with an industrial look. There's a particular comfort aspect that's taken into consideration. After all, the idea of urban design is to borrow, not duplicate, the city life and industrial designs.
Developing a sense of urban architectural design is as simple as the idea itself. Continue reading to find out how you can turn your home into a place that's simple, contemporary, and a place of comfort, with a clean industrial finish.
Flooring and structure in Urban Architecture
Wood, brick, metal, stone, and concrete are stapled materials used in urban design. Having any of these materials be part of the floor, wall, or frame will instantly switch up the place and bring that urban design element to your home.
Adding decking and an open room to a portion of your backyard to complement your home's interior is good. It allows you to blur the lines of your interior and exterior spaces. This represents the idea of continuity and utilizes and stamps on the notion of the homey industrial look.
Contrast in colours
Urban design is also all about contrast. It involves contrasting sizes, textures, saturation, and materials.
Use warm and neutral or low-saturated cool colours to add a subtle pop to your living spaces. It's not about taking an industrial design into your home but taking the design and making a home. The area or room determines the type of urban feels, such as having more calming and casual elements in the bedroom and more lively and contrasting elements in the living room.
Add warm, vibrant paintings against a dull grey or cool brown background. Vibrant flowers placed in a grey, black, or even steel, glass, copper, or bronze vase can add the perfect contrast. A good rule of thumb while deciding what colour you should pick that doesn't become an eyesore to you and visitors is to use warm colours on selective things that are there to draw attention.
Contrast, but make it urban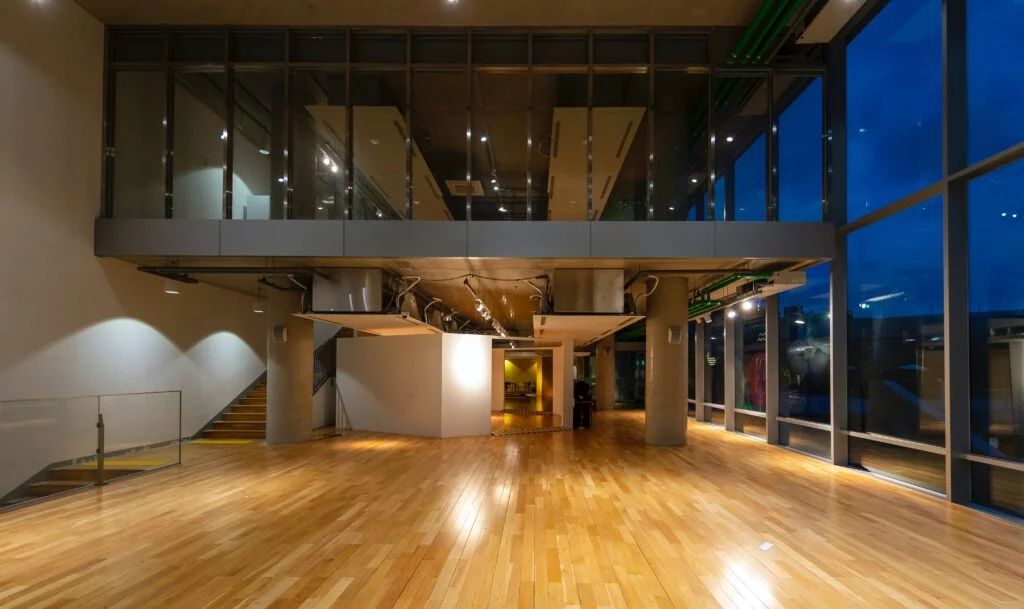 Allow the more significant items and elements like furnishings, walls, flooring, and, in most cases, the room's rugs to adopt more neutral colours. Then allow the more minor and removable objects to give the room more life with their warm colours. The warm colours bring the right amount of warmth and welcome to a conventional urban design. Use it to create the perfect pop for a room.
It's not to say that the smaller objects should always be warm. However, when contrasted with something dull, even a neutral-toned contemporary decoration piece can bring interest to a room.
For that perfect industrial style look, choose wood or stone flooring. It's hard to imagine marble or tile flooring in a warehouse. Nothing says industrial-like open spaces and cold floors. Building a loft to occupy some high ceiling space and adding a new area for you to design is a good idea.
Make it comfortable
The style, patterns, and décor should remain abstract and sleek, and furnishings should be soft and cozy. This is where contrast comes into play again. You can put soft, fluffy throw pillows, cushions, and a fleece over a full-looking sofa with plush shag rugs to add comfort and contrast. Choose things that can soften and add to the comfort of a rather harsh, sculpted structure.
Play with scaling
Unlike the classic minimalist look, urban architecture is there to make a statement. A great way to achieve this is through scaling. Think plush soft bedding and pillows surrounded by sleek furniture or a big extravagant chandelier over a minimalist staircase. Your home is an empty canvas full of numerous possibilities.
Urban design architecture is, at the core, an industrial look. However, it is not as aggressive as the eyes. Colours should stay at 30% and 70% in contrast to each other. This allows more emphasis to be sprinkled around a room. You can keep it simple, sleek, and modern, but soft and comfortable. Play with contrast, but keep it simple. Spaces should remain minimalistic without the possibility of adding clutter. Have talking points in every room with something that makes a statement. It is for the best that you don't go overboard with it. An eye-catching painting or hanging light fixture would do the trick quite nicely.
We hope this article proves insightful and inspires you to try urban architecture ideas for your home.