The word "facade" has both direct and figurative meanings. The literal meaning is the exterior or side of a building, usually at the front and including the front door. This literal meaning gives rise to the metaphorical meaning of the false facade. The image expands into a world that obscures what is hidden behind it. Facade comes from the French word facade, from the Italian facciata meaning the facade of a building, and from the Latin faccia meaning "face".
Architecture is the art of closed or defined spaces intended for human use. And, like all forms of art, it expresses and states meaning. The facade treatment of an architectural work is the face of the building. This is the most familiar and recognizable part, the first sentence people encounter, and the image we associate with the building. Architectural facade treatments may also have a functional purpose of protecting and supporting the building structure and conserving energy within.
Characteristics of a Facade
A facade treatment includes all exterior design elements, along with the components needed to anchor or attach to the building facade. Some architectural styles, such as the Art Nouveau movement of the late 19th and early 20th centuries, feature very ornate facades of organic form, reminiscent of complex plants intertwined with human figures. As industrialization progressed, Art Nouveau tried to return to beauty, especially the natural flowing lines of plants.
Other styles, such as the Bauhaus School of Design (early 20th century), feature very simple geometric facades with no ornamentation and focus on function and simplicity as the most appropriate aspects of contemporary design.
It often includes a building's most prominent entrance and specific design or functional features that may include:
A window that can vary from function to decoration or have both uses (window is the design and arrangement of windows within a structure from the Latin fenestra meaning window)
Decorative sculptural elements using people and figures of nature or abstract design.
decorative railings and edges
Cornices, awnings and cornices to protect and decorate entrances and windows
Use of color via app or natural source
Different Types of Facades
A building can have one of several types of elevation treatment, depending on its design and construction type. A facade can become an integral part of the rest of a building, or it can be used for less functional and decorative purposes.
Main facade types are:
Light: a facade that adjoins the facade of a building and does not support the structure of the building, i.e., glass or metal; It is mainly used for decorative effect and energy efficiency.
Heavy Weight: A facade weighing at least 100 kg per square meter, often supporting or supporting its own weight.
Prefabricated Facades assembled from prefabricated modules (often using wood or concrete panels) for low assembly speed and low cost.
Traditional: Facade using the same building materials as the rest of the structure.
Lightweight facade treatment
This is a type of facade treatment that adheres to the resistant structure of the building but does not form part of it. Since it does not contribute to the stability of the building, the lightweight facade needs to be designed to support the loads that place stress on its components. The materials that are normally used for cladding include glass and metal. There are two types of construction for lightweight facades: curtain wall and panel facade.
With a curtain wall, the facade passes continuously around the framework of the structure, whereas with a panelled facade the framework interrupts the facade. Some particular advantages of the lightweight facade system are the ease of installation and the amount of light it lets into the building. Compared with other types of facades, lightweight facade design provides less heat and sound insulation, and they have higher maintenance costs in the medium and long term. This type of facade is mainly installed in medium and high-rise office buildings.
Heavyweight facade treatment
As its name shows, this type of facade is made up of construction materials of considerable weight. For a facade to be heavyweight, the average weight, including the solid and hollow elements, must be above 100kg per square meter. Within this category, we find different facades which, depending on the thermal insulation needs, may be loadbearing or self-supporting and may or may not have an air chamber.
Prefabricated facade treatment
This type of facade treatment is mainly formed from prefabricated modules that are connected or assembled together in the field. The components of this facade are manufactured industrially in highly mechanized factories, often using wood and concrete panels. The major advantages of this type of facade are speed, ease of installation and low cost compared to other systems. The downside is that it has more limited design options and requires minimal work to make it viable. Prefab facades are commonly used in industrial plants and large shopping centres.
Traditional facade treatment
This classification includes facade design using traditional building materials such as brick, stone, wood, ceramics, plaster, etc. The advantages are that it is easy to build, quick to install, and low in cost. On the other hand, classic facades provide less heat and sound insulation because there are no air chambers or insulation, resulting in less energy savings.
ETI Systems
An Exterior Insulation (ETI) system comprises installing a sheet of insulation throughout the building, which is protected with mortar and glued or mechanically secured to a load-bearing wall. The system is then complete with a cladding or finish that matches the aesthetics of the property. The materials most commonly used in terms of thermal insulation of ETI systems are expanded polystyrene (EPS), extruded polystyrene (XPS), graphite polystyrene foam (EPSG) and mineral wool (MW). The ETI system has an insulating layer, reducing the risk of thermal bridging and condensation. The is therefore an option that offers a good level of efficiency for the price, as no cost is required for the framework system.
Rainscreen cladding
Rain screen cladding or ventilated facade treatment comprise load-bearing walls, an insulating layer, and cladding material that is attached to a building as a load-bearing structure. The major difference between this system and the ETI system is that there is an air hole between the bearing wall and the cladding material. Although this system is more expensive and difficult to install, it is an economical option in most cases because the air gap provides many of the benefits of a rainscreen cladding.
The "chimney effect" that occurs inside the air vents means that hot air rises and leaves through the top of the facade. In summer, this natural convection means the air is regenerated to prevent overheating. In winter, the air does not warm up much and stays inside the house. Because heat does not escape, it contributes to energy saving because of heating. Facade cladding also helps reduce the appearance of cracks and cracks in the building, as it provides an additional layer of protection against condensation and water intrusion and is less susceptible to temperature fluctuations.
Other types of facades
Curtain facades
Curtain wall can provide a more free and dynamic flow in architecture. These elements are usually designed to protect interiors from the sun's rays or provide visual privacy, but are also used as decoration or room dividers. Because of their mobility and flexibility, curtains are becoming a popular choice for architects and interior designers, creating layers between indoor and outdoor spaces to transform the environment with light and shadow. Here we've put together some examples of projects that use curtains, especially curtains for facades, to show you how this decision can affect your overall design experience.
It is difficult to make a building less rigid, but lighter materials like fabric can add more movement and new possibilities to a facade. But lighter elements such as fabrics can add more movement and possibilities to the facade, such as at Brandlhuber + Emde, Burlon + Muck Petzet or at the Terrassenhaus Berlin designed by Casa Lara, a canvas by Felipe Hess. Curtains on the top floor adorn the volume containing the water tank and barbecue.
Other examples include PopIn, PopOut, and PopUp. A folding outdoor cinema in Venice with an adjustable curtain mechanism that changes proximity by directing visibility of activity from inside to outside. Speaking of privacy, the Chapel of Silence has curtains that adjust its intimacy with the outside world according to the needs of its visitors. You can close the curtains completely to create a more personal atmosphere for prayer, or open them all the way to connect with nature.
In Australia, architect Matt Gibson Architecture + Design has designed multi-height canopies and extensions for HiroEn homes by simulating sun and shade to welcome the northern sunlight while accommodating exterior curtains that block heat and glare. West. A stainless-steel woven mesh curtain completely wraps around the north and west perimeter of the outdoor patio, protecting the home from rain and providing sunscreen on hot days.
Curtain wall is often used for installation because of their lightness and transparency. Used, for example, in AntiRoom II, where flowing fabric soars and enhances the destabilizing effect, or in the "Behind the Wind" pavilion with colourful and playful clear plastic curtains. It changes the environment on the floor by reflecting different colors.
Facade design of curtains expands design possibilities and adds movement to architecture, but above all, they can have an enormous impact on the interior feel of a building. There are a myriad of fabric and texture options that stand out in design, but for appearance, it is important to choose a low-maintenance material that is durable, weather-resistant, and fire-resistant. Longevity and safety of the project.
Perforated Enclosures
Perforated wall panels offer several advantages. Passive ventilation, shade and can provide a unique aesthetic to any facade. For companies like DriDesign that specialize in custom and sustainable metal wall panels, perforated panels can be produced in a wide range of specifications, including a variety of colors, materials, sizes, textures, shapes, and perforated styles. The DriDesign perforation series also allows architects to imprint the appearance by changing the size, location and density of perforations.
American AG Credit / TLCD Architecture
The American AG Credit building, which was designed in 2016 in Santa Rosa, California, uses perforated zinc panels across its curvilinear three-story facade. The perforations, in combination with bands of tall glass windows, take advantage of views of the California landscape while simultaneously modulating the sun to filter the daylight and heat. To complement these naturally functional characteristics of the perforated facade design, the architects also implemented sustainable daylight harvesting systems, roller shades, and a displacement ventilation system.
Previously, the panels were specifically called DriDesign perforated wall panels with a thickness of 1mm using VMZINC Pigmento Red material. The colors are warm and modern, harmonious with both the building's environment and the design aesthetic, and the perforated panels give the facade a unique lightness and transparency. However, the zinc material was chosen not only for its aesthetics but also for its functional properties.
It has a longer lifespan than other building materials because it forms a natural protective layer over time and can be recycled indefinitely. For this reason, zinc is a sustainable, low-maintenance option. The customer installed 48,198 square feet of panels using the company's fastening system that allows panels to be installed on curved exterior walls.
The Wellness and Aquatic Center at Southwestern College / Gensler
Built in 2019, this center at Southwestern College, California, uses a series of perforated images from DriDesign along with standard wall panels. The reproduced image repeats the words 'first', 'health', and 'cool' in order in ancient Mayan characters drawn by a university professor. Perforated panels are illuminated at night, filling the metal exterior with warmth and light. The effect is to make the facade design fun, interesting and culturally relevant.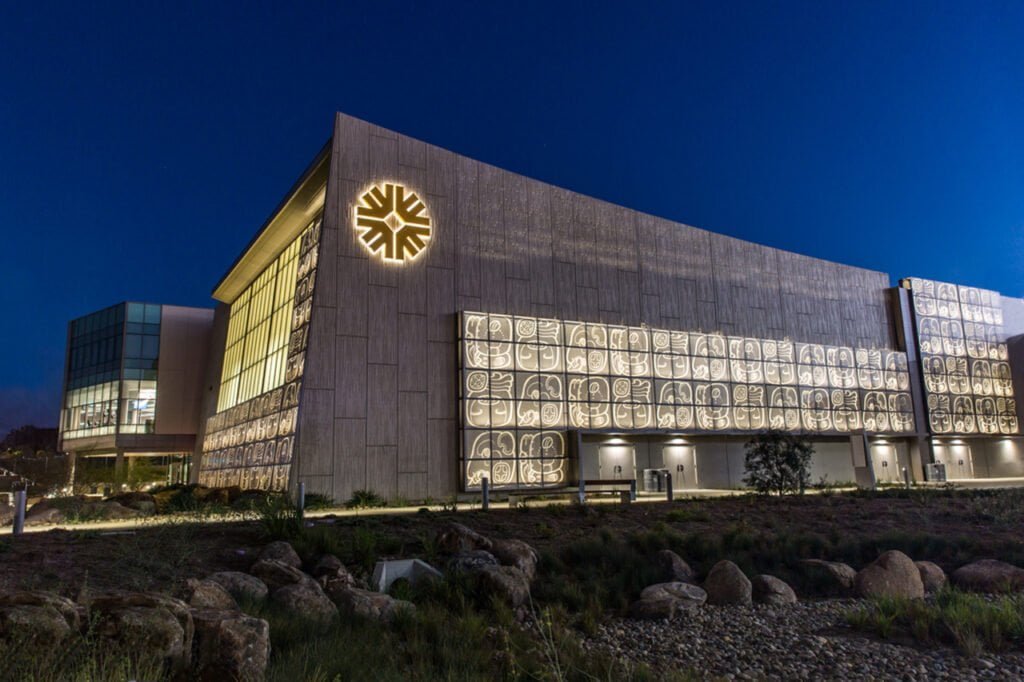 The images are generated through variations in the diameter of perforations, with larger perforations making up the line work for the hieroglyphs. Altogether, the center features 5,700 square feet of the Perforated Imaging Panels and 2,500 square feet of the standard panels. Like the other wall panels, the perforations provide airflow and shade, while the materials used subscribe to the highest levels of sustainability, with 100% recyclable panels that are efficiently manufactured and quickly installed.
The Shops at Clearfork / Nelsen Partners
However, the series products with the greatest freedom in design are custom metal panels. This design for The Shops at Clearfork uses a series of custom panels to create a perforated geometric pattern with raised sections of metal panels to add texture to the exterior. Although the architects for this project used DriDesign's extensive flexibility in terms of color, material, size, texture, shape, and perforation to create this unique and interesting facade treatment, the designer approached the company with an idea for a custom series.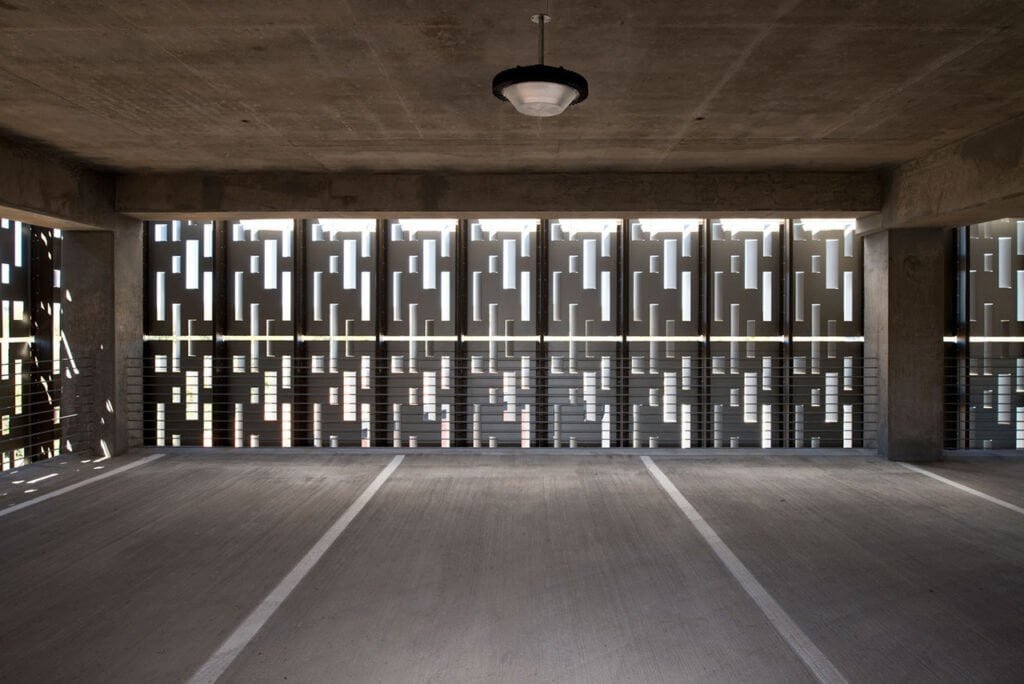 Buffer System
This system precedes double glazing. In fact, it was invented to protect the sunlight entering the building while improving the insulation and acoustic properties of the wall system. It uses two layers of single glass spaced 250-900 mm apart. These are hermetically sealed and allow fresh air to enter the building by additional controlled means, either a separate HVAC system or a box-shaped window section. Throughout the double skin. The shading device can be housed in a cavity. A modern example of this type is Occidental Chemical / Hookerville in Niagara Falls, NY. The building can take in the fresh air at the bottom of the cavity and expel air at the top.
Extract-Air System
This system is used in areas where natural ventilation is not possible, for example, in areas with powerful noise, wind, or exhaust fumes. It comprises a second single glazing inside the main double-glazing facade design. The space between the two layers of glazing becomes part of the HVAC system. The heated "used" air between the glazing layers is extracted from the cavity using a fan. As a result, the inner glass plate is strengthened and the outer insulating glass plate minimizes heat transfer loss. Fresh air is supplied by HVAC and interferes with natural ventilation.
Air contained inside the system is used by the HVAC system. These systems tend not to reduce energy requirements, as the exchange of fresh air must be supplied mechanically. Residents cannot adjust the temperature of individual rooms. Shadows are often attached to cavities. The distance between the glass plates is approximately 150 mm to 900 mm and is used to access the cavity for cleaning and to dimension the sunscreen device.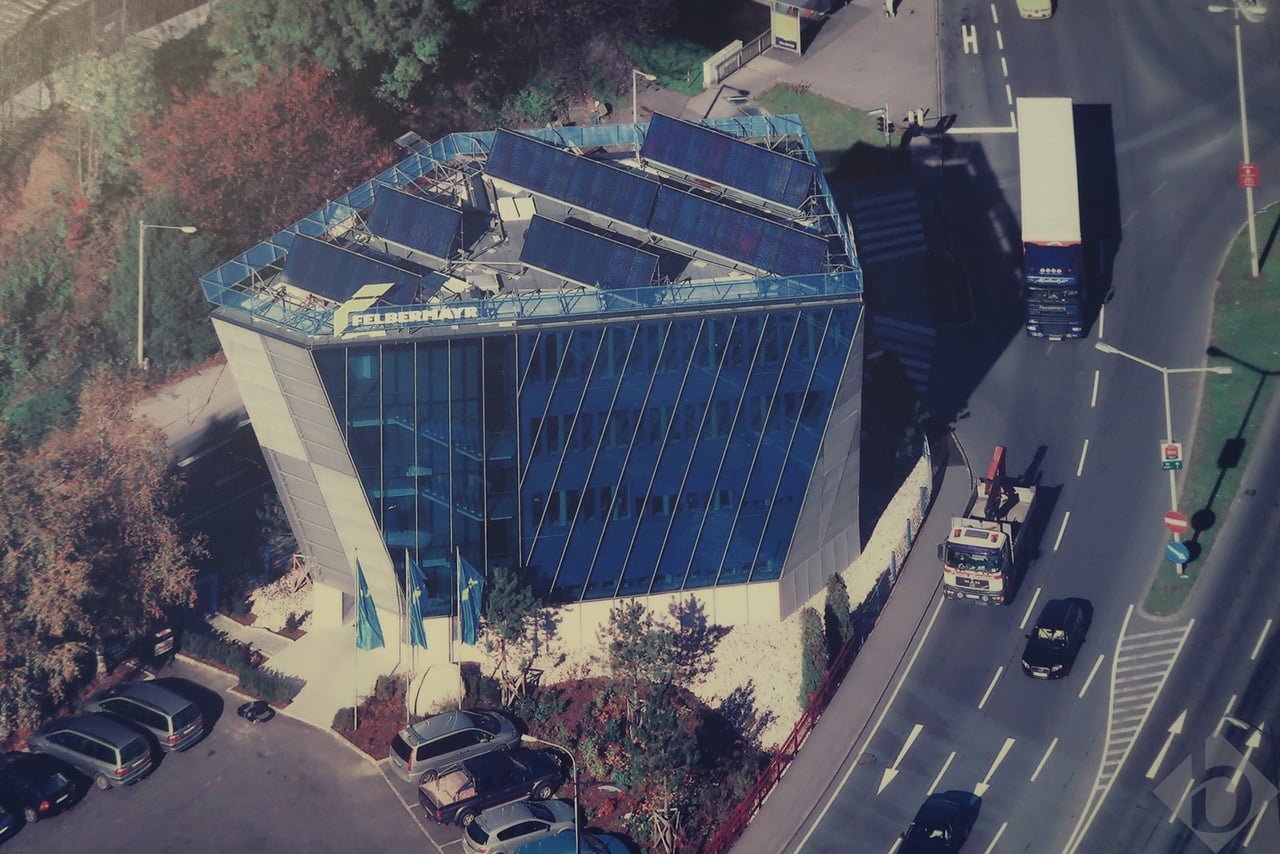 Twin-Face System
This system differs from both buffer and exhaust systems because it contains openings in the skin to allow natural ventilation. The system comprises a traditional curtain wall or thermal mass wall system inside a single glazed building hull. The outer glass can be safety glass, laminated glass, or insulated glass. Such systems require at least 500-600 mm of internal space to allow cleaning.
Single glass skins are mainly used to protect airspace (light-shielding) from the weather. In this system, heat loss is minimized because of the thermal insulation properties of the inner skin. The outer glass skin is used to block / slow wind in high-rise building situations and allow access to internal vents and fresh air without associated noise or eddy.