Marble stone and marble designs renowned since antiquity. It has been used across the globe since ancient times, and many historical heritage sites are constructed of this stunning natural material. Its glossy, eye-catching surfaces captivate viewers' attention. This lovely mineral is a world by itself and can be employed for different needs, from tiling to ornamental home accessory pieces.
Here's Why Marble is the Best for Homes
1. Marble Design Gives a Luxurious Feeling
Marble is an exquisite stone that adds luxury and shine to any space, from small to large. It is the only stone with such an extreme sparkle that will enhance any interior. And people are drawn to the lavish feel of marble, preferring it over other stones for its undeniable beauty.
The luxurious marble interior design brings a sense of innate grace and lights up any space with its existence. So, whether you are thinking of picking marble for floors, walls, or kitchens, this luxe stone is about to make a statement!
2. Brings Timelessness
Marble gets the status of being a timeless classic beauty because it has been used for ages, either for commercial hotels or cosy homes. This natural stone has a distinct veining pattern that makes every tile unique!
Adding marble to your home enhances the décor and provides a timeless investment that will be valued for years to come. With its timeless grace and beauty, marble ages gracefully, making it a reliable and valuable asset.
3. Is Highly Durable
Marble is a strong, long-lasting material taken straight from mountainsides in large blocks, making it perfect for larger projects. It is also heat-resistant and naturally cool, making it a great selection. If you want a greater level of solidity and endurance, picking the correct type of marble and finish is an essential factor to think about.
As with all natural stones, marble is a living material demanding more attention when it comes to caring. Capping your marble countertop with the correct penetrating sealant is essential for long-term performance. If you are familiar with the measures for caring for your marble, you can be the proud owner of a unique piece that will be yours for a lifetime.
4. Complements Every Interior Style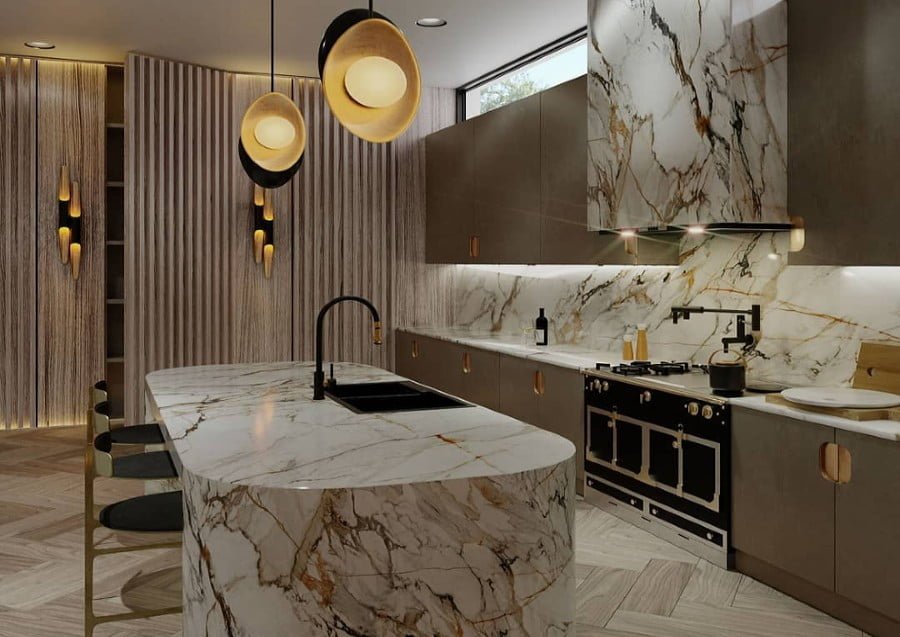 Marble's versatility makes it perfect for any interior style, whether contemporary, traditional, or anything in between. Its timeless elegance and organic look will surely complement any décor, from classic to modern. Its sophisticated look and organic textures enhance modern and traditional decors alike.
The best part is that marble can easily match and complement any furniture or design. So, whether you are renovating your home and only making a few changes or are building a house from scratch, marble stone will match every aesthetic and enhance the beauty of any space!
5. Available in Various Colours and Patterns
Marble offers an array of shades, hues, colours, and patterns. Each time the design will be slightly different and never the same, creating a unique appeal. Depending on your preference and personality, you get an array of choices! From the classic white Carrara marble to bold Belgium Black and dainty Pink Onyx, the variation of marble colours provides distinct qualities for each.
6. Perfect for Both Outdoors and Indoors
The timeless nature of marble makes them an excellent choice for any home. From rich, endless textures and colours to myriad patterns and surfaces, marble allows for effortless integration of indoor and outdoor spaces. Moreover, marble's versatility ensures that it is suitable for all home styles, making it an excellent investment for added value. When choosing to use marble outside, selecting an appropriate finish for optimised functioning is essential.
Bottom Line
Marble has held a special place in history. Its timeless beauty, durability, and versatility are showcased in ancient structures that have withstood the forces of nature and endured the test of time. Boasting a colour palette to suit all tastes, this luxurious natural stone creates a touch of class in any modern abode.
Heat-resistant marble is often used in fireplaces and to cool down interior spaces. It's available in multiple varieties and sizes of slabs, which can be used indoors to transform the décor of any home. Exquisite and classic, this natural stone will never go out of style. As it adapts to contemporary lifestyles and trends, it can also elevate the sophistication of any living space. It is truly a material in its own class, providing homeowners with a timeless look that will never date!
---
Aparna Rao has a great passion for interior design and decor. Her design mantra is that the interiors of any space should be designed keeping in mind functionality and aesthetics. She works as a content marketer for Stonex India, a leading marble manufacturer, and has gained valuable insights into the marble stone industry. Her extensive knowledge of different types of stones and their properties as well as interior design is what makes her content stand apart and is appreciated by her readers. Through her content, she also offers creative, innovative, and effective design and decor solutions.