Paint
Interior Design Materials like Paint are a thin coating of liquid applied on surfaces that dries into a solid form. It can be applied on walls, ceilings, furniture pieces, etc. They are used for different purposes, such as shielding against moisture, sunbeams, dust or dirt, etc. They make the surface more durable and easier to clean and maintain. The different paints are as follows.
Oil Based Paint or Solvent Based Paint
These paints, with higher levels of organic compounds, are robust and reliable and stay lively for ages. It contains pigments and resin and is ideal for frames and borders. They have different types, ranging from matt to high gloss. The downsides of this paint are the extended time taken for drying out and the powerful odor given out upon drying, leaving a toxic impact on the environment.
Water-Based Paints
Water-based paints have seen increasing popularity for residential and commercial interiors. They're made of pigment and water binder used as its transporter. They're environmentally friendly, dry fast, emit less smell. They're available in a range of finishes and can be washed with soap and water. The color of water-based paints is preserved for a longer time. Types of water-based paints include acrylic and latex paints.
Acrylic
Acrylic paints are water-soluble, which is why water is used for thinning. The consistency of the paint depends on the surface texture to be painted. That has superior adherence, durability, and elasticity, acrylic paints are mainly used for kitchen cabinets or outdoor furniture. Major features include durability and elasticity. These paints have a standard matte finish.
Latex
These paints offer more coverage than acrylic paints and do not emit odor. They're durable, less costly, and environment friendly but do not last long on outdoor furniture. This paint is easy to wash off. Because it has a very thin consistency, it dries quickly. These paints come in a variety of gloss finishes and colors. Since they're sold in bulk, most of the time, they're used for larger surfaces. They're quite popular for home interiors.
Emulsion Paint
Emulsion paints are a popular choice in Interior design materials and finishes for walls and ceilings. They emit less odor, dry quickly, and are easy to apply. Modern emulsions are water-based with vinyl or acrylic. Resins are added to make them tougher than compared to the conventional emulsion. As a result, it offers a variety of finishes and shines. The probability of wearing is proportional to the shine of the color. Categories of paint include matte, eggshell, satin, and full gloss.
Enamel Paint
This paint is great when the surface is needed to be as durable as possible. It is commonly used for exteriors since it can handle the environmental impact. They're also used for furniture pieces, concrete, stairs, basements, porches, patios, refrigerators, counters, and other industrial finishes. It's simple to use and dries in a rough finish since it is hard to paint. It can be used without primer or sanding.
Distemper Paint
This paint is used since ancient times for house decoration. It is popular, cheap, and gives valuable coverage in just a few coats. It is a common choice for interiors because it gives amazing luster to the walls. It dries easily and any errors can be rectified with a wet cloth. The composition of distemper paints includes water, color, and plaster. Negative aspects of this paint include not being waterproof or durable.
Lime Wash
Limewash is made with crushed and burnt limestone mingled with water into lime putty. Aged putty is mixed with water and natural pigments for color. It is a lighter and thinner alternative used on mottled and matte surfaces and gets ten times lighter as it dries. It contains a chalky texture, shows less dirt, and gives depth and brightness to plain walls. It is better on porous materials like concrete, stone, and brick. The disadvantage of limewash is its limited color range.
Interior Design Materials: Category of Paints by Finishes
Matte Finish
These paints are glossier and more durable than flat paints. Since it has slightly better longevity, it is advisable for surfaces with high traffic. Although it might not be an optimal solution, it is still a little better than flat paints. It is preferable to be used on ceilings as it saves money.
Eggshell
Eggshell paints are paints that offer a low shine level. It is glossier than matte paints but has less sheen than satin paints. It is flat, but with a slight gloss to it. It is durable, affordable, and popular. It is easier to clean since it can be washed with a damp towel.
Satin
Satin has a lustrous and velvety feel. These paints are not too shiny and not too flat. They have more glow than eggshell paints but less than semi-gloss paint. It is durable, washable, easy to handle, and also less expensive. It is used for painting hallways, doors, woodworks, bedrooms, dining rooms, and almost any other type of space. The appearance of satin paints depends on the lighting conditions of a particular room. Although easy to clean, it is advisable to not scrub it abrasively, as that may lead to a loss in sheen level.
Semi-Gloss Paint
These paints are mostly used for kitchens and bathrooms because of their high durability. The more reflective and can be fully scrubbed. Because of its high luster level, these paints make the flaws on surfaces very visible. Even though it is easy to clean, it is recommended to clean it carefully.
Glossy
High gloss paint is eye-catching and fits well in many designs because of the high sheen that gives it a mirror-like finish. It is easy to wash and can be scrubbed intensively without a second thought. It can be used in ceilings and furniture. It can also be used for walls, but one will just have to be prepared for the high level of reflectivity that makes the flaws apparent. As beautiful as it is, it is harder to apply. It is advised to use foam rollers for the minute spots.
Chalkboard
It is mandatory to apply primer on the walls before chalkboard paint is applied. This wall can later be used as a standard chalkboard after the painting is done. This paint is available in almost all colors. Upon application of this paint, the surface becomes hard and scratch-resistant. It can wood, metal, drywall, glass, concrete, and more.
Faux Finishes
Faux finishes or faux painting has two different application methods. The first is where translucent paint mixture is applied and glaze is applied on top with roller, brush, or sponge. Even though it imitates textures, it is normally having a smooth effect. Another method involves the application of tinted plasters which are washed over with earth pigments. A trowel or spatula can be used for its application. The end product can either be smooth or textured. These techniques are used to restructure a room as it adds more light and depth, changing a wall's appearance. Here are some examples of popular faux finish techniques.
Marble Paint Finish
For marble paint finish, a small amount of grey paint is used to create bands by blending in the glaze. The grey color is smudged on the walls and then smoothened out with a dry brush which creates chunky wobbly paint strips which create a more realistic effect. The softening of stripes can also be done with the help of a rag, blotting, or sponge.
Slap Brush
This technique creates a unique appearance on the walls. It is also known as 'crows–foot, panda paw or stomp the brush'. The texture can be created on a bare wall, but a prior painted wall should be cleansed. It is prepared by basic drywall texture or mud. The texture has a sunburst effect created by the bristles of the texture brush. The depth of the creases is determined by the sturdiness of the bristles of the brush.
Rag Rolling
Rag rolling techniques are used for creating a major impact on the walls. In this technique, a distorted or huddled piece of cloth is used to paint the walls by dragging them off irregularly. This adds a sense of detail to a space. It also hikes up a place from being flat or bland to having a certain character and depth on a limited budget.
Epoxy Flooring
Epoxy floors are created by many coatings of epoxy. Since each of these layers is of a depth of 2 millimeters, the minimum depth of epoxy flooring is 2 millimeters as well. A layer thinner than that is called epoxy floor covering. Epoxy floors are durable and can sustain even industrial conditions. Resins and hardeners together form a thick, strong, rigid material that withstands any wear and tear. Here are some types of epoxy floors.
Wood and Wood Finishes
Hardwood
Hardwood trees are angiosperm trees or trees that produce seeds covered in a shell for reproduction. Usually, they are deciduous trees that lose their leaves each year. Since their rate of growth is slower than softwood, their wood is dense and is used for the construction of desks, beams, panels, floors, and furnishing purposes. Hardwood joinery is expensive as compared to softwood. Density, grain, pore size, growth and fiber pattern, flexibility, and ability to be steam bent are some characteristics leading to a variety of hardwood. Examples of hardwood trees include oak, beech, walnut, ash, mahogany, maple, and cherry.
Softwood
Softwood trees are gymnosperm trees. These trees lose their leaves and keep them throughout the year and also grow faster than hardwood. It provides 80% of the timber and comes as huge planks or beams. It is used in the process of artificial components like MDF. As for the construction part, softwood is used for the construction of the roofs and inner structures like fitting, fixtures, etc. As the cells of softwood are open, it allows them to absorb materials like adhesives in a better manner. Examples of softwood trees include pine, cedar, spruce, larch, and fir.
Wood Finishes
Linseed oil and Tung oil are known as true oils and are popular choices for interior works. These are easily available and are less expensive. They get penetrated into the wood, making it tougher. The application process involves rubbing it on the wooden surface and cleaning the excess oil with a piece of cloth. Other finishes include natural oils like soyabean oil.
Wax can also be used for a luxury feel. It is the most popular finish and has a sheen that protects the wood from scratches and water damage. Varnish is a more durable option than wax. Its composition comprises resins and drying oils. Varnish exceeds other finishes in terms of water resistance and fire resistance. Shellac is a finish preferably used for furniture pieces. It is natural and adds to the aesthetic value of the piece. Although it is easily affected by chemicals and isn't heat resistant, making it an inappropriate choice for the kitchen.
Wooden Flooring
The hardness of wooden flooring depends on the type of wood used. Since softwood is prone to bending, hardwood is recommended for flooring. Wooden flooring is durable and can be renovated several times. Another option is engineered hardwood, which is prepared by sandwiching a layer of wood between two thin sheets of wood. It is more resistant to moisture but expands and contract according to changing levels of humidity having no negative impacts.
Stone
One of the major reasons for inculcating stone in interior designing is aesthetics. Stone brings a certain character to the room. The color, pattern, and texture of a particular stone depend on how it was extracted and processed. Stones provide natural thermal comfort to people, are low maintenance, sound absorbent, long-lasting, sustainable, and a great way to connect our homes or other interiors to nature.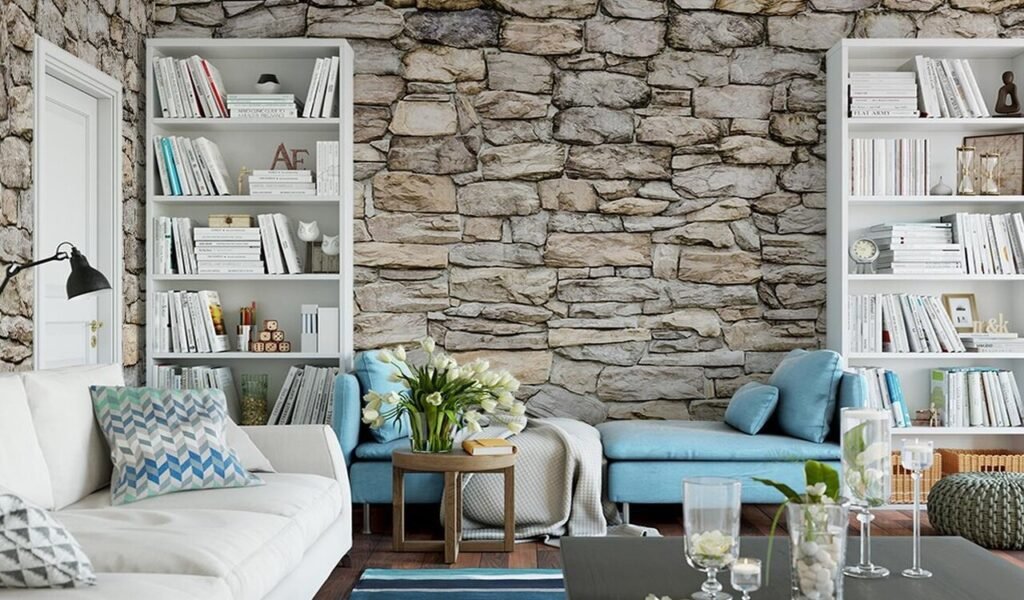 There are numerous options in stones. Marble, granite, and slate are popular choices. Limestone and sandstone are used for a more laid-back look since they are available in lighter shades. Travertine has a textured feel and is mostly used in bathrooms. Terrazzo and mosaic have artistic patterns and are used mostly for bathrooms and kitchens. Although terrazzo was a common choice for house interiors a couple of decades ago, it has undergone a comeback into subtle interior designing.
A mixture of light, dark, small, and big pebbles can create interesting patterns and balance in a space. They can be used in washrooms under washbasins, or near the bathtub. They can even be used for potted plants or even as showpieces. Stones are available in a variety of ranges. They can also be used in gardens, pathways, and around water bodies.
Types of Tiles
Ceramic tiles are the most popular choice for house interiors and are made of clay. The most vital uses of tiles are durability, scratch resistance, abrasion resistance, ease of use. Tiles come in different shapes, sizes, colors, textures, and patterns. These are mostly preferred by people because of their wide range of designs and ability to uplift and blend into any style of interior designing from traditional to modern. They're mostly used for interiors because tiles don't cope well with the sun and other environmental factors.
Porcelain tiles are made out of thicker clay. They're more durable and can be used outdoors. They're available in polished and unpolished textures. Glass tile is majorly used for tabletops and fireplaces as they're prone to chipping. These tiles are resistant to acidity. Another good option is terrazzo tiles. They're prepared by marble, quartz, granite, and glass.
Wallpapers
Wallpapers are available in a range of designs and patterns. Wallpaper tiles are small pieces that can be stuck on surfaces directly. Mural wallpapers are big designs that set the mood of a room and take up a large area. Drop match wallpapers are pieces with the same pattern. They can be repeated horizontally or diagonally. Pre-pasted wallpapers are those which use water to make the back sticky.
Plaster of Paris
Plaster of Paris (POP) is used for decorative elements on walls, ceilings, and partitions. It is available in powder form, also called gypsum powder. This powder is mixed with water and emits heat because of crystallization, after which it hardens. POP doesn't crack or shrink after drying. It can provide fire resistance to interior surfaces.