We always prefer natural lighting over artificial lighting. Any home which is flooded with natural lighting sources seems pleasant, positive, and warm. The interior spaces look larger and more aesthetic with natural lighting.
Good Eyesight
Artificial lighting can cause eye-straining, as you have to keep on adjusting to the illumination at all times. Dopamine is produced when we expose our eyes to the sunlight. This helps in reducing vision problems like eye-straining and also makes reading easy.
Regulates Sleep Cycle
Artificial lighting confuses the body with the amount of illumination at any time of the day. Less exposure to any natural lighting sources can make the body lethargic. By regulating the sleep cycle, sunlight can make you more productive, active, happy, and motivated.
Keeps Body Healthy
Vitamin D is primarily obtained from all the natural lighting sources. Vitamin D helps maintain body weight, asthma symptom control, and build a good immune system.
Increases Concentration
Sunbathing can increase your attention span and make you more alert. This focus helps while completing tedious assignments.
Improves Mental Health
Exposure to daylight increases endorphin (happy hormones) production. This also helps in increasing the memory functioning of the brain. Natural light plays a crucial part in coping with stress and anxiety.
Good For the Environment
The bonus of using natural lighting for home decor is that it helps in saving energy and money at the same time. But apart from this, using more natural lighting sources means producing less carbon which is good for the environment.
This is the reason why many times people are more comfortable in natural light rather than artificial light.
Tips on Natural Lighting for Home Decor
Now that we know the benefits of natural lighting, here are some tips and tricks that can help you amplify illumination in your homes with the help of natural lighting.
Add Mirrors
Rooms look bigger by adding mirrors on the walls. Adding a full-length mirror on walls opposite to the opening will make the room look bigger and it will reflect and double the amount of light entering the room.
If you do not have a wall side for a full-length mirror, try putting a mirror on the surface of the wardrobe door. Choosing the correct angle for these mirrors is very crucial if you want the light to travel even to the darkest corner of your room.
Spaces like the hallway function well with mirror placement. It is unnecessary that there has to be a direct sunlight reflection on the mirror. The light is partially distributed throughout even if only a medium amount of natural lighting sources are available.
Reflective Surfaces
Apart from mirrors, there are many new reflective surface ideas for lighting up space. Installing glossy tiles in the kitchen and bathroom can help in increasing the illumination of light in these spaces. Metallic decors or finishes on the furniture or ceiling also help in elevating the light entering the room.
Glass blocks are another effective solution as a reflective surface to enhance natural lighting for room decor. These blocks can work efficiently even as partition walls as they are opaque.
Natural Lighting for Room Decor
No room is complete without placing furniture in it. The Interior of space can increase or decrease the propagation of light.
When it comes to choosing home décor, always go for compact minimalist furniture. The more furniture you place, the more clustered the room looks. If the décor is compact, there is more room for light to enter.
Try having low-height furniture as much as possible. If you have to have some tall furniture, make sure it is not blocking the direct light entering from any of the openings. If the number of shadows created is less, then the circulation of light will be more.
Partition walls are another reason for the obstruction of light via openings. Avoid having solid wall partitions, instead of that, having glass partitions will help the light to flow.
Having a higher ceiling can help in bringing in more natural light as there is more space for sunlight to circulate.
Colour Palette
Dark colours absorb light whereas lighter colours reflect it. Choosing light pastel or neutral colours for your wall can help to make the room look brighter. It also helps to have light coloured furniture and flooring to disperse the lighting.
Having the same colour on all the surfaces might look monotonous. So, while choosing the right colour for the furniture you can have lighter colours for the heavy decors like cabinets and a shade or two darker for small accent pieces or artworks. This will add some contrast to the interiors. Metallic accessories and translucent furniture can also help in reflecting light.
Make sure the ceiling is either matte white or two shades lighter than the wall colour. Matte finish suites well for the ceiling because it reduces glare.
Large Openings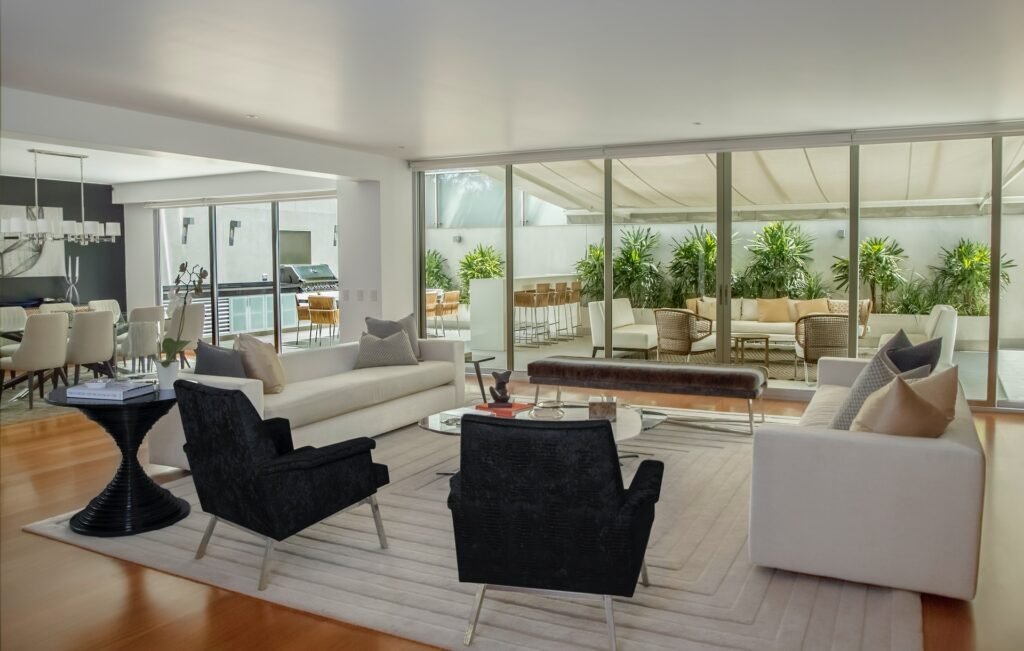 This is a very effective but expensive solution for natural lighting. This is only for the people who are planning an overall (internal and external) renovation. A larger opening or even increase in the number of openings can bring in more natural light into the home.
Installing glass openings can also increase the light flow in a space. But if you do not want any transparent material for the openings, you can also opt for frosted glass.
You can try having high window openings in spaces where regular window openings are not possible like a bathroom.
A skylight can also bring in natural light in a room without openings. They are very useful in walk-in closets and hallways. If you are planning to install a skylight, make sure that it is properly sealed to avoid any leakage.
Select the right Blinds
It is not always possible to keep our window or balcony door open. Natural lighting is important but so is maintaining our privacy. Blinds help in keeping our privacy, but dark curtains will again absorb the light and make the room darker.
Sheer curtains can resolve this problem. They are light and allow daylight to penetrate through them while maintaining sufficient privacy.
Home Office
With the Covid-19 pandemic, home offices have made their way into house planning. We have already established that having a good amount of natural lighting helps in productivity and concentration. With that said, here are some tips to improve natural lighting in your home office.
Place your desk near an opening with less interior obstructions for more daylight.
To avoid creating glare on the screen, try placing the desk perpendicular to an opening. This will create a perfect balance between the natural lighting sources and the shadows.
Bonus Tips
Cleanliness
Keep your home openings clean to ensure that maximum natural light is entering your home at all times.
Natural Lighting Sources and Greenery
Check if the landscape in your surrounding is obstructing the light entering your space. Trimming these trees, plants, and shrubs from time to time can help in having unobstructed natural light.
Surface maintenance
Be careful that the daylight doesn't fade or damage any surfaces of the home décor.