Streetscape Architecture is the city's backbone. The streets are the finest area to stroll all day long if someone wants to learn about the culture of a city. Streets are an important part of a city's civic life and overall town planning. As a result, streetscaping has become a decisive factor in a city's development. The term "streetscape" is used to underline the significance of streets in a city. Any city's streetscape depicts the natural constructed architecture of the street, which adds to the space's experience quality.
Streetscape as a term
Is used to characterize the street's built and natural fabric, and is regarded as the place's design quality and visual effect." This planning idea recognises that streets are public property on which everyone has an equal claim in social gatherings. Streetscape Architecture is an important aspect of the community realm since they aid in the definition of mobility. It also expresses a sense of community and possibility.
The way people perceive and interact with their neighbourhood and the built environment around them is significantly influenced by the streetscape. It can be inferred that streetscapes are an important part of a city's aesthetic value, economic activity, health, and sustainability and that their aesthetics have a significant impact on public spaces where people interact.
However, streetscapes are more than simply a tool for improving a person's experience or a city's road network; they also formulate a set of recommendations for building sustainable urban design principles and a city of the future. Our daily lives are shaped by the streets we walk, but they also have an impact on our collective national identities. On a smaller scale, the government has commissioned some of the world's most beautiful and inventive streets, but residents have had significant participation.
With diverse components such as bollards, street furniture, and lighting, streetscape architecture can also make a political statement and be the reason behind city development in India. Democratic characteristics such as non-hostile terrain components and open markets support a country's radical identity and political position. Hong Kong's streets, for instance, have changed dramatically in response to shifting political and social circumstances. Thousands of demonstrators recently tore up the grey metal railings that had been a common sight on Hong Kong's streets to use as barricades.
Apart from creating a more user-friendly street, Streetscape also contributes to the development of a sense of identity among its residents as well as a way of extending the country's ideals. Buenos Aires, Argentina's La Boca district. The picturesque Spanish street, with its many flowers and white-washed walls, is extremely distinctive of the region and embodies everything it is renowned and loved for. This community, which includes European immigrants who became dockworkers, reflects its main value creativity through its physical construction.
Streetscape: An Identity of a City
Identity is a psychological phrase that relates to one's self-image, or the defining trait or attributes that determine one's identity. The streets have the power to convey information about their surroundings and culture. It contains the city's or people's distinctive characteristics. We will remember the streets we passed through and the memories associated with them, no matter where we were or where we travelled years ago.
Why should Architects Care?
Capturing life in a city is crucial for architects and urban designers. Because public spaces are the lifeblood of every city, the designer cannot afford to ignore the image they project. Any streetscape design should include not just how to improve the aesthetics of the roadway but also how to make it more sustainable. Because the streets are public property, the users must have a sense of belonging there.
As a result, the term streetscape refers to an important urban design element that has the ability to transform a simple road into a bustling hub. When landscaping or renewing a roadway, take in mind the components that contribute to a healthier atmosphere.
Some of the most Beautiful Streets in the Same World
There are different types of streets. Take, for example, the bustling Caminito in Buenos Aires' La Boca district, which serves as both a photo op and a reminder of how the city was developed in the nineteenth century. Streets, on the other hand, do not need to teach you about history or be painted in Technicolor to be charming. Some are known for their beautiful natural features, such as the cherry blossom tunnel in Bonn, Germany, which only appears for a few weeks each spring. The street architecture listed here is some of the world's most beautiful.
Moscow, Russia
Along with Paris, Tokyo, New York, and London, Moscow is one of the world's five most lit cities. In Moscow, the number of locations with architectural and aesthetic illumination has doubled in the last nine years, reaching over 2,000.
Local and tourists alike frequent five streets in the city centre: Nikolskaya, Bolshaya Dmitrovka, Kuznetsky Most, Stoleshnikov Pereulok, and Kamergersky Pereulok. They were decorated with LED garlands a few years ago that flickered with thousands of lights, providing a joyful mood despite the weather or seasonality. Experts inspect the light fixtures on all five streets every day, repairing what has to be fixed, replacing bulbs, and adjusting the garlands' geometry.
Nikolskaya Streetscape is home to the world's longest LED garland, which spans about 92 kilometres of the starry sky and is practically within grasp. In 2017, the fixture was fitted. Nikolskaya became a mecca for football lovers from all over the world in 2018 when Moscow hosted the World Cup.
The fans were so taken with the magnificent installations that some of them snatched the LED bulbs as mementos while standing on each other's shoulders. This, however, had no effect on the joyous mood because utility engineers and electricians quickly replaced the missing parts with new ones maintaining its streetscape architecture.
Quebec City, Canada
Quebec City has a compelling case for being the most gorgeous city in Canada. It's made much more difficult to defeat by streetscape like Rue du Petit Champlain. Unique boutiques and bistros line this quaint, European-inspired boulevard. During any season of the year, this picture-perfect location is very delightful.
Recife, Brazil
Recife is Brazil's eastern edge major city, and the lovely Rua do Bom Jesus is located in one of the city's easternmost areas. The vibrant street architecture is flanked with tall palm palms and is steeped in history. The Kahal Zur Israel Synagogue, erected in the 15th century, was the first synagogue built in the Americas. Visitors can still view the structure.
Paris, France
Montmartre, in Paris, was home to some of the world's most famous cultural figures around the turn of the century. Many renowned residents of this once-bohemian area were Pierre-Auguste Renoir, Pablo Picasso, and Amedeo Modigliani.
While Montmartre retains its artist community character, fashionable boutiques have crept in, transforming it into one of Paris' most beautiful neighbourhoods with the prettiest street architecture. The Rue de l'Abreuvoir and Rue des Saules, in particular, are a must-see location. The colourful structures and ivy-covered walls, which can be located right behind the gigantic landmark Sacré-Cur, are a photographer's delight.
Águeda, Portugal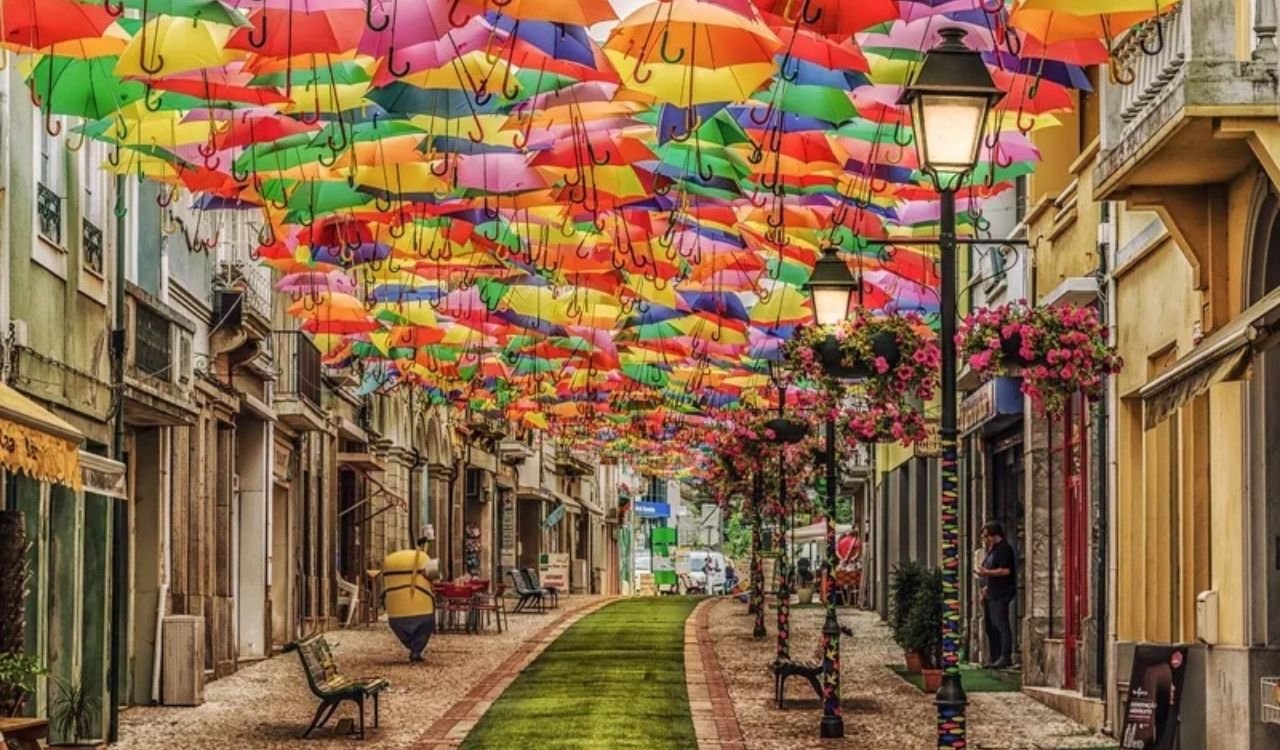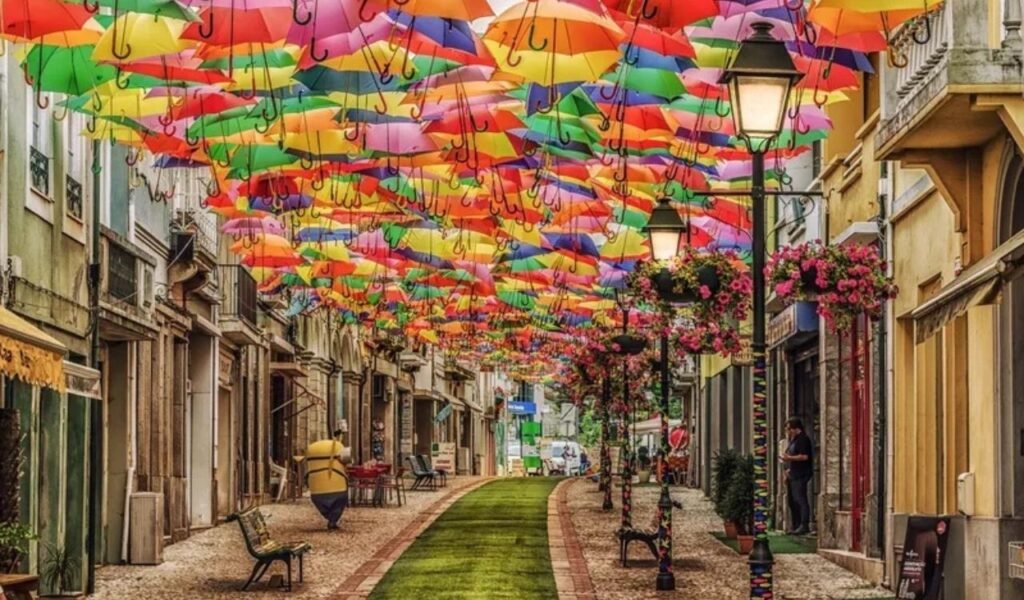 The Umbrella Sky Project in Gueda began in 2011 as part of the annual gitagueda Art Festival in Portugal. When the weather gets hot in the summer, a few of gueda's small streets have colourful umbrella canopies that provide shade to the pedestrians below and a scenic streetscape.
Pretoria, South Africa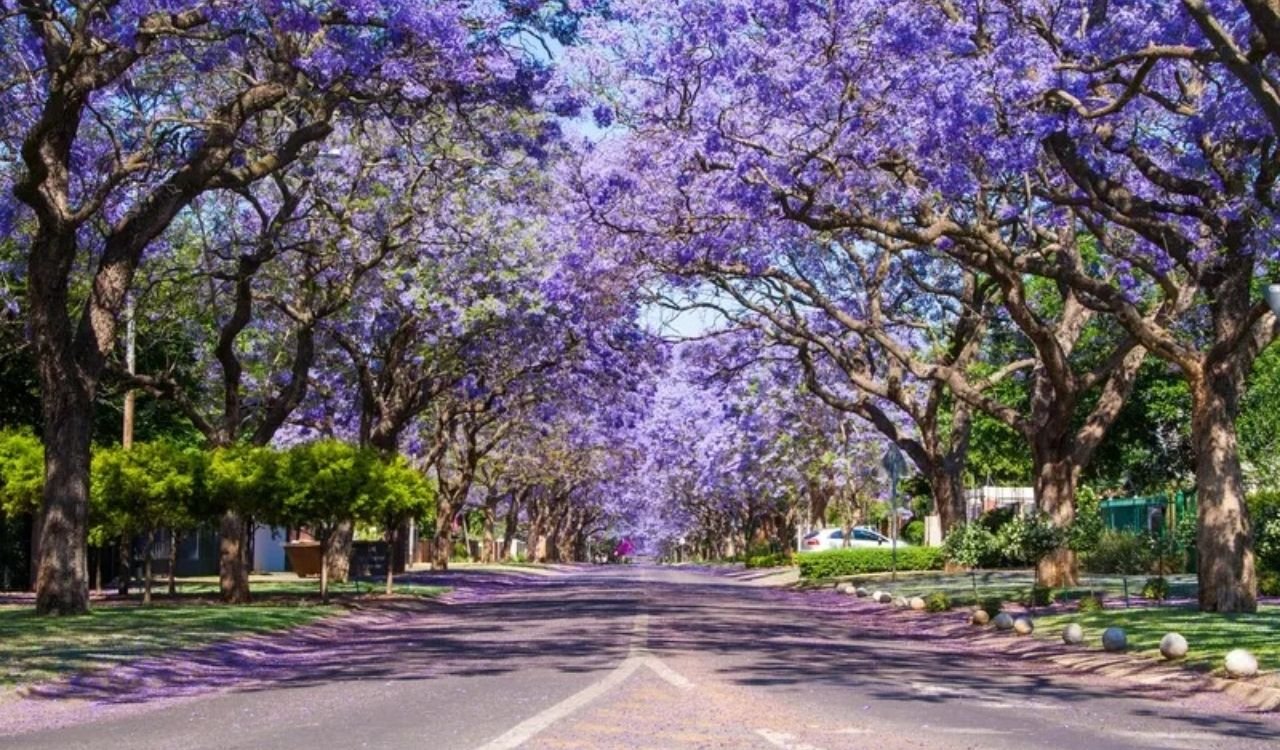 If you're thinking about visiting South Africa, late September to November is a good time to go. In South Africa, that's when the wonderfully lovely jacaranda trees blossom. With purple branches draping over the streets, any drive or stroll around Pretoria (which, like Johannesburg, seems to have trees growing out of every corner) is sure to be unforgettable. Fun fact: Although the jacaranda is native to Brazil, the first one was grown in South Africa in the late 1800s.
Kyoto, Japan
Tetsugaku no michi is a 1.2-mile-long street in Kyoto, Japan. The cherry-tree-lined route winds alongside a waterway and past Ginkaku-ji temple, a UNESCO World Heritage site. Tetsugaku no michi is best visited in April, when the road's overhanging trees are in full bloom.
York, England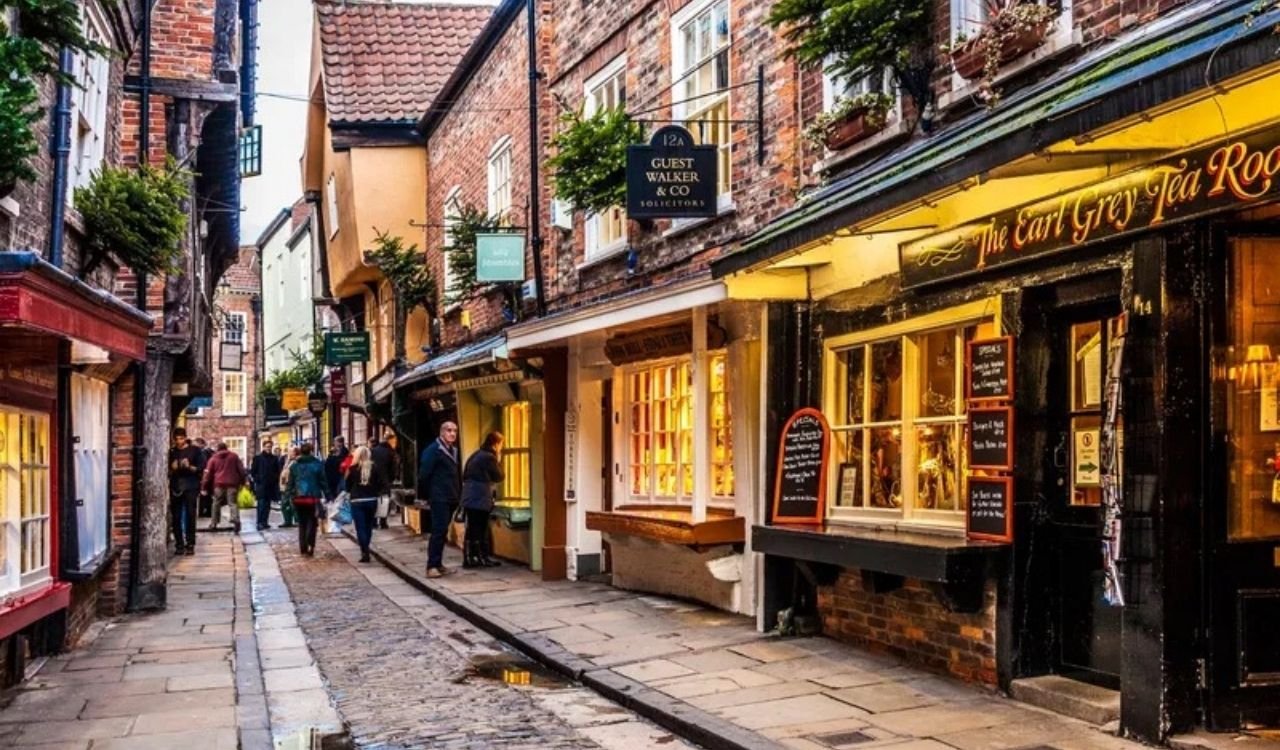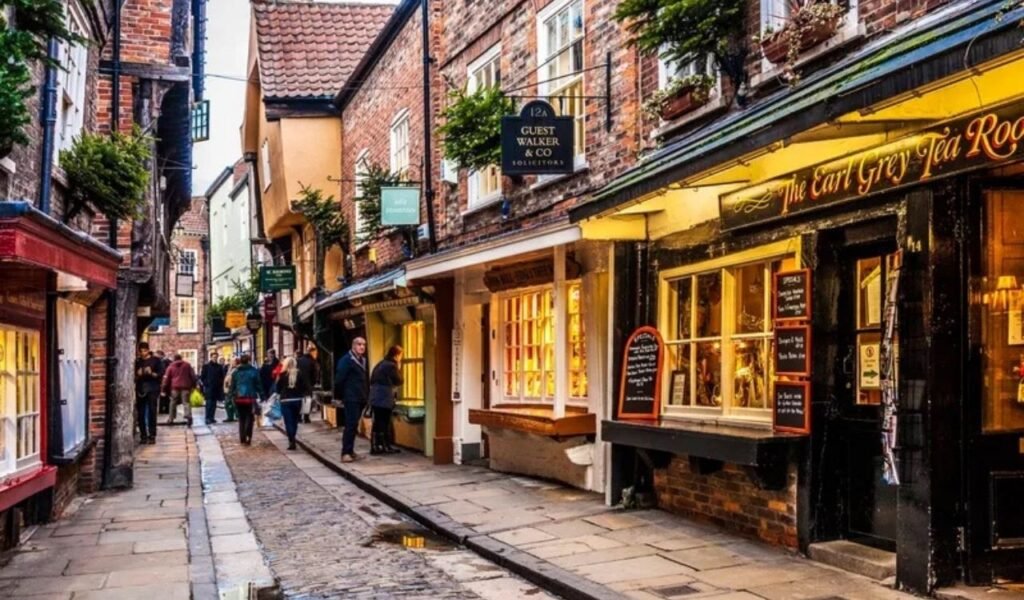 Shambles, a streetscape in York, England, has been lined with buildings since the 14th century. The lovely timber-framed buildings sway and hang over the cobblestoned roadway below.
Cordoba, Spain
Calleja de las Flores is a short streetscape that leads to a plaza in the Andalusian city of Cordoba. The lovely Spanish street is quite typical of the region with its abundant flowers and white-washed houses.
Chefchaouen, Morocco
A small city in northwest Morocco, Chefchaouen, is known for its various tones of blue. The city was founded in 1471 and was formerly used as a fortification for Spanish exiles. Many Jews moved to Chefchaouen over the years, carrying with them the ancient notion that wearing blue dye would remind people of God's strength. Visitors should take a trip down Al Hassan Onsar, Rue Outiwi, and the narrow stairs leading up and down Rue Bin Souaki for the most realistic experience and a delightful Streetscape architecture view.
Bonn, Germany
The lovely tunnel produced by the trees surrounding Cherry Blossom Avenue in Bonn, Germany, attracts tourists and photographers for two to three weeks each spring. The trees make for a natural streetscape that looks breathtakingly beautiful.
Lijiang, China
The 1,000-year-old Old Town in Lijiang, China, is a UNESCO World Heritage site known for its organised canals and walkways. For some of the more outstanding streetscape views, take a stroll down Qiyi Street Chongron Alley or Wuyi Street Wenzhi Alley.
Istanbul, Turkey
Balat, a Turkish bohemian village, is known for its tiny, sloped cobblestone lanes, the most famous of which is Kiremit Street architecture. It is surrounded by brightly painted homes and shops, which add to the neighborhood's appeal. Balat, which was once the Jewish neighbourhood, today houses a mix of churches, mosques, and synagogues, all of which are interspersed among cafés and stores.
Boston, Massachusetts
Beacon Hill would be the most picturesque neighbourhood in Boston if there could only be one. Beacon Hill was founded in 1795 and is known for its steep, narrow alleys lined with classically American Federal–style (and a few Victorian) row buildings. Perhaps because it is a stylish representation of Colonial Boston, Acorn Street is one of the most photographed streetscapes in the city. It's also only a few minutes' walk from Boston's gorgeous Public Garden.
London, England
London's mile-long Portobello Streetscape was once merely a 19th-century rural path connecting the rich Portobello Farm with Kensal Green in the north and what is now the colourful district of Notting Hill in the south, before becoming one of the world's most-visited street markets. However, in the second part of the 1800s, the road began to develop in reaction to the sweeping homes that were springing up all around it.
In Conclusion
The streets are a constant source of visual conversation, with a wide range of voices vying for our attention. However, the country is defined by all of these many voices. Streetscape components all play an important role in a country's identity, both historically and in terms of its future vision.