Windows are often referred to as the eyes of a home, offering glimpses into the life and style within. However, they're not just portals for peering out or letting light in; they're key elements in home decor, significantly impacting the aesthetic and atmosphere of a space. Choosing the right window treatments can transform a room, adding personality, functionality, and style.
The Impact of Light and Privacy
The primary function of window treatments is to control light and privacy. The right choice can flood your room with natural light, or provide a cozy, intimate setting. Consider the direction your windows face and the climate you live in. Sheer curtains might be perfect for a sunroom, while heavier drapes could be ideal for a bedroom needing more privacy and darkness.
Integrating Style with Functionality
Your window treatments should complement the room's decor while serving their purpose. For a minimalist look, consider sleek roller blinds or roman shades. If you're after a more traditional or opulent feel, full-length drapes in rich fabrics can add a touch of elegance. Remember, the fabric, pattern, and color of your window treatments can either make them a statement piece or a subtle complement to your overall design.
Innovative Solutions for Unique Windows
Unique window shapes and sizes call for innovative treatment solutions. For instance, bay windows can shine with customized blinds or elegantly draped curtains that highlight their distinctive architecture. Skylights benefit from retractable shades that control light without compromising their aesthetic. For windows with unconventional shapes, custom-fitted treatments ensure both form and functionality. These tailored solutions not only solve practical issues like light control and privacy but also turn these unique windows into striking design features. Embracing the individuality of each window with creative and bespoke treatments can truly transform them into focal points of your home's decor.
Going Green with Window Treatments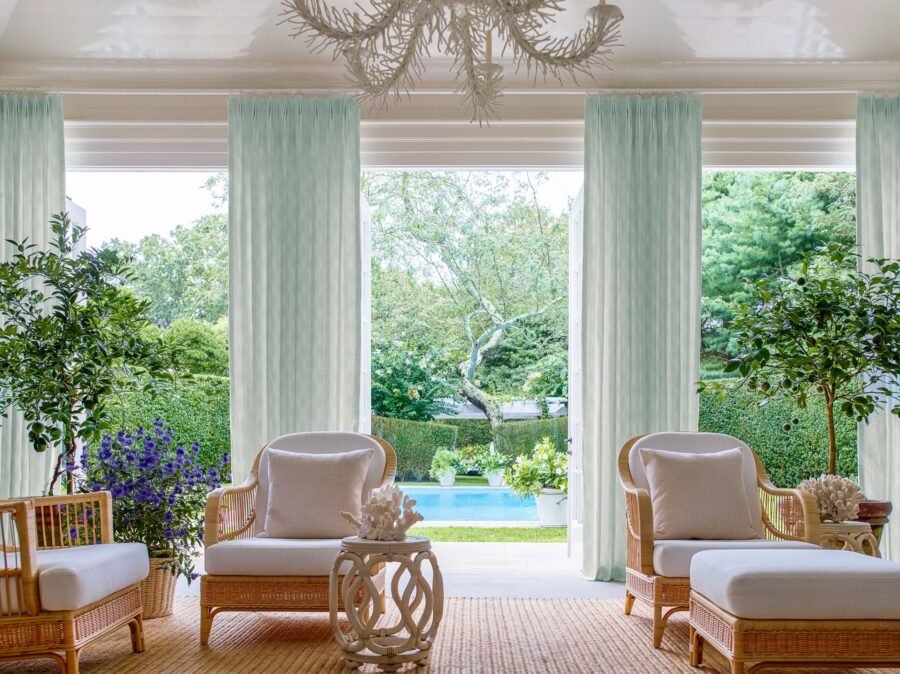 Embracing eco-friendly window treatments is an excellent way to contribute to environmental sustainability while enhancing your home's aesthetic. Materials like bamboo, recycled fabrics, or organic cotton offer a green alternative, adding a natural and earthy feel to any room. These sustainable options don't just benefit the planet; they also bring a unique texture and warmth to your decor. Additionally, energy-efficient treatments such as thermal curtains or solar shades can significantly reduce your energy consumption by providing better insulation. This combination of environmental responsibility and stylish design makes green window treatments a smart and conscientious choice for any modern home.
The Role of Technology in Modern Window Treatments
Technology has transformed window treatments with innovations like motorized blinds and shades. These can be controlled remotely, offering convenience and accessibility, especially for hard-to-reach windows. Some even come with smart home integrations, allowing you to adjust your window treatments with voice commands or through your smartphone.
Customization for a Personal Touch
Custom window treatments offer a unique opportunity to infuse your personal style into your living space. Tailoring treatments to your exact specifications, from choosing distinctive fabrics and patterns to matching the precise dimensions of your windows, ensures that your decor stands out. This approach not only elevates the aesthetic appeal of your home but also addresses specific functional requirements like light control and privacy. Custom treatments transform windows from mere functional elements to expressions of your personality, making each room feel more like a curated piece of your world.
The Transformative Power of Layering
Layering different window treatments can dramatically alter a room's ambiance and functionality. Combining sheer curtains with heavier drapes, for example, offers versatile light control and adds textural depth. This technique also allows for creativity; you can mix colors and patterns to inject personality into your space. In functional terms, layering can enhance privacy and insulation, making it a practical choice as well. With the right combination of materials and styles, layered window treatments can transform a plain window into a stunning focal point, seamlessly blending practicality with aesthetic appeal.
Choosing the Right Professional Help
For those in New York City, finding the right window treatments to transform your space can be a breeze with professional help. Seeking out experts in New York City window treatments can provide you with the guidance and variety you need to make an informed decision. These professionals can offer insights into the latest trends, materials, and technologies in window treatments.
Embracing Natural Light with Sheer Elegance
Incorporating sheer window treatments is a beautiful way to embrace natural light while maintaining a degree of privacy. These light, airy fabrics allow sunlight to filter through, creating a soft, warm glow that can make any room feel more open and inviting. Ideal for living areas and dining rooms, sheers can be used alone for a minimalist look or paired with heavier drapes for added versatility. They come in various colors and patterns, allowing you to tailor them to your decor, ensuring your space feels both bright and beautifully styled.
Embracing Change and Trends
Window treatment trends can change just like any other aspect of home decor. Staying abreast of these trends can inspire you to update your space and keep it feeling fresh. However, it's important to balance trends with timeless choices that reflect your personal style and the architectural character of your home.
The Essence of Personalization in Window Decor
Personalizing your window treatments reflects your unique style and the specific needs of your space. Whether you opt for bold patterns, vibrant colors, or elegant, understated designs, the key is in choosing elements that resonate with your personal aesthetic. This customization not only enhances the room's appeal but also ensures that your window treatments are as functional as they are stylish, creating a living space that is both comfortable and a true reflection of your individuality.
Conclusion
In conclusion, window treatments are more than just decorative elements; they are transformative tools that can significantly enhance the feel and function of any space. From the practical benefits of light control and privacy to the aesthetic impact of style and design, the right window treatments can truly redefine a room. Whether through the elegance of custom designs, the innovation of modern technology, or the creative flair of layering, each choice offers a unique way to personalize and elevate your living space. Embracing these elements in window decor allows for not just a change in scenery but a transformation of your everyday living experience.