Waste management in India
Waste generation, improper waste collection, transportation, treatment, and disposal are serious environmental challenges in India. India's current system cannot cope with the large amount of waste generated by the growing urban population, which has an impact on the environment and public health. Challenges and obstacles are important, but opportunities are also important.
A priority is to move from relying on waste dumps that do not provide environmental protection to a waste management system in India that preserves useful resources in the economy. Waste segregation at the source and the use of well-defined waste treatment facilities to separate recyclable materials is important. The disposal of residual waste after the extraction of material resources requires the design of landfills and investment in power generation facilities. The waste material projects should be promoted in the industry of construction technology.
Statistics of waste management in India
Estimating the number and characteristics of MSW (Municipal Solid Waste) in India and predicting future waste generation is critical to successful waste management planning. The amount of MSW produced depends on the standard of living, the scope, and type of business activities, eating habits, and seasons.
About 133,760 tons of municipal solid waste is generated every day, out of which about 91,152 tons are collected and about 25,884 tons are processed. The per capita production of municipal solid waste in India ranges from about 0.17 kg per person per day in small towns to about 0.62 kg per person per day in cities.
Waste management in World
The complexity of wastes associated with the modern economy is constantly increasing, threatening the ecosystem and human health as a serious threat. Among all waste streams, electronic waste containing complex hazardous substances is the fastest growing challenge in developed and developing countries. Unhealthy, open-air landfills can contaminate drinking water and lead to infection and disease transmission. The proliferation of garbage pollutes the ecosystem, and hazardous substances in electronic or industrial waste put pressure on the health of urban residents and the environment.
Statistics of waste management in World
The world collects approximately 11.2 billion tons of solid waste each year, of which the decomposition of solid waste organic matter accounts for about 5% of global greenhouse gas emissions. Every year, approximately 11.2 billion tons of solid waste is collected worldwide. About 8.1 million tons of plastic waste are dumped into oceans globally this year.
Architecture and waste
Construction waste is any substance that is generated and disposed of as a result of work in construction technology. These wastes can be a mix of materials leftover from site cleaning, construction, excavation, renovation, and demolition. Construction technology waste includes a variety of materials. Few of them can be recycled and few cannot be recycled. Additionally, there are some inherently hazardous wastes.
Types of Architectural waste
Plastic and Glass waste
Demolition of houses and temporary buildings will produce waste of wood, glass, and plastic. These non-inert materials can be recycled or reused, and as a last resort, they can be disposed of in a landfill. Waste materials, mainly new construction wood, include plywood, shredded wood, lumber, wood shavings, and sawdust. Plastic waste includes PVC cladding, PVC pipes, plastic panels, and polystyrene foam insulation materials. Glass materials include debris from glass windows or door panels and glass from skylights or glass shelves. Most untreated or uncontaminated materials are harmless, but can sometimes contain harmful substances.
Concrete, Bricks, and Tiles as waste
Concrete and bricks make up the majority of construction and garbage, which are dumped in landfills. But these can be recovered by crushing them into rubble.
Concrete – Harmless
Brick – Harmless
Tiles and ceramics – Harmless
Concrete, bricks, tiles, and ceramic materials (simple or mixed) containing dangerous substances – Harmful
Concrete, bricks, tiles, and ceramic mixtures, without dangerous substances – Harmless
Metallic Waste
Construction scrap metal includes copper, bronze, brass, aluminum, lead, steel, tin, and mixed metals. All of these are harmless and can be easily recycled. However, metals containing hazardous substances, cables containing oil, and coal tar are very hazardous substances and must be handled with care.
Drywall
Construction sites contain large amounts of masonry and drywall debris. Typically, drywall is constructed from gypsum and most of the excess paneling is left behind after the new building is constructed.
Recycled waste products
Recycled Glass
Glass is one of the most common waste resources, so it can be recycled. From straight bottles for walls to the production of glass blocks and mosaics.
Cork
A lot of cork is left behind from wine bottles. Wine cork can be recycled into cork board and used as a building material instead of getting wasted.
Plasphalt
Plasphalt is obtained when plastic is used to produce asphalt instead of sand and gravel. It is a good alternative to traditional asphalt and is also more durable.
Ferrock
It is a more ecological and durable version of concrete. Ferrock is mainly made from steel scrap powder, which is more environmentally friendly. It absorbs carbon dioxide during the extraction process (as it dries), making it more environmentally friendly.
Timbercrete
Cement production represents 8% of global greenhouse gas emissions. The lighter and more energy-efficient version of concrete use sawdust as an ingredient. It is as strong as traditional concrete but requires less cement.
Recycled Plastic Wood
Plastic wood substitutes are made from 100% recycled plastic, using plastic waste that cannot be used in traditional recycling processes. These materials must be protected from landfills, given value, and recycled into long-lasting products, providing a harmonious solution for a sustainable life.
Zero Waste Design
Zero waste is a concept focused on preventing waste. It encourages the redesign of the resource life cycle so that all products can be reused. The goal is that no waste is sent to landfills, incinerators, or the ocean.
Construction technology has a major impact on the planet. A large number of resources, materials, water, and energy are developed, processed, and consumed to perform a job, and are limited to the useful life of the building. Inefficiency in the production process and excessive waste in various other construction phases worsen this impact. Indeed, human beings can no longer use environmental resources indefinitely, and most importantly, they must stop generating so much waste.
More efficient use of waste material and resources is one way to achieve sustainable economic growth. This means that the demand for resources and energy is reduced, and the generation of waste is also reduced. When talking about our planet, it is always wise to think that there is nothing to "throw away".
Circular economy and its benefits
The concept of circular economy attempts to change this paradigm. It is inspired by natural mechanisms that play a role in the continuous process of production, reabsorption and recycling, self-management, and natural regulation, where waste is the input for the development of new products. In the linear economy, products are created, used, and then turned into waste, in the circular economy, it will return to the production process. This is the process of breaking the relationship between economic growth and the consumption of more natural resources through a more efficient, smarter, and more sustainable process.
Adaptive Reuse
Heritage buildings are essential for transmitting cultural identity to future generations. When cultural relics can no longer perform their original functions, to protect the meaning of cultural relics, it is inevitable to propose new functions. One of the popular methods is adaptive reuse or reuse of existing buildings as part of the concept of sustainable architecture. The adaptive reuse of historical buildings is to propose a function in it that is relevant today. This helps to revive the historical building without affecting its historical importance.
Examples of Adaptive reuse
Kandadu, Pondicherry
Kandadu was a mansion in the countryside near Pondicherry and Chennai which was abandoned. It caught the attention of Jean Francois Lesage, a French couture embroiderer, who transformed it into his workspace and residence. According to Lesage, during the reconstruction process, various parts of the building were structurally reinforced, missing blinds were replaced, and broken tiles were replaced. However, in some places, damp patches and peeling plaster are exposed to increase the aesthetics of the building.
Lesage also mentioned hiring traditional and local craftsmen to restore the interior space of the mansion. In addition, Kandadu is also home to various livestock, vast gardens, swimming pools, and cabins.
Jai Vilas Palace, Gwalior
Jai Vilas Palace is a 19th-century palace built in Gwalior by the Scindia dynasty, with a European architectural style. Today, although part of the palace is the residence of the descendants of the royal family, the main part of the palace has been converted into the "Jivajirao Scindia Museum". As well as displaying the cultural relics of Gwalior under Scindias, the museum also includes lavish and beautifully furnished living rooms, bedrooms, banquet halls, and dining rooms. Some of the interior spaces are also dedicated to members of the royal family and represent their lifestyles.
The Port House, Belgium
The new Antwerp port building reuses, restores, and expands the abandoned fire station at the new port headquarters, bringing together 500 port employees who previously worked in different buildings in the city.
The central courtyard of the old fire station is covered with a glass roof and is used as the main reception area of ​​the new port building. From this atrium, visitors can enter the historic public reading room and library in the abandoned fire engine room, which has been carefully restored and preserved. The panoramic elevator leads directly to the new extension, and there is an external bridge between the existing building and the new extension, offering panoramic views of the city and the harbor.
Examples of buildings constructed from waste
Waste material project is prominent in the construction technology industry nowadays. The use of waste material in the facades, construction, and furniture is highly being encouraged. Below are some examples of waste material projects throughout the world.
Scrap House, San Francisco
Rethinking the standard floor plan of a single-family home, SCRAP: House is a stylish residential solution pipeline, built entirely from recycled materials and directed directly to city hall. Everything from the foundation to the front door is recycled and reused. Finding the right innovative materials is part of the challenge. Like other city-built homes, Scrap House complies with all applicable building codes.
The exterior of the house was plastered with street signs, painted glass shower doors, and fragments of metal plates. The ceiling is made of old billboards, while the interior walls are lined with discarded fire hoses, phone books, and computer keyboards. The floor is made of old doors and the countertops are trash tile. The impressive chandelier is made up of old traffic lights. The other light fixture consists of discarded desk lamps placed on a suspended platform. Every piece of furniture and every little accessory (chairs, beds, cups, and faucets) are pulled directly from the trash can to draw the public's attention to how a person's house is built.
Manav Sadhna Activity Centre, Ahmedabad
The Manavsadhna Activity Center is indeed the embodiment of the integrated architectural design, which attempts to solve various long-standing problems in developing countries. The activity center is constructed entirely from recycling waste material from the family center. First of all, recycling waste material solves the problem of environmental pollution; otherwise, it is simply disposed of in a landfill. Second, by recycling waste material into products used in construction technology, creates jobs for the urban poor, thereby enhancing economic power. Third, locally developed products are cheaper and better than traditional alternatives, making buildings more affordable.
As a hub of activities, it truly serves the poorest communities in the city. Construction technology components developed by recycling waste material have been tested for performance and found to be superior to traditional practices. These also apply as a whole, making construction technology, functional requirements and aesthetics complement each other. Fly ash, landfill waste, plastic bottles, glass bottles, boxes, wood, steel bars, packaging materials, oil tanks and other waste have been recycled for use in construction technology. The building has proven to be extremely cost-effective and has become an open catalog of the different wall, ceiling, floor, and panel options.
Collage house – Mumbai, India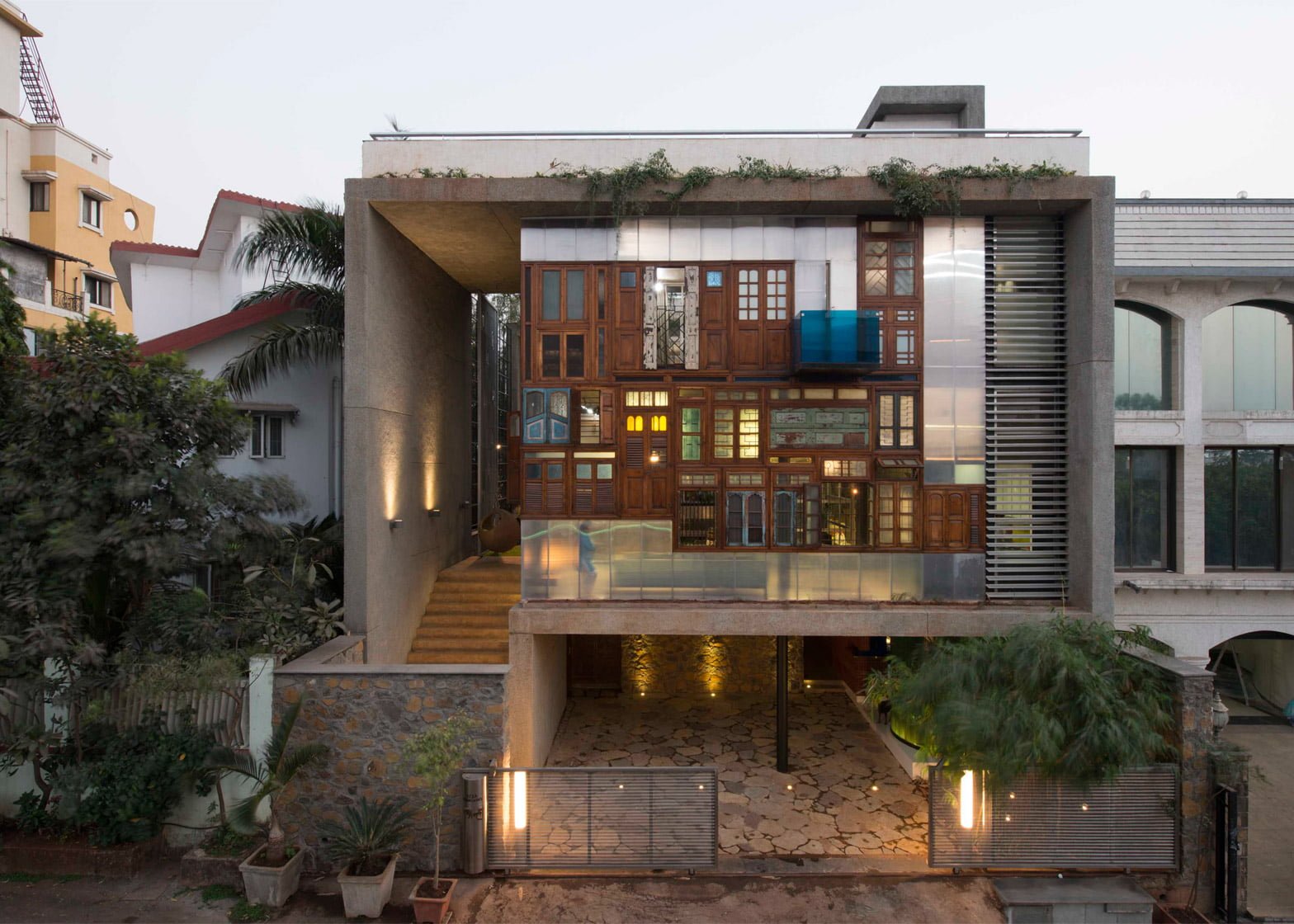 This waste material project analyzes the idea of ​​recycling and collage in a variety of ways, from physics such as matter and energy to intangibles such as history, space, and memory. There is a window corner for recycling old doors and windows of demolished houses in the city. This became an important backdrop for the living room, with a multi-faceted exposed concrete ceiling that contrasted sharply with the polished white marble, and the floor was inlaid with intricate brass.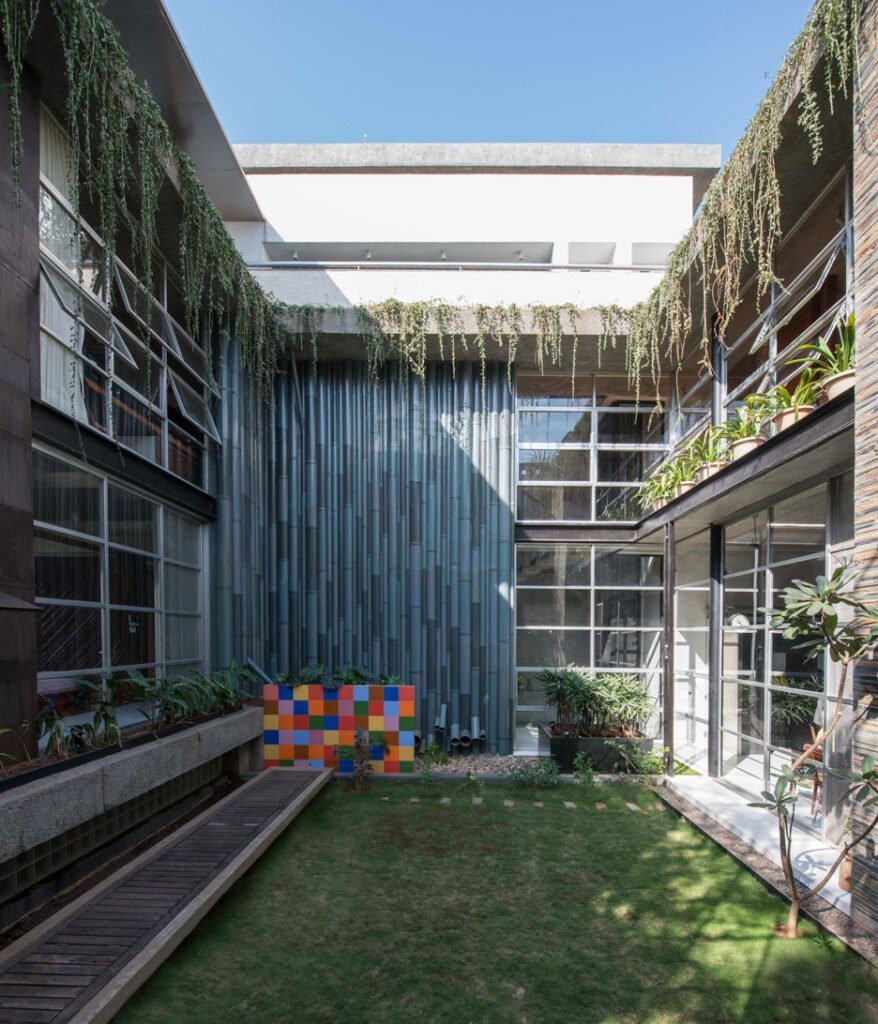 The remains of metal pipes are assembled like bamboo to form a "pipe wall", which integrates structural columns, rainwater drainage pipes, and pipe sculptures, which is pleasing to the eye in the monsoon. These stone chips on the sidewall are the cutting debris rising from behind the stone-cutting yard and the debris generated on-site.
A centuries-old pillar of a demolished house brings back memories, while the light steel and glass pavilion (with solar panels on it) on the terrace level offers wonderful hillside views, creating nostalgia. This method is once again strengthened in materials and internal elements. It reproduces this contrast between old and new, tradition and modernity, roughness and finished product.
Rotterdam House
This abandoned house was built in one of Rotterdam's many open spaces, the result of the city's post-war landscape, and is sandwiched between two existing brick buildings. The duo partnered with Tom van Soest of Stone Cycling to create the first project ever made with the company's Waste Based Bricks. The facade was built entirely by Waste Based Bricks, through the use of waste material from the ceramic, glass, and insulation industries, as well as scrap clay. All materials come from a radius of 100 kilometers.