Architecture is the study of the art and the science of building. It is the practice employed to attain both practical and expressive requirements to meet the aesthetic ends. The need for education in the field of architecture is to learn and develop skills to work professionally and cater to the demands of society by making fully functional and aesthetic buildings.
Listed below are some of the top B.Arch colleges in India that offer a bachelor's degree.
Top B.Arch colleges in India that offer a bachelor's degree.
Course Duration: 5 Years, 10 Semesters
Tuition Fees: ₹82,000 per Semester
Admission process: Through JEE main followed by JEE Advanced with AAT (Architecture Aptitude Test)
Indian Institute of Technology, Kharagpur ensures a holistic integration of science and technology with cultural dimensions of the society. IIT Kharagpur is considered to be one of the best architecture colleges in India. The department of Architecture and Regional planning was introduced in 1952 for an undergraduate course and later in 1959, their first post-graduate degree started. This department claims one of its strengths is to blend modern building design concepts with Indian vision hence providing their students with a culturally rich education for designing buildings.
Students who want to get admission in this department must have passed class 12 with Physics, Chemistry, and Mathematics as their main subjects. They must have a minimum score of 70% in the 12 board exams to be eligible for giving the next set of entrance exams to get into IIT Kharagpur.
2. IIT Roorkee
Course duration: 5 years with 10 semesters.
Tuition fees: Detailed course fee structure
Admission process: JEE mains then JEE Advance plus Architecture Aptitude Test
Among the two prestigious IIT's that offer a Bachelor's degree in Architecture, IIT Roorkee comes second having started the program in 1956, and stands among the top architecture colleges in India. There are facilities like a Climatology Lab and Art workshops and recently they introduced their newest addition including a virtual reality lab, laboratory of inclusive design, urban dynamics lab, civic design lab, and industrial design lab.
With the total number of seats being only 331, the competition is very tough to get into IIT Roorkee. After successfully clearing JEE mains and advance, candidates are required to participate in the state-level counseling process to get admission.
3. School of Planning and Architecture, New Delhi
School of Planning and Architecture Delhi is a Deemed to be University recognized as an Institution of National Importance under an Act of Parliament, 2015. This college ranks 7th among the best B.arch colleges in India.
School of Planning and Architecture provides two undergraduate courses including B.arch and B.Planning. Admission to SPA is entrance based and the eligibility criteria for admission is that the candidate must have scored at least 50% in their 12 board exams and must include Physics, Maths, and Chemistry ad their major subjects. The application mode for the undergraduate courses is online.
The course duration is 5 years with 10 semesters. SPA Delhi has provision for 122 students in every batch for the B.Arch program and candidates are selected on the basis of their JEE mains score. The course fee for the first year is ₹1.22 Lakhs.
4.
Sir JJ College of Architecture, Mumbai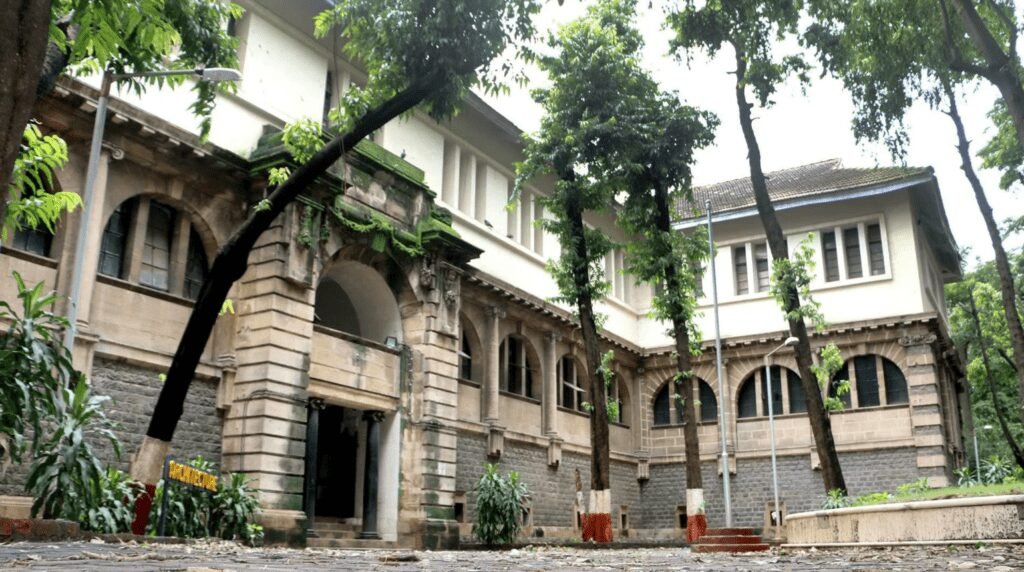 Among all the other Architecture colleges in India, Sir JJ College of Architecture is one of the oldest and most reputed institutions. The Jamsetji Jejeebhoy College of Architecture is an important part of the large campus of the JJ School of Arts. It was set up in 1913 and is located on Dadabhai Naoroji Road. This college was architectured by George Wittet a Scottish architect, who happens to have also designed the Gateway of India.
Students interested to take admission to Sir JJ College of Architecture must have passed their 12th board with at least 50% marks and should also clear the NATA exams with the minimum required score being 80. Candidates must clear the CET entrance exam of Maharashtra to get admission into this college as they do not consider the results of any other exam for admission.
Even though the course fee is very low compared to other Architectural Schools in India, ₹17,400 for the first year, Sir JJ College of Architecture also provides plenty of scholarships for the needy.
5. National Institute of Technology, Tiruchirappali, Tamil Nadu
NIT Trichy is a Government institute and is considered one of the top architecture colleges in India. Just like the above-mentioned IIT colleges, NIT Tiruchirappalli accepts students who have cleared JEE Mains with Physics, Chemistry, and Maths being the major subjects.
The duration of this program is 5 years with 2 semesters each year. This institute provides ample materials and resources to a student for successfully completing their degree. They prepare students to be intellectuals and professionals in the field of Architecture and Design.
6. Jamia Millia Islamia, New Delhi
Jamia Millia Islamia had a good reputation among all the B.arch colleges in India established in the year 2001. With a limited number of seats, a total of 80, the competition to get into the department of Architecture and Ekistics is tough. This program spans over a duration of 5 years with 10 semesters and a fee of ₹74,690 is to be paid each year.
7. Chandigarh University
Chandigarh University is a private university established in the year 2012 and has secured its position in the list of top architecture colleges in India. It charges a fee of ₹8.04 lakh for the bachelor's program in Architecture. There are many modern provisions like projectors in every classroom, audiovisual rooms, computer labs with all the softwares pre-installed for a convenient workflow for students.
The minimum requirement to get admission into the university is for the candidate to have scored at least 50% in their 12th board with Physics, Chemistry, and Mathematics as major subjects. For all UG courses in this University, there is an entrance exam CUCET, Chandigarh University Common Entrance Test. Candidates have to take this test for merit-based admission and with a good score, the candidate can also bag a scholarship for the applied course. Along with this entrance, candidates must have cleared the NATA exam with a minimum score of 40%.
8. Birla Institute of Technology, Mesra
Birla Institute of Technology believes in making leaders by providing a knowledge hub to the best students in the country and is known to be one of the best architecture colleges in India. They believe in transforming students into future leaders who can make a significant contribution to society. BIT Mesra is known for providing its students with the best technology for efficient work and training them in the field of Architecture and Design.
For admissions into the BIT department of architecture, candidates must clear JEE Paper 2 and also score a minimum of 40% in NATA.
9. Centre for Environmental Planning and Technology University, Ahmedabad
Established in the year 1962, CEPT University provides a number of degree courses among which their Architecture course is the most famous one. They are known for specializing in different aspects of the natural and developed environment of human society. They take pride in the list of successful architects they have as their alumni and have links with architectural programs in Europe, the USA, and Australia, promising a bright future with unparalleled opportunities to aspiring students who want to attain a B.Arch degree from CEPT University.
Along with a Bachelor's program in Architecture, they also have separate bachelor's in Interior Design, Construction Technology, Urban Design, and Design. CEPT University is widely known for proving its excellence in teaching Architecture and Design.
The tuition fee per semester for a bachelor's program is ₹1,60,000. There are a total of 80 seats for a B.Arch degree. For admissions, candidates can directly apply on the college website. A fee of ₹1500 will be charged to apply for any bachelor's program.
10. Manipal Institute of Technology, Manipal
The architecture course at Manipal Institute of Technology is considered to be the most advanced in terms of technology. It is a private university whose approach to architecture is considered cosmopolitan. Manipal Institute is considered to be one of the best architecture colleges in India, having provision for both bachelor's and master's programs in architecture that is proven to be one of the best in the country.
Candidates have to go through the Manipal Entrance Test to get admission into MIT. This entrance test is a computer-based one and takes place in a span of 2 hours and 30 minutes. There are a total of 200 questions and include questions testing Physics, Chemistry, Mathematics, English, and Logical Reasoning. It is an 800 mark test where every correct answer will be given 4 marks and for a wrong answer, there will be a deduction of 1 mark.