Cities have decorated their constructed environments with eye-catching and fascinating colourful schemes throughout human history. Colours have risen in the urban environment to combat environmental factors such as heat and sun gain, as well as to build what has now become a tradition. These cities have drawn the attention of visitors as well as architects and urban planners who have been charmed by the vibrant streetscape that greets them.
When we think about cities, colour selection isn't the first thing that comes to mind. In fact, we hardly observe architecture in today's fast-paced world. In the concrete metropolises we've been accustomed to, few buildings and structures stand out. Cities, on the other hand, do not have to be associated with grey. Chefchaouen is difficult to conceive as a rainbow metropolis or as a completely blue town. Around the world, there are a plethora of vibrant cities waiting to be discovered.
Let your imagination wander to the vivid locales of far-off places if the grey of mid-winter gets you feeling a little down. A vivid photo can spark wanderlust like nothing else, and some of the world's most attractive towns are bathed in sage, lavender, blue, and other vibrant hues. The colours of a place may leave a lasting impression on our travel experiences, whether it's a street with every hue of the rainbow or an entire town done out in monochrome blues or pinks. It also makes your trip photos the envy of all your pals, thanks to Instagram.
I have compiled a list of the most vibrant cities around the globe, with a focus on lesser-known gems. Sure, there are a few obvious choices on this list, but there are plenty of sherbet-coloured towns that will hopefully inspire and leave you yearning for more.
Cities of Colour
Jodhpur, India, is a meandering maze of blue-box dwellings, all nestled beneath the majestic Mehrangarh fort. The indigo hue stands out against the bordering desert and is especially beautiful at night.
To distinguish themselves from the rest of the community, the priestly caste of Jodhpur, India, painted their homes blue generations ago. It wasn't long until the remainder of the old city, Brahmins and non-Brahmins alike, followed suit and painted their houses blue. Despite the fact that the city has grown well beyond its original boundaries, its core is almost exclusively indigo.
Today, if you ask a few people in the neighbourhood about the colour decision, you'll get a lot of different responses. Some think the blue keeps their dwellings cool in the blazing Indian sun, while others claim it fights off bugs. The effect is stunning, regardless of the cause. Travellers visiting Jodhpur may see one of the world's most colourful cities, with each brick, beam, and wall coloured in this cool, soothing style.
Jaipur, India
While many towns have been painted blue, Jaipur in Rajasthan, India, is one of the few places on the planet where the prevailing colour is pink. According to legend, in 1876, King Sawai Ram Singh had the city painted pink to prepare for the visit of Prince Albert and Queen Victoria to India. Since then, the entire city has remained terra-cotta pink, much to the joy of Instagram-obsessed tourists.

Panjim, Goa, India
The significance of Portuguese culture can be found in Goa's culture, gastronomy, and architecture. Portuguese architecture was distinguished by its use of immaculate white buildings or the use of white to highlight openings on colourful façade. Many of the buildings in Panjim are coloured in vivid colours, including blue, green, yellow, orange, and red, with white frames surrounding their doors and windows.
FountainHas is a well-known street in the city with a row of brightly coloured structures sequentially placed. The colourful variety of the many structures reflects the Goan culture's unconventional, joyful, and free spirit.

Cultural Village, Busan, South Korea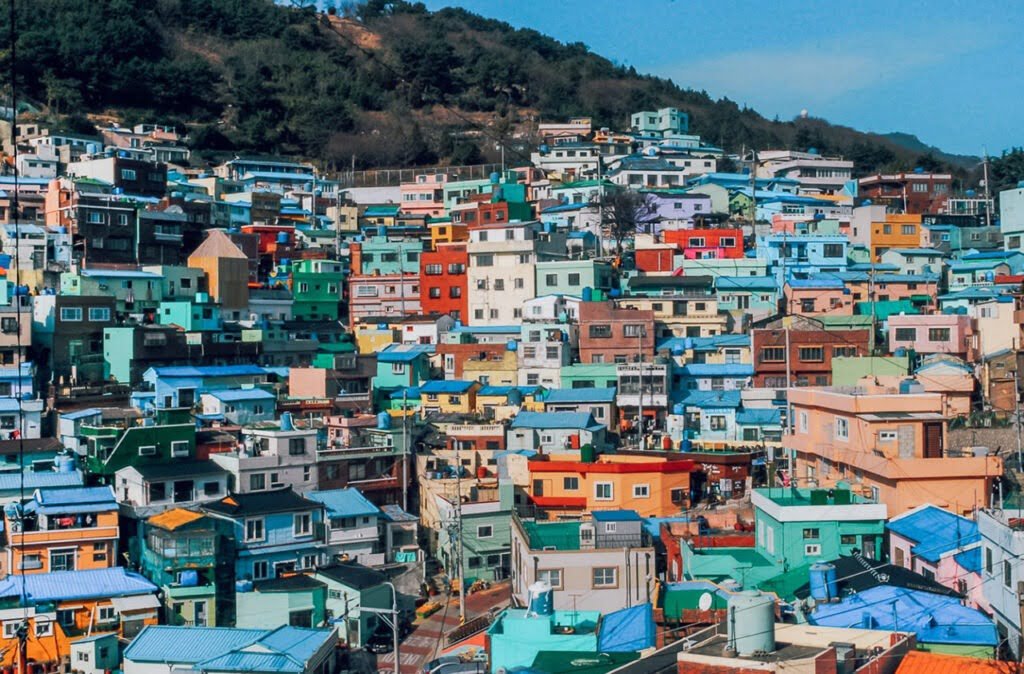 Gamcheon Culture Village, in the Korean seaside city of Busan, is the perfect blend pretty and chaos. The former slum is a hodgepodge of pastel-coloured dwellings nestled into the side of the mountain.
After an artistic makeover in 2009, when students chose to light up the neighbourhood with ingenious touches up the stairs, down the lanes, and around the corners, this historically rich mountainous slum became a tourist destination. It's now a vibrant, eccentric town of Lego-shaped residences, cafes, and galleries, perfect for a walk and a few selfies.

Yazoo City, Mississippi

A small town in Mississippi, Yazoo City, is as distinct as its title implies. Even though it is only 10 square miles in size, it has enough to offer to make a visit worthwhile. With a name like Yazoo City, pull over simply to look at the name, which is derived from a local river. Yazoo City is a flourishing community in Yazoo County, Mississippi, despite a terrible fire in the early 1900s and a catastrophic flood in 1927.

La Boca, Buenos Aires, Argentina
La Boca is well-known for its distinctive multicoloured wooden houses. The neighbourhood is actually home to artist colonies that perform on the streets. It is most renowned for its tango dance performances. El Caminito, or "the little walkway," is a hub where tourists from all over the world can come to enjoy the street shows, buy trinkets and souvenirs, or just take in the scenery and admire the shanty houses.

Oia, Greece
Every day at dusk, the small settlement that looks to be carved into the edge of a crater and totally painted in white glistens and dazzles. Old houses were all painted white, mostly to reflect sunshine and keep interiors from becoming too heated.
The village includes tight corridors, alleyways, and steps with white walls and blue window and door shutters, which add to the village's attractiveness and complement the surrounding hills and ocean. This picturesque village, located just a few kilometres from Santorini, is a famous tourist destination where visitors come to marvel at the island's pristine and breathtaking landscapes.
San Francisco, USA
San Francisco, despite its reputation as America's most culturally progressive city, is home to a spectrum of colours. The variegated paint style that changes from door to door reflects the vivid architectural individuality of this closely packed peninsula metropolis. The Painted Ladies, a row of houses in San Francisco's Lower Haight district, are one of the city's best-known works of art, although vibrant colours can be spotted all throughout the city.
Tokyo, Japan
The aesthetic of Japan's capital is quite distinct. This colour scheme incorporates the bright neon of Tokyo's advertising as well as other vibrant hues. It's difficult to imagine a city with more colour than Tokyo, and this palette captures that vibrancy against the city's famous inky night sky.
Tokyo is among the world's busiest and most colourful cities, with a population of over 9 million. Countless of neon signs and an atmosphere that never sleeps can be found in areas like Kabukicho, a famed entertainment and bright district.

Old San Juan, Puerto Rico
If colour were an addiction, addicts would have long since fled to Old San Juan. Old San Juan, Puerto Rico, is a vibrant kaleidoscope of colour in every aspect, a city with a culturally rich legacy shared by the Taino natives and European explorer descendants.
The architecture in Old San Juan varies from one step to another, with some being warm and primary and others being bright and pastel. The blue bricks that pave the alleys of this UNESCO World Heritage Site were transported over from Spain piece by piece during the 16th century. Its people are as colourful, diverse, and lovely as the colours that adorn its streets, and their welcome is something that everyone should experience.

Chefchaouen, Morocco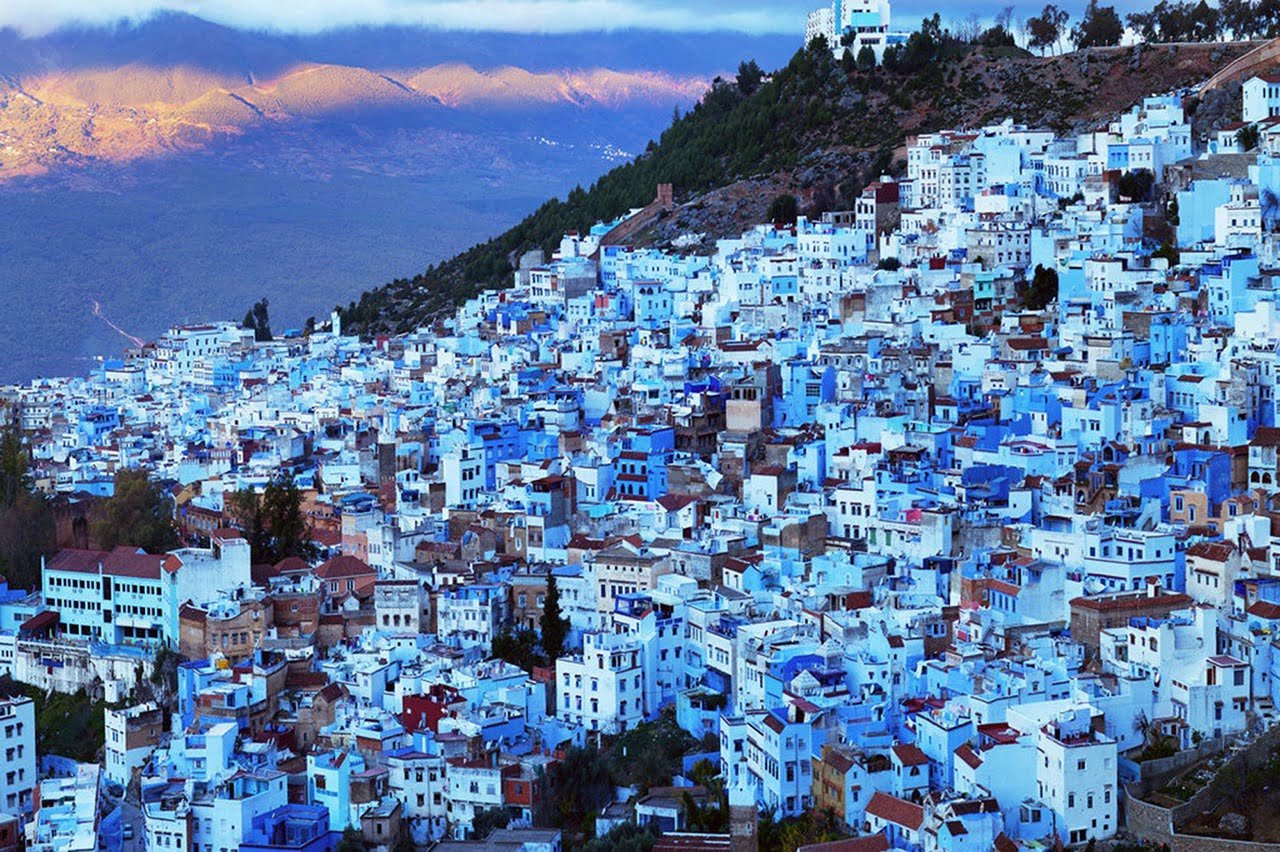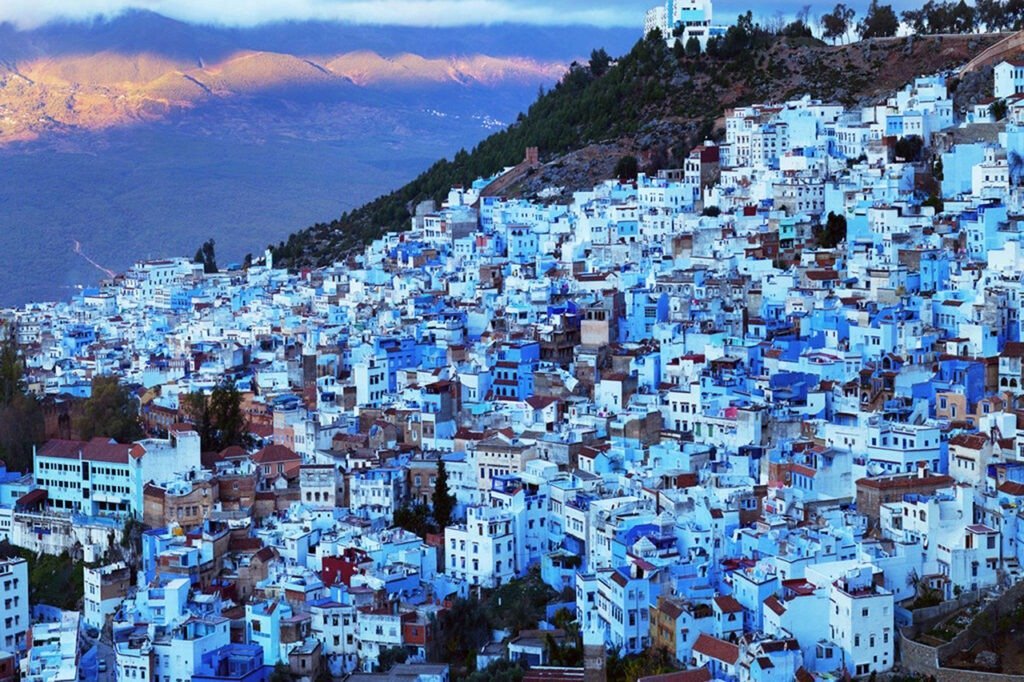 Chefchaoen's environment is reminiscent of Jodhpur in India, with its many tones of blue. Historic buildings, painted in various colours of cyan, powder blue, and periwinkle, frame the cobblestone walkways and alleys.
The "Blue Pearl of Morocco" is named from the various shades of blue that appear to cascade down the hill. The city is a lovely maze of ramps and stairs, nicely framed against the homes and buildings.
Some say the city was painted blue by Jewish refugees fleeing Hitler, while others say the colour of combat mosquitoes. One popular theory is that the city is designed to resemble the sea, which it does quite well, situated between the hill and the sea.
Little India, Singapore
Little India in Singapore is one of the most colourful areas in the country, whether you visit the Sri Veeramakaliamman Hindu temple or the Chinese House of Tan Teng Niah. Colors of many hues can be found on beautifully patterned structures or in the little colourful figurines that adorn the facades of holy sites.

Procida, Italy
Procida, Italy, is less well-known than Cinque Terre, but this off-the-beaten-path island off the coast of Naples is just as lovely. Sherbet-coloured buildings tower above dazzling waterways, flanked by narrow lanes. The most vibrant hues may be found in Marina Corricella, where legend has it that fishermen used vivid colours to distinguish their homes from the sea.

Guanajuato, Mexico
Guanajuato, Mexico's silver city, is known for its cultural and mineral significance during the colonial period and afterwards. The Guanajuato silver mines were the most productive in the world for 250 years, producing 30% of all silver produced. As the mines were being investigated, a city grew up around them, as seen by the colonial-era architecture. Yet, from one end of town to the other, the spirit of Guanajuato is mirrored in the hue of those structures, which range from light to dark.
The vibrant city of Guanajuato, like the other cities on this list, is now a UNESCO World Heritage Site. This is one of Mexico's most attractive cities, with narrow alleyways, Baroque and neoclassical architecture, and the red and yellow Cathedral Basilica Nuestra Seora de Guanajuato.
Juzcar, Spain
Juzcar, located 113 kilometres from Malaga and 25 kilometres from Ronda in the autonomous province of Andalusia, has become a popular tourist destination and one of Spain's most recognisable settlements. The lovely hamlet, which was once a classic white village, was transformed into the world's first and only official Smurfs village.
Juzcar turned all-blue in the summer of 2011 as a promotional effort for the Smurfs movie, while other places donned blue for religious or practical reasons. Despite the fact that the change was intended to be temporary, the idea was so effective in drawing tourists that locals voted to preserve the unique coloration.
Colour and architecture have a way of inspiring people to explore deeper, feed their hunger for knowledge, and marvel at beautiful things. These are just a handful of good cities that have become popular tourist destinations and centres for photography, travel, and art over the years and continue to entice visitors with their bright beauty.