Contemporary Architecture
Contemporary house design is an architectural form that embodies various styles of architectural design that have been widely influenced. Contemporary architecture is different from the modern architecture of the late 20th century, including ecological features and varied creativity. In addition to adopting different styles and influences, contemporary house design also uses the latest technology and materials.
Difference between Contemporary architecture and Modernist Architecture
Modernist architecture is just one type of architecture that is popular today, usually with simple straight lines, monochromatic color schemes, and minimal decor. On the other hand, contemporary house design incorporates whatever architecture is popular today (may or may not include modern architecture). For example, a modern house design can take on a traditional look with a craftsman style and a modern open floor plan, with the master bedroom on the main floor. Ventilated outdoor living spaces, open layouts, and large windows that contribute to indoor/outdoor flow and energy efficiency are often prominent elements in contemporary home design.
Principles of Contemporary Architecture
Unconventional volumes
The use of curves allows you to create spaces that are not simple cubes, just like straight lines. Clean lines, open spaces, and uncomplicated decor are trademarks of contemporary house design. Curves often induce a sense of flowing winding routes, opening up endless possibilities in terms of modern house design.
Open floor plans
Another unique element of contemporary house design is the trend of open and bright spaces. Instead of using walls to define every room in a building, architects prefer open-plan rooms that flow from one to the other.
We no longer go through the door to the kitchen or dining room. Today, you will have a large space with subtle features, such as curved walls or slight changes in the shape of the room, to designate what was once an independent space. It also complements the extensive use of glass. Architects are using larger glass doors and windows to eliminate the boundaries between rooms, as well as the boundaries between indoor and outdoor. Modern house design are even equipped with glass railings to allow light and visual flow to move freely in the house.
Flat Roofs
For centuries, houses have been built with sloping roofs to prevent water, snow, and ice from depositing on the roofs. This inclined design helps prevent moisture damage and structural damage caused by the weight of accumulated precipitation in colder climates.
Today, architects are choosing flat roofs, usually with raised edges that create shadows around the property. This makes it more comfortable in the shade outside and also helps reduce the need for air conditioning to keep the room cool in summer. Building shading and natural shading for landscape projects can help reduce energy costs and reduce the carbon footprint of modern house design.
Modern house design technology makes flat roofs possible, even in climates with heavy rain or snow. Flat roofs can be made of innovative roofing materials, such as PVC or EPDM rubber (ethylene propylene diene monomer). These materials are unlikely to deteriorate due to moisture, which means you will not leak in the end.
Large, abundant windows
A decisive feature of contemporary house design is the most revolutionary use of glass. Today, nothing can reflect luxury and tranquility more than floor-to-ceiling windows. They allow natural light to enter and create a seamless connection from the inside to the outside environment, whether it is the large windows that connect the apartment owners with the bright lights of the city or the huge windows that visually welcome all landscape elements.
Green roof
A roof with a layer of vegetation planted over a waterproof system, which is installed on a flat or slightly sloped roof. They are divided into three categories: extensive type, reinforced type, and semi-reinforced type. Extensive green roofs have shallow growing substrates (generally less than 6 inches), roof loads are moderate, plant diversity is limited, water requirements are minimal, and generally not can use. Intensive green roofs have a deep growth medium. Therefore, they have a greater structural load and require more frequent maintenance and watering. The semi-intensive green roof includes both types of features.
Integration into the surrounding landscape
The characteristic of contemporary landscape architecture is the subjective determination to shape the landscape in a space that reflects the experience of human life. These spaces are developed in accordance with nature to establish a relationship between modern house design and landscape.
Contemporary landscape architecture can be used not only to unify the building and the surrounding landscape but also to starkly contrast the differences between the two. The exact nature of this relationship is always determined by the project itself, its location, and the type of environment in which you work.
Integrated smart home technology
Smart home equipment helps to create a personalized environment in your modern home design to meet your lifestyle needs.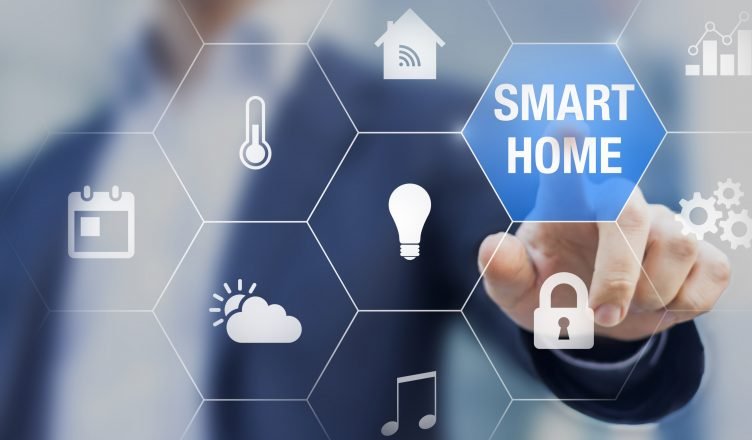 Benefits
Convenience: Integrate your smart home equipment, you can control all aspects of the home environment through simple voice commands. You can adjust the thermostat, close the blinds, dim the lights and turn on your favorite movies while being wrapped in a blanket on the sofa. Customization opportunities allow you to create a schedule at modern home design for more freedom.
Security: Remote access to smart home devices gives you peace of mind because you can set alarms and notifications for security cameras and doorbells, motion detection, and even door and window sensors. With a few taps on your smartphone, you can be sure that your home is safe.
Potential savings: Automation has the potential to create homes that are more energy-efficient and thus cost-saving. These devices can be automated so that they only work when you want them to work.
Integrated customizable LED lighting
The benefit of LED lighting lies not only in its energy efficiency but also in its impressive long life. Although incandescent bulbs can usually only be used for about 1,000 hours, and only a few hours a day can be used for a year, LED lighting can usually be used for 50,000 hours or more, which may translate into decades at the same usage rate.
Integrated customizable LED lighting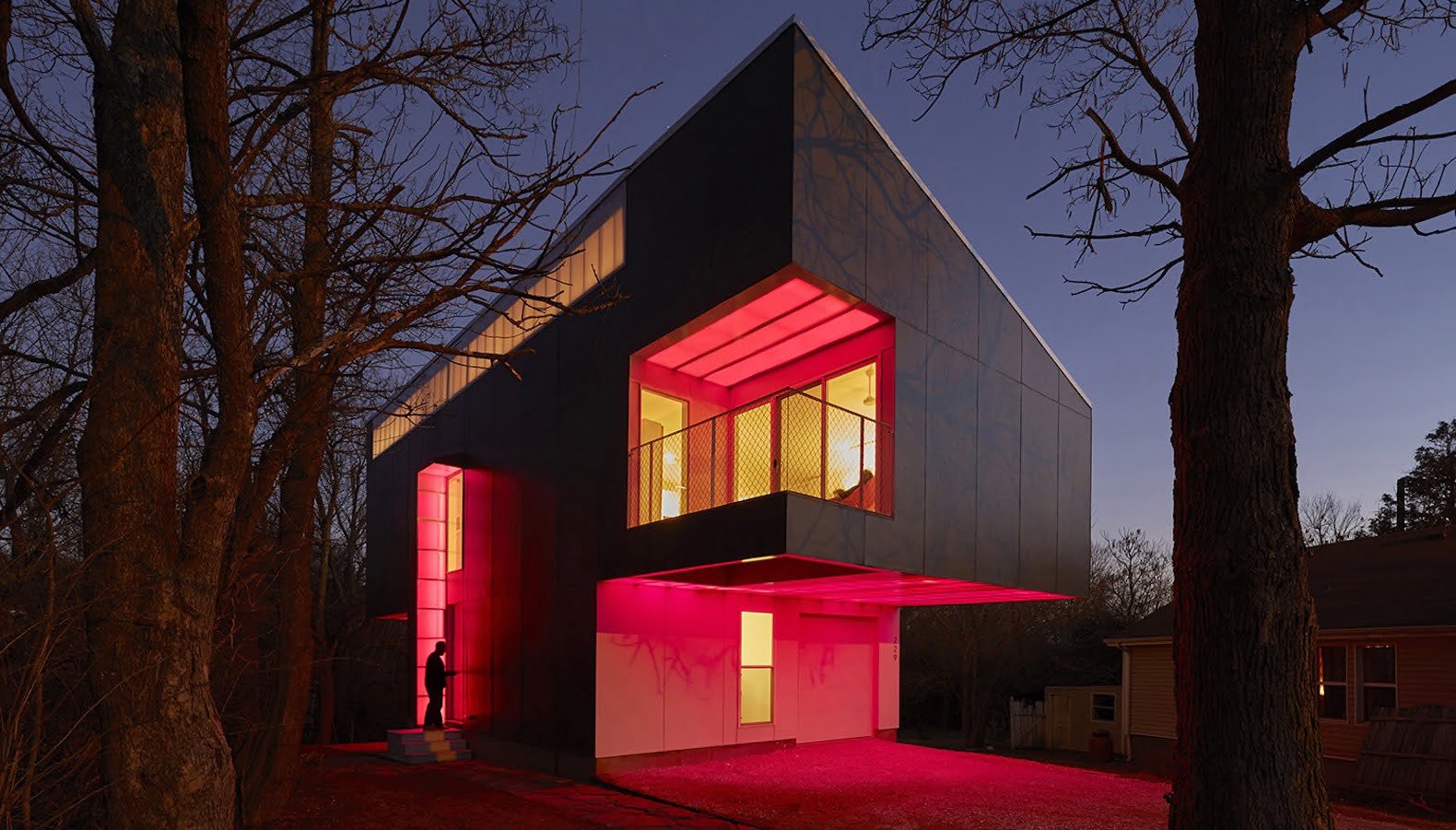 Smart Home Integration- between electric curtains, smart locks, smart thermostats, etc., smart home technology is rapidly expanding. Traditional and CFL bulbs have limited functions in smart homes and are difficult to integrate into existing settings. As a technologically advanced option, integrated LED lamps are designed to seamlessly integrate with smart home functions.
Benefits
Technological progress: Technology is constantly changing, as are the integrated LED lamps. Although the integrated LED fixtures may not seem technological, they are considered the latest lighting options available for contemporary house design. Past innovations have vastly improved the sustainability, efficiency, color, quality, and affordability of LED lighting. As a viable product that saves consumers money and energy, future research and improvements bring LED lights into the spotlight. Compared to other lighting options that may be outdated or discontinued for years to come, integrated LED lighting is a good choice.
Directional Lighting – CFL and incandescent bulbs emit light and heat in all directions. This attribute creates an ambient effect that diffuses light into the room. If you use these types of bulbs in a fixture, the light must be reflected to shine in a certain direction and most of its intensity may be lost. The integrated LED light emits directional light, which can be adjusted to emit light in a specific direction. This makes integrated LED lamps an ideal choice for recessed lighting, task lighting, accent lighting, etc.
Reduce waste – LED lights in built-in fixtures have a much longer life than other types of lighting and need no replacement of bulbs. Over time, integrated LED fixtures to generate less waste than other options. You can exclude hazardous bulb materials from landfills while enjoying the practical benefits of efficient and environmentally friendly lighting options.
Materials used in Contemporary House Design
Bricks
Bricks are like Lego blocks, through innovative thinking and exquisite craftsmanship, they can be combined to form a creative masterpiece. Although the shape of the bricks is very rigid, over time they have been showing different shapes and forming beautiful examples. Today, researchers are working to transform small building materials into sustainable building units.
Wood
The only renewable modern house design material added to the building not only provides a feeling of warmth but also the joy and comfort shared in the design compared to aesthetics and function. These specific materials can change any space. Its high tensile strength, sound absorption, and other characteristics (such as heat resistance and electrical resistance) make it a special material used in modern house design.
Concrete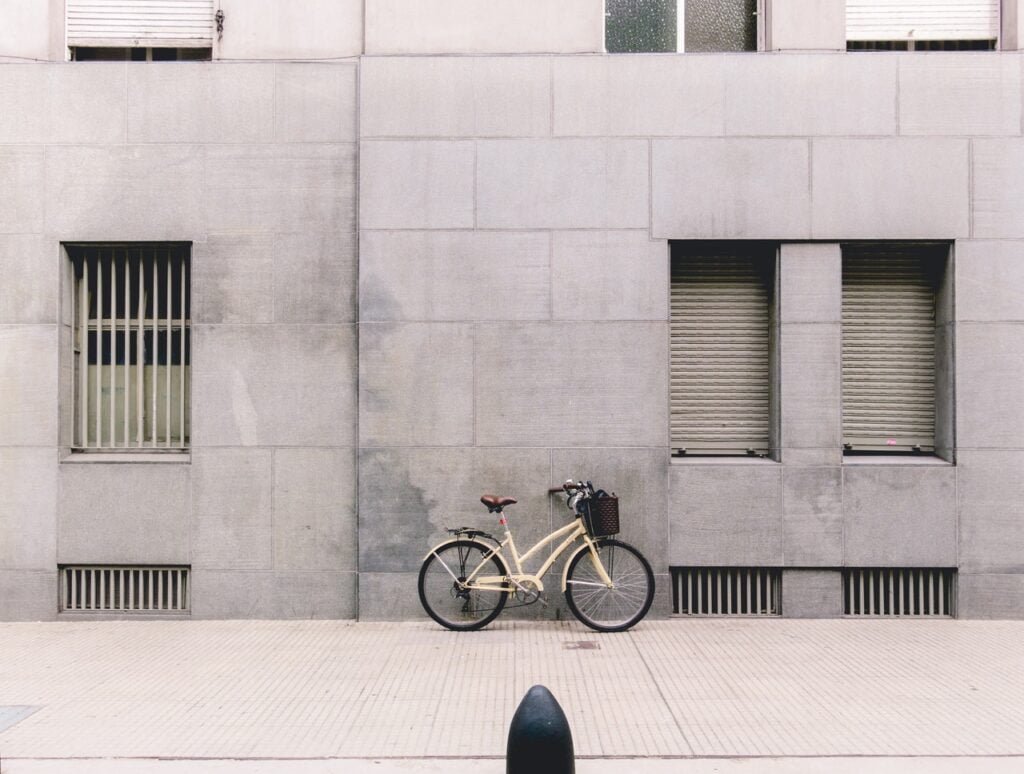 As a material for the pillars of modern house design, concrete is glued in a fixed ratio with cement, fine aggregate, and coarse aggregate. Using appropriate scaffolds, this compound can be easily molded into the desired shape to form columns, beams, slabs, foundations, etc. This rough material inspired Le Corbusier, one of the greatest architects. Additional research on concrete has led to the development of more materials to be used in contemporary house design, such as durable concrete, high-performance concrete, self-healing concrete, translucent concrete, and flexible concrete.
Steel
Steel is a material that can be used both as a structural material and as a visible material in architecture design of homes. Its tensile strength makes it an effective structural material, such as R.C.C., and structural materials such as space frames, cross-section beams, and trusses. Besides, it is also used as window and door frames, handrails, railings, door handles, etc. As a building material, steel has qualities such as durability, strength, lightweight, recyclability, and ability to withstand changes in climatic conditions.
Glass
The modern house design material used to achieve transparency and light, glass, is the most common facade element, providing visibility and protection from weather changes. Mies van der Rohe's Farnsworth House and Phillip Johnson's Glasshouse architectural samples proved that the scope of application of glass as a building material is reasonable. Researchers have been able to develop glass with a lower U value, which is a high thermal insulation performance that can adapt to the environment and help reduce the energy requirements of buildings.
Stone
Natural stones are still a fashionable building material. Despite its weight and volume, it is appreciated in the construction of contemporary house design for its wide range of textures, colors, and sizes. The material is durable and naturally usable.
Tiles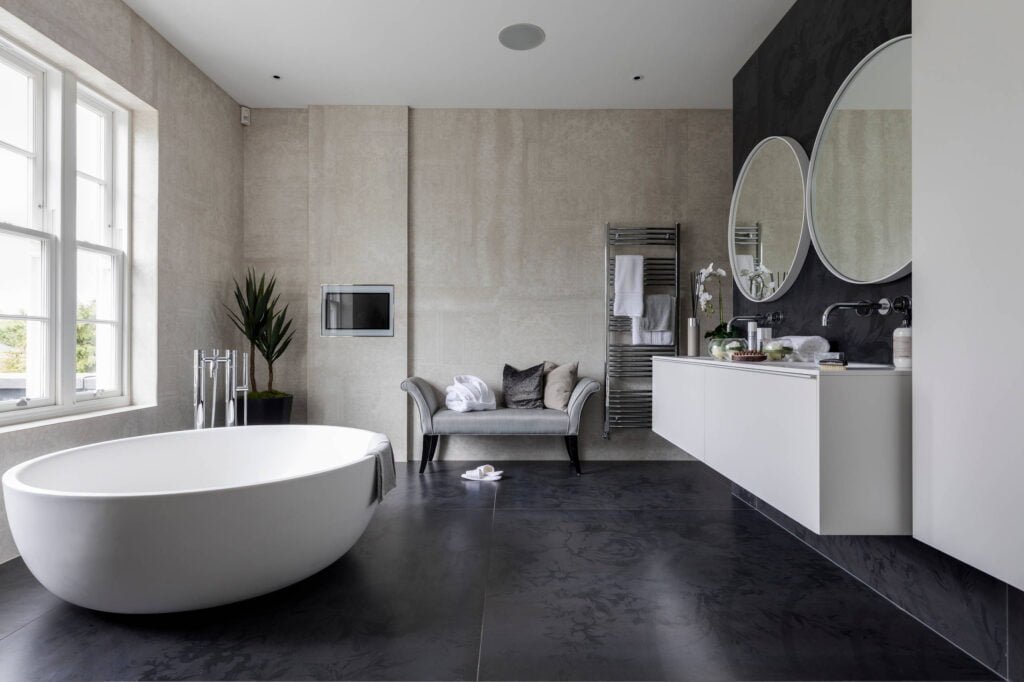 Modular kits made of hard materials such as ceramic, stone, and even glass are used as materials for coating floors, walls, desktops, etc. It is a commonly used high-efficiency facing material in modern house design. Easy to transport, easy to repair, convenient size, and availability of multiple colors and textures make it a popular choice for designers. Today, the ceramic tile industry works towards the concept of recycling to achieve sustainable development goals.
Contemporary Architects
Frank Gehry
Canadian architect Frank Gehry has spent more than half a century fundamentally changing our view of architecture. Many of his projects have become world-renowned attractions, and many of his works have been listed as one of the most important buildings in contemporary architecture.
Zaha Hadid
The British-Iraqi architect Zaha Hadid (1950-2016) left an indelible mark on the architectural landscape. Her eye-catching buildings decorate the skyline of major metropolises, and product designs, including furniture, jewelry, lighting, and shoes, can be found in modern house design around the world. This avant-garde designer, arguably the most famous architect of her time, has won numerous prestigious awards in her career, including the Pritzker Architecture Prize in 2004 and the Sterling Prize in 2010 and 2011.
Norman Foster
Sir Norman Foster is a famous British architect for his innovative structural designs, such as the Berlin Parliament Building, the Hearst Building in New York City, and the London City Hall. Sir Norman Foster is one of the most sought-after architects in the world. His company Norman + Foster has built some of the best postmodern buildings in the world so far.
Santiago Calatrava
Calatrava is a world reference in the field of architecture and engineering. Initially, the Valencian architect moved to Zurich to achieve the most successful combination: studying engineering. Calatrava chose not only to retain the title of architect or engineer but to explore his artistic context as a painter and sculptor. Perhaps that is why his work is difficult to explain on an aesthetic level. The first Spanish architect is a benchmark of the best architectural projects in the world.
Laurie Baker
Lawrence Wilfred Baker is known by the name of Laurie Baker. He is a British-born architect who follows traditional low-cost and sustainable construction techniques for the architecture design of home in India. He is a man who counteracts India's tendency to imitate the West by constructing impressive buildings with sustainable materials, recycled clay, shells, and bottles. Laurie Baker is a humanitarian, he doesn't believe in building for the class, but for the masses. He is known for his "cost-cutting" policy on all his works, which is hard to see in modern house design. He used inexpensive construction techniques to build houses, hospitals, research institutes, slums, and government projects.
Sanjay Puri
Sanjay Puri Architects is now one of the most sought-after architecture and design companies known for modern house design in India. "The evolution of innovative design solutions related to the environment contributes to the creation of sustainability and space and completely changes the way people experience" constitutes the essence of the philosophy of Sanjay Puri Architects.
Although Sanjay emphasizes design elements, environmental sustainability is still the foundation of all his architectural creations. He believes that sustainable architecture is the need of the future, and the motivation of every architect should be to create a sustainable environment.
Charles Correa
Charles Correa, the most iconic modern architect in India, has a prolific career. He has designed nearly 100 buildings in India in his lifetime. However, whether it is low-income housing or luxury apartments, Correa has Maintaining a universal approach that respects local conditions, meets the actual needs of its residents, and recognizes the spiritual nature and beauty of its country.
Contemporary Buildings
18 Screens House
This is a thoroughly modern house design, but it also reacts strongly to its culture and climate. Like any architecture design of house, it is very functional, especially you can reduce the summer temperature to 35 degrees celsius, but using some very traditional methods. The two key traditional strategies he employs are the use of partitions and internal patios.
Surrounding the house around the patio and using perforated screens to adjust the light and reduce the heat is a feature of houses not only in India but also throughout the Middle East. Usually, these houses consist of several floors. In this house in Lucknow, the layering begins with a high concrete wall on the outside, separating the house from the road.
There are green plants outside (as part of the border) and inside. Next, most of the exterior skin of the house is made up of perforated partitions. Then a hollow area, in this case, a semi-indoor garden, begins the cooling and shading process. The second is the actual building envelope, here is the original concrete and glass, and finally the inner courtyard, which is open to the sky and brings light to the house while providing shade and natural ventilation.
The Crescent
The Crescent was designed by Sanjay Puri Architects to accommodate the offices of local real estate developers. It is located on a small plot at the intersection of two highways. The building is located in a convenient location for developers and customers and is intended as a publicity landmark.
According to the architect, this cladding material was chosen because of its "beautiful natural aging appearance, which adds to the architectural sculpture form of this small building". The angular shape is a direct response to strong sunlight, which results in extreme temperatures for most of the year. The curved wall forms a protective barrier against the southern sun and opens to accommodate a series of layered windows facing north.
The Brick House
Located on a narrow and irregular site in Trivandrum, BRICKHAUS in Kerala, India aims to provide customers with respite and joy. It accommodates a young family, including doctors and their two sons. The plan addresses various requirements: a combination of novelty and functionality, public display, and private expression.
BRICKHAUS will naturally evoke a feeling of nostalgia. The house has a kind of ethnic charm, which is emphasized in the changes of light and shade through the opening of the window and the position and details of the material palette. The design also attempts to bring nature indoors, using context-detailed skylights and ventilation channels that define jali works to promote natural indoor cooling, complemented by the layout of internal gardens and pools, to jointly create a magical light.
In contemporary house design, Persian rugs are a phenomenal design element that can impart an unparalleled sense of warmth to any living space. By anchoring furniture and creating a cozy ambiance, they have become an incredibly fashionable and well-liked option for living rooms, bedrooms, and dining rooms. Furthermore, Persian rugs are often employed as eye-catching statement pieces, replete with bold patterns and colors that add a compelling sense of intrigue and allure to a room.