Unlike any other region, Europe has had a significant impact on architecture. Europe has a vast architectural legacy that reaches back to ancient times and has aided in giving unique answers to difficulties faced by diverse European nations. Art deco, art nouveau, De Stijl, modernism, futurism, brutalism, deconstructivism, and postmodernism were all influential in early twentieth-century European architecture. Facades, columns, and pilasters, arches, vaults, domes, windows, and walls built of brick or stone are common features of European house architecture.
Examples of different types of European Houses
More than anything else, architectural style determines how a home appears and feels. There are a variety of house architecture types in Europe, each reflecting the trends, affluence, and sometimes just the general mood of the age in which they were created and built.
Some common characteristics of European house design are rooflines with sharply pitched hip or gable roof design and irregular massing, decorative aspects such as half-timbering, intricate windows, and brick or stonework are utilized in combination with brick, stone, and stucco.
European house architecture has evolved tremendously but some features unique to its style remain the same and listed below are some European houses to learn more about this style of house architecture.
Buckingham Palace
Home to the monarch, Buckingham Palace is a remarkable example of Neoclassical French Architecture by john Nash. The Buckingham Palace was designed in the 19th century, in an era that undoubtedly produced masterpieces, with modifications and renovations continuing until the 20th century.
History
The location at Westminster in London had a mulberry plantation and the Duke of Buckingham's mansion, which was eventually demolished to make way for King George III and Queen Charlotte's new house architecture. However, their son George IV had a vision of making that basic house into a masterpiece, and he enlisted the help of John Nash and his team of architects. The crew began work on the remodeling in the 1820s and was heavily influenced by the post-Rococo architectural trend known as "Neoclassicism." Following Queen Victoria's ascension, the palace was designated as the official London residence of the British monarch in 1837.
European House Architecture
The King was enamored with French Neoclassical design, and the palace's front façade displays those elaborate elements. The symmetry in elevation, which is supported by lofty powerful columns, is a wonderful example of neoclassical qualities. The façade, which is made of Portland stone, is undeniably spectacular, with a refined and uncomplicated appearance that is agreeable to the eye.
The palace is significantly bigger, with a floor area of 77,000 square metres and a height of 24 metres making it even more impressive. It has a total of 775 rooms, including 53 bedrooms,188 rooms for staff, and more than 90 offices. The Music Room, Drawing Room, and Throne Room are among the many rooms, each with its own function. The interior areas are decorated in a Belle Époque cream and gold colour scheme, with scagliola and blue and pink, dominating.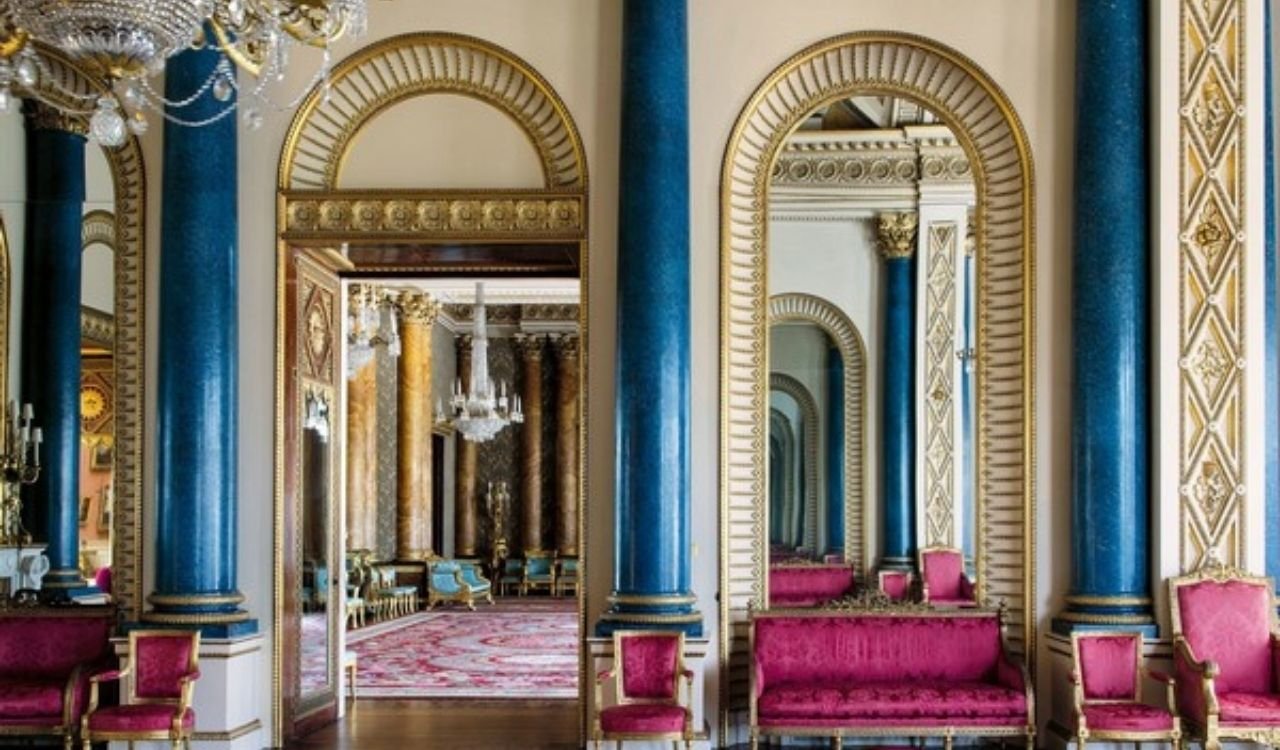 With various extensions occurring over the years, the palace evolved into a square layout with a quadrangle in the centre and two stories.
The Present
The palace is currently the residence of Queen Elizabeth II and Prince Philip, as well as the Duke of York and the Earl and Countess of Wessex. Apart from being a dwelling, the palace also serves as an art gallery, housing the Royal Collection, which includes precious artworks and furnishings. The Queen's palace and art collection are not her personal property; they belong to the country.
The structure is an architectural marvel that symbolizes the beauty and grandeur of bygone centuries, in addition to being a historical and political marvel. Buckingham Palace has had its own path; there is plenty to see, learn, and be inspired by. The palace is indicative of a wide range of emotions, from citizens hoping to catch a sight of the Queen from the balcony to an architecture student awestruck by this regal grandeur.
House in Ostrava
The House in Ostrava was created by ti2 architekti and is based on the log style of European house Architecture. A log house, often known as a log cabin, is a conventional dwelling made of unmilled logs that are structurally similar to a log house. The phrase "log cabin" isn't used by modern builders because it usually refers to a smaller, more rustic log structure, such as a summer cottage or a hunting cabin.
House in Ostrava is a modern twist on the log-type European house design that was erected in 2019 in the Czech Republic's city of Ostrava and spans over 277 square metres. The house is fashioned like a thin, long figure that follows the undulating terrain. The bottom floor has three different height levels, and the house's technical amenities are located in the basement.
The design is based on a rigorous zoning system for the day and night sections. The sloping roof design is about 30 metres long, with inner spaces ranging in height from intimate 2.3 metres to expansive 3.5 metres. The Facade is made up of metal trapeze plates that are vented. There are apertures on the longest facade sides, and the elementary block shape is connected by another volume consisting of a subterranean staircase.
Rustic Red and Yellow Country House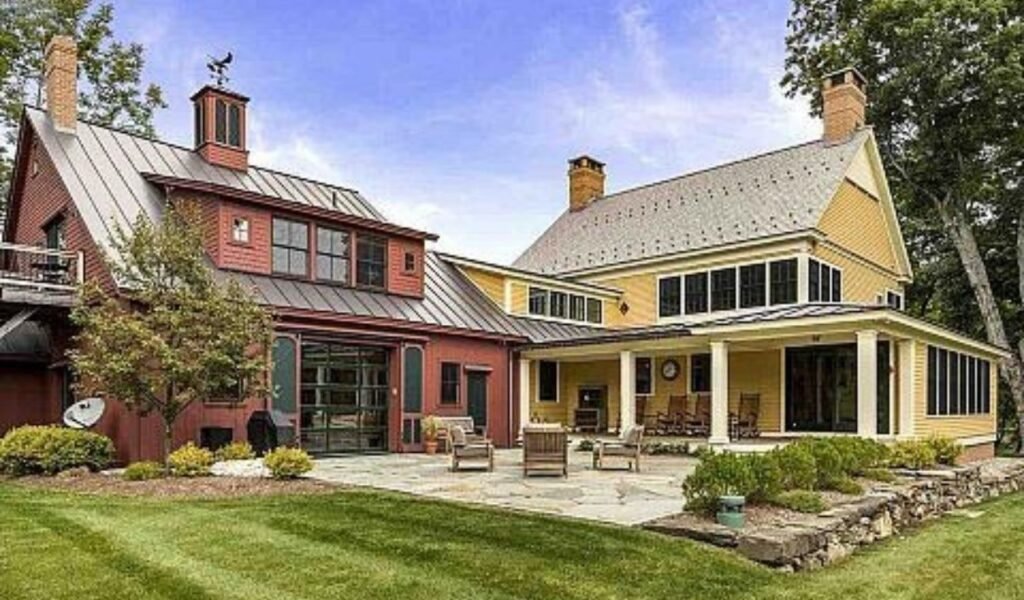 It is a classic European house design with open floor plans, arches, hip roof design with European roofing materials like clay tiles and stone-clad walls showcasing a country house architecture located in Windsor. It's a seamless amalgamation of old-world ideas and modern technology, offering its owner a 4-bedroom plus loft (6-bedroom septic), 6.5-bath farmhouse that blends into the typical Vermont backdrop.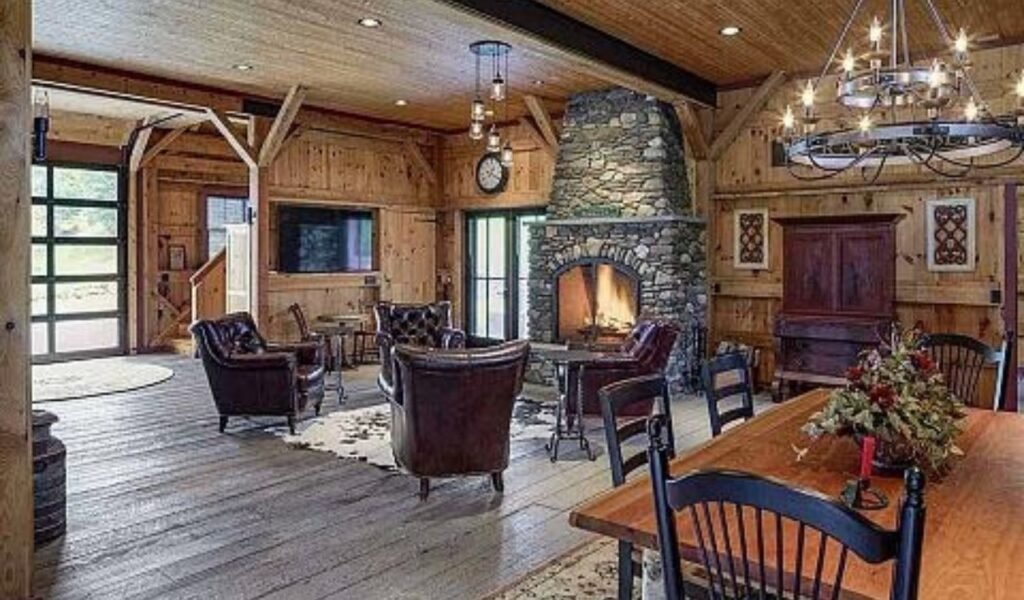 The property has it all: a stunning 21+ acre setting with views of rolling meadows, Rush Meadow Valley, and Mount Ascutney, as well as endless stone walls, apple trees, a cascading river, and two ponds.
On the surface, it's classic, yet on the inside, it's hip with the first floor of the European house being open, with huge windows and high ceilings, plenty of light, and views from every window. A two-bay garage, carriage house party barn, wood room, and yoga studio are among the facilities that are connected. The three-season carriage barn's enormous glass door opens to the stone terrace, and a massive stone fireplace and soaring ceilings make this a spectacular gathering spot for family and friends, with a nice guest suite on the second level.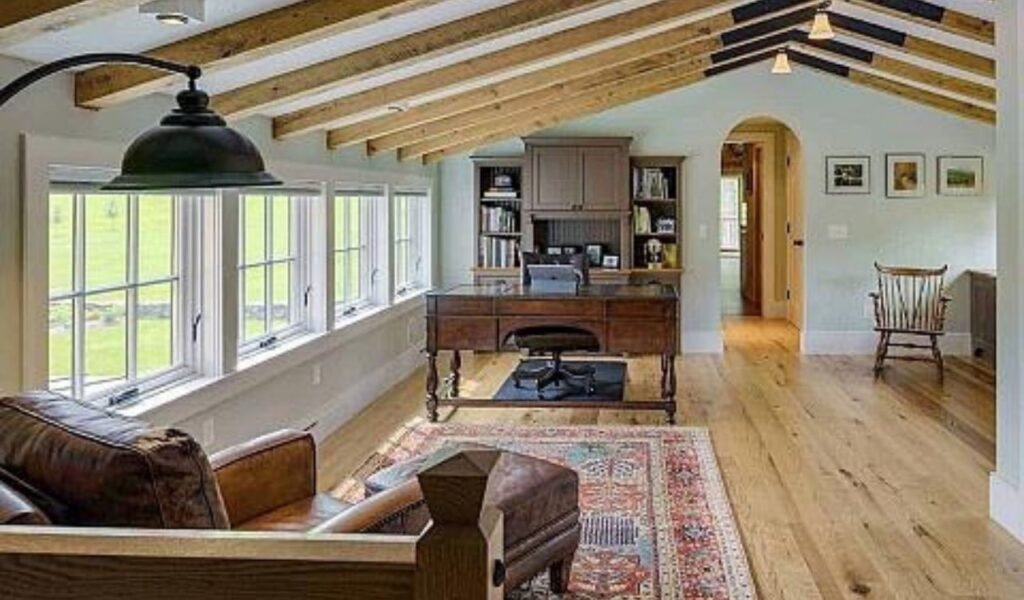 Kozina House
This European house was built in a historical section of a small South Bohemian town that, despite its neglect, has a strong aura and potential. This European house is concealed from the hustle and bustle of the surrounding traffic in the little tranquil lanes next to the green patch of Kozina Square, although only a few feet separate the owners from the town centre with stores, services and offices, schools, cinema, theatre, and train station.
The restored house is seen as a viable alternative to suburban houses that obtrude on the landscape in an excessive manner. It has all the characteristics of a European house design on the outside and a minimalist and modern approach to the interior. It includes white stone encased walls and wide windows on the outside, as well as a gable roof style with orange clay tile as the roofing material.
Archways play an important role in interior design. This house has a fairly large living room with an attached outdoor terrace, an attic with children's rooms and a playroom, a bedroom with its own bathroom, a garden with fruit trees, two parking spaces, and a spacious workshop with a car lift on a slightly smaller plot of land. Two adjoining houses are connected to form a residential building.
Banja House
The view from this European house, which is located in the hills of southwest Serbia, opens up to the valley over the Lim River and the neighboring countries of Montenegro and Bosnia, and Herzegovina. The house is ideal, nestled close to nature on a hill surrounded by pines, Swiss stone pines, and larches. It hasn't been occupied since 1992, due to the fact that it was left unfinished. The proprietors have indicated a desire to create a bright, inviting hideaway here 30 years later.
After three decades, GOLE GmbH – Architecture Office was able to bring this silent witness to a turbulent time into the present. The wish for an expansion for a new future was realised by dramatic, yet precisely dosed initiatives. The canopy was cut back to the facade, individual windows were relocated, and the facade was insulated for the first time. The role of the ground floor is reflected in its name: here is where things are fired and canned, cooked, and produced.
On the first level of this House Architecture, a piano nobile with a small kitchen and bedrooms was constructed. Here, the window frames have been transformed into nature-inspired picture frames. The heat is stored in the new stone slab floor throughout the day and released at night.
The top-level was transformed into a light-filled loft with a 360-degree view of the woods and valley: naked walls and soothing views. During huge family get-togethers, relatives are hosted here twice a year.
Two Story 5-Bedroom Georgian Home
As the name suggests it is a Georgian-style European house and some of the common qualities found in the Georgian-style house architecture are termed infinite in their variations, including symmetrical, centre-entry façade two-story houses and an infusion of the two-room-deep center-passage floor plan.
Some unique features in this particular house – Front external image with hipped roof design, elaborate columns, and wrought iron railings around the main door. Right outside is the view with balconies and a stairway leading to a kitchen with a french door. A double garage and arched windows can be seen on the left side of the house. Hipped and gable roof design, as well as an airy patio with a trellis roof, may be seen from the back. The living room and family room are separated by a carpeted stairway. The family room features many arched windows and is entirely open to the kitchen and dining area.
Ranch Style California Home
European house architecture has influenced designs all over the world and this California ranch-style house is one such example. The ranch house architecture is noted for its long, dense ground profile and minimalistic nature, which employs a limited number of interior and outdoor decors. This home combines modernist ideals with working ranches to create a relaxed and easygoing atmosphere. 
Ranch style was popular among the postwar middle class from the 1940s through the 1970s, and it was first built in the 1920s. Although this design was able to be exported to other countries, its popularity diminished in the late twentieth century as the neo-eclectic house style grew prominent.
This California Ranch is a single-story house that has a neutral and minimal aesthetic in order to provide a cozy atmosphere for its owners. Ranch staff houses are known to be earthy and blend with the tones of nature and this house serves that just right. This house shows a sloping roof design and basic square windows which is common in this style.
Milton Slater Brown House
The Milton Slater Brown House is a splendid example of a Queen Anne-style European house that was vastly popular between 1700 to 1714 and then there was a revival in the 19th century.
This Queen Anne-style house has abandoned all pretenses of symmetry in its house architecture. The sharply pitched roof design is a complicated fusion of hipped and gable roofs, chimneys, dormers, and turrets, and is often irregular in shape. Bay windows protrude from the side walls in an apparently random pattern. Although porches contribute to the asymmetrical look, the main facade of a typical Queen Anne House usually has a gable that dominates the elevation, giving it a singular focal point.
The house's details are an intricate blend of shapes, textures, and colours. There are a variety of walling textures, similar to the Stick Style House, with clapboard treatments, shingle patterns, and moldings. Spindles, brackets, finials, and columns are frequently used in combination. Queen Anne's aesthetic impact was enhanced by the use of bold, rich, and bright hues. Along with a myriad of designs this house has three different roof designs including a dome-style roof over a room.
This house has a complex blend of shapes, textures, and colours in its detailing. There are a variety of walling textures, such as clapboard treatments, shingle patterns, and mouldings, much as there are in the Stick Style House. Spindles, brackets, finials, and columns in various combinations are also popular. Bold, rich, vivid colours gave the Queen Anne visual punch, thus paint schemes add to the cluttered look.
Pennycroft House
Pennycroft is a stunning five-bedroom family home built on a semi-rural property on the outskirts of Great Missenden, Buckinghamshire, to replace an outmoded 1930s house architecture. To adhere to the strict regulations in a designated 'Area of Special Character,' the design is a contemporary interpretation of local Arts and Crafts architecture that references successful architectural elements of the era while providing a solution that better suits the needs of modern-day family living.
A substantial brick base perforated with a series of holes supports a 'clear storey' with timber details above. The new construction consists of two structural elements: a massive two-story structure that houses the majority of the house and a vaulted single-story living area. A sleek glass bridge connects the two volumes, allowing them to be read independently while physically connecting to form an L-shaped footprint that frames the back garden.
Bovingdon handcrafted red brick with lime mortar, sourced locally, wraps around the entire lower floor, resulting in a classic, high-quality finish. A rhythmical arcade of deep timber reveals with glass and timber infill spans the entire upper floor. All of the wood is FSC certified Douglas Fir that has been treated to keep its original, deep amber colour. This arcade can also be interpreted as a clerestory, which illuminates the facade from within at night.
An off-center glass gable disturbs the rhythm on both sides of the volume, rising to a steep apex placed within a high-pitched roof design that echoes the form of historic Arts and Crafts structures. These exquisite gables are essential to focus points both inside and externally, emphasizing the location of two huge timber doors on the front facade, which serves as a welcome primary entry to the dwelling below.
Blackwater House
Photo by Archdaily
Platform 5 Architects designed Backwater in the Czech Republic replaces an outmoded bungalow on a headland in an isolated lagoon in the Norfolk broads, giving practice director Patrick Michell a family home.
The home is divided into three low-rise sections with a slanted roof design that echoes the functioning boat shelters that are common on the Broads. To portray the form as an abstract folded plane, the roof design and side walls were coated in blackened timber shingles on the outside.
The timber shingles on the front and back elevations of the house architecture are kept untreated to weather and give a warm textured appearance. Timber boarding has been employed on the bottom as a roofing material on the waterside elevation to produce a refined look that matches the internal woodwork.
The greatest architectural drama is held for the waterside elevation, which is a straightforward manifestation of the three pitched bays that have been slightly faceted around the terraced ramp. The materiality of the neighbouring houses is contrasted by the timber shingle veneer, which is starting to weather back to offer a sympathetic presence against the trees and river.
For interiors, a basic plan allows for flexible living and fits family life by allowing diverse activities to take place at the same time via timber sliding doors. A huge kitchen and dining area is located in the centre bay, which flows into a double-height living space separated by a steel-clad fireplace. The third bay houses the house's three bedrooms, which are separated across two stories and joined by an extraordinary spiral staircase that rises from the entrance hall.