"There is a certain history, tradition, and continuity that you can see in European Architecture"- Spela Videcnik.
European House Design
European Architecture
Europe has had a great influence in the field of architecture, unlike any other continent. Europe has a long tradition of architecture that dates back to ancient times which helped in providing unique solutions for problems related to various nations of Europe. In the early 20th century, European architecture was driven by a mix of styles namely art deco, art nouveau, De Stijl, modernism, futurism, brutalism, deconstructivism, and postmodernism.
European architecture mostly showcases greatly ornamented facades, columns, and pilasters, arches, vaults, domes, windows, and walls made of brick or stone

Some great examples of European architecture are – The Hagia Sophia in Istanbul, Royal Summer Palace in the Czech Republic, House of the Schumann family in Gdansk, Poland, and Palace of West Minster in London, United Kingdom.
European House
European house designs are a perfect blend of old-world European architecture and modern-style architecture that provides the features and convenience a family needs from their house architecture. Typically European house designs feature accents of the old world Europe. These homes will show us the past with their splendid styling and elegance but at the same time provide homeowners a floor plan that delivers to all their needs in the modern-day.
With their great diversity of design components, European houses exude charm and character. There are different types of European house designs but most of them are grand in size and have massive interior plans that are well suited for large lots. European houses provide generously proportioned rooms and high ceilings that convey a sense of grandeur and European ambiance.
In European house design, both exteriors and interiors are decorated with architectural ornamentation, arches, columns, stylish keystones, decorative quoins, turrets, impressive ironwork, and tall windows. These elements are known to have stood the test of time and deliver a blend of luxury and comfort in a unique way that is quite popular across the design board.
Some Common Characteristics of European House Design
Roof designs that are diverse, complicated and interesting
Traditional architectural elements and principles of high quality
Open floor plan concept
Homes that are one to two stories tall, with exteriors that are generally richly adorned with stucco, brick, or stone materials.
Dormers above the ceilings and high ceilings
Archways, wrought-iron balconies, and courtyard entrances are all featured.
Roofs made of clay tiles
Facades with asymmetry
Entry and exit points for French doors are located throughout the house.
Floors and other surface design materials of high quality and rich texture
Design Style and Sizes
European house exteriors are frequently made of brick, stucco, and/or stone. European home plans are easily identified by their steeply sloped rooflines, swooping rooflines, balconies, and arched entries. Most of these mansions include rich architectural features such as copper roofs above bay windows, exquisite keystones, and decorative quoins accenting the corners, giving them the appearance and feel of a castle. European style house plans share certain aspects with Luxury home designs, Craftsman homes, and Mediterranean house plans.
When it comes to portraying an image of European house designs, there are clearly subsets and similarities. These subgroups include English, Tudor, French, Italian, Spanish, and the colorful dwellings of the Mediterranean, which span the European continent and include the warm seas of the sea. Small Ranch designs, simple chalets, and storybook cottages to enormous, magnificent villas and sumptuous manors are all possible.
European House Design- Exteriors
Exteriors with European houses are frequently extremely decorative and exquisite, with visually appealing design aspects that give the property a lot of curb appeal. With wide facades, complex roof design, archways, and many series of huge and tall windows, these luxury exteriors can be striking. They might have courtyard garage entrances as well as plenty of asphalt parking. In addition to the utilitarian courtyard space, many courtyard entertaining areas are positioned adjacent to the interior rooms and can be accessible by exquisite French doors, sliders, or single door access points.
On the exterior of the European house, organic design materials such as smooth stucco, brick, or stone are commonly used. Turrets are miniature towers that can be used as a library, dining room, or sitting room within a home's interior and provide fantastic window views for a light and open environment. A porte-cochere is a covered entrance large enough for vehicles to pass through, usually leading to a courtyard and maybe allowing passengers to disembark from cars.
Many European house designs are functional and acceptable for vast, narrow property lots, despite their expansive and enormous exteriors. Obviously, these homes will be built from the inside out, but there will still be lots of opportunities to include intriguing gables, rooflines, ornate and magnificent facades, and spacious, comfortable floor layouts.
European House Design- Interiors
European house designs, regardless of regional influence, provide intrigue and visually pleasant touches to your home, not simply on the exterior. Many big European homes have textured wall surfaces, interior ironwork, organic building materials, interior archways, and towering ceiling heights. Large, well-designed floor plans often include separate sleeping and private spaces for family members, as well as ample space for entertaining in style.
Elegant formal spaces such as libraries, conservatories, and salons, as well as grand foyers with sweeping staircases, offer rich and brilliantly constructed classic rooms from bygone ages. The opportunity to choose between different foundations, such as a crawl space, slab, or basement foundation, is included in this vast range of interior floor layouts.
European house plans with terrace-level living highlight the unlimited possibilities for additional family space, whether it's for an in-law suite, casual entertainment space, additional bedrooms, and baths, or plenty of storage.
European House designs are influenced by a wide range of design styles and concepts found across the continent and along the Mediterranean sea but they all provide the comfortable blend of elegance and refinement that homeowners seek.
European House Design- Roof Design
The basic forms of the European houses were initially simple, often symmetrical with moderately steep to very steep roof design. These were generally hip roofs with dormers breaking through the fascia into the roofline. Eventually, gables were utilized creating a more complex and interesting structure. Upper levels are often concealed with the steep roof and expressed with dormers and similar elements.
In European houses, clay tile or slate were the most used roofing materials. On curved vertical sides and radiused roof forms, dormers and decorative vents of copper and zinc were employed.
Climatic Factors affecting European House Design
Climate is the biggest factor that affects the architecture of any continent. How hot or cold a place determines the size and number of windows in a house, roof design is affected by whether the place receives heavy rainfall or snowfall.
Europe has a temperate climate and gets heavy snowfall during the latter half of the year which is why most European house has roof design with steep gabled roof and use roofing materials like clay tile. Stone and brick are the most common materials used for exteriors as they help maintain the temperature indoors.
Most European houses designs have chimneys in the roof and fireplaces in their interiors to help in maintaining an optimal temperature during heavy snowfall. Northern Europe gets heavy snowfall hence their house architecture has steep gable roofs and as we move south the steepness steadily decreases.
Different Types of European House Architecture
Tudor
The Tudor architectural style was the final phase of the medieval building from 1485 and 1603. During this time, England's Renaissance architecture was also being tentatively introduced. As a result, Tudor house architecture may have flourished structurally between 1500 and 1560, following the Late Gothic Perpendicular style, until being superseded by Elizabethan building in 1560.
Tudor houses are constructed of brick and/or stucco, with decorative half-timbers exposed on the exterior and interior. The buildings include steeply pitched roofs, lengthy rows of casement windows, and rubble work masonry.
Country
Country homes, often known as manor houses, are huge European houses or mansions with extensive gardens. The surrounding property was once owned by the feudal estate, while the house was owned by the landowner.
A country house, also known as a manor house, was historically the capital dwelling within a manor, which was the primary unit of territorial organization in the feudal system of Europe. The lord of the manor lived here as well, and it was used for manorial courts and banquets with manorial tenants. The word is now loosely applied to country mansions that are much smaller than their origins in the late medieval era when nobles used to live there.
English Cottage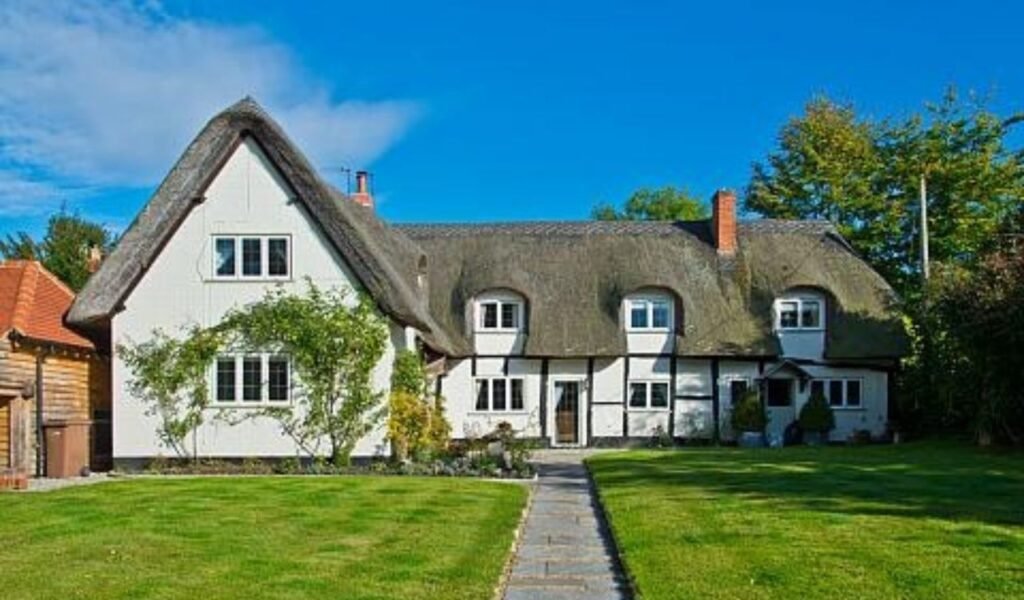 This is a little European house or an old-fashioned dwelling that was previously known as a "house" before being renamed a "cottage" in England; a typical house with a ground floor and bedrooms that fit inside a roof space.
Amongst today's house architecture, a cottage refers to a small, cozy home that is generally built-in rural or semi-rural settings. In the United Kingdom, the term cottage refers to a traditionally built modest dwelling, while it can also refer to modern constructions that imitate traditional styles, known as fake cottages, while in the United States, the term cottage refers to a small vacation home.
French Country
French country architecture is one of the country's many accomplishments. The founding of the first institution in Europe, the Academy of Architecture, in 1671, demonstrates the unique significance of architecture in France, as does the establishment of the Prix de Rome architectural competition in 1720, which is a national interest competition, financed by the government, and a prize that is highly sought after.
Asymmetrical exteriors are common in French house architecture with a mix of ornamental components to complete the design.
Georgian
Andrea Palladio's designs and Inigo Jones' work influenced the Palladian style of Georgian house architecture. Elegant house architecture with symmetrical facades and intricate ornamentation was popular throughout this time period. In the late 18th and early 19th centuries, Greek themes were also quite popular. Two-story residences with asymmetrical, center-entry façade. The common characteristics discovered are an infusion of the two-room-deep center-passage floor layout.
Mediterranean
The sun-drenched countries that line the Mediterranean Sea's rims influenced the Mediterranean design dwelling. The Italian and Greek styles are the key contributors to the Mediterranean style house architecture, however, this may have incorporated certain principles from Spain and is also referred to as Spanish Modern. The characteristics that distinguish a Mediterranean home are occasionally reflected in the internal landscaping and decorations, which are also a terrific addition to the overall style.
The outside walls and roofs of this design are frequently stuccoed, with sloping roofs covered with tiles. White or sunny neutrals such as salmon, peach, or yellow are frequent wall colors, while red roofs create a cheery and vibrant façade.
Modern
Modernist house architecture has resurfaced in recent years. The eco-friendly and minimalist living is popular, leading in homes with open plan interiors, exposed steelwork, and lots of glass that prioritize sunlight with solar panels and are energy efficient.
Victorian
Victorian house architecture was built from 1837 to 1901, during Queen Victoria's reign, often known as the Victorian era. A Gothic Revival in house architecture style for the dwelling occurred throughout the Industrial Revolution. Key figures in this movement included Augustus Pugin and John Ruskin. Several Victorian houses were also erected during the Industrial Revolution, and they are now a distinctive feature in most of Britain's towns and cities.
Asymmetrical homes with pointed arches and patterns were popular throughout the Victorian era. The material of choice was brick. The increasing middle classes used ornate designs and costly decorations to flaunt their riches and rank. Terraces were widespread in this design, as were typical building materials such as brick or local stone.
Queen Anne
The Queen Anne Style, which was inspired by the Dutch-designed buildings popular in Britain from the 1680s to the 1720s, was popular among the residences of this period.
The Queen Anne design was a versatile style that quickly gained favor because it could be utilized for homes of any size. The design was modular and could be built out of brick, stone, or wood.
Queen Anne house architecture, which was most popular in London, had timber hoods over the doors and windows with glazing bars and were reminiscent of old farmhouses. Terracotta tiles and panels were common, as were rich red bricks. Steep roofs, large bay windows, towers/turrets, gables, ornate carving, and more characterize the style.
Art Deco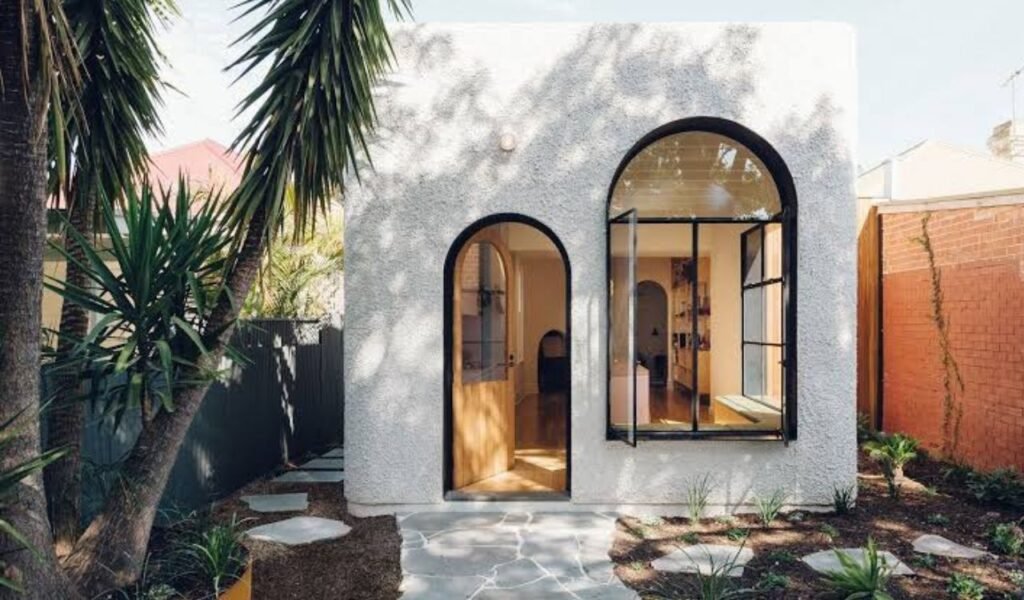 The Art Deco style started in France in the mid-to-late 1910s, reached maturity during the 1925 Exposition Internationale des Arts Décoratifs et Industriels Modernes in Paris, and became a dominant style in western Europe and the United States in the 1930s.
Several influences were included in the most popular Art Deco house architecture. During this period, several architects experimented with novel materials and concepts. Open interiors, flat roofs, plain white walls, and Egyptian-style themes were all featured prominently in the designs.
Evolution of European House Design
The industrial revolution cleared the path for vertical living by introducing new techniques and materials, as well as advancements in indoor plumbing systems. The evolution of house architecture in Europe took place between 1760 and 1939, at a period when a flux of population was driven to cities and social class divisions were being questioned.
Europe was dealing with a massive population shifting to cities without any dwelling space. The change started with back-to-back housing solutions like garden cities in north England moving on to vertical living like the Haussmannien block in Paris in mid 19th century.
Next came the biggest change in European house design in Amsterdam where the population increased by three times. As a result, smaller housing units started emerging out where every family had to live in 20 square meters spaces with bed cubicles and a kitchen. The term used for such houses was "alcove housing."
The final big change was seen in Russia with Transition type house architecture. The Narkomfin, designed by Moisei Ginzburg, a key philosopher of Soviet Constructivism and completed between 1928 and 1930, is a transitional building. It was an attempt to turn the individual into common property. It provided a well-thought-out and planned comfortable quality of living, with standard rooms and plenty of natural light from the continuous ribbon windows.