Most of us love being creative especially when it comes to designing our homes, offices, or any desirable space. Decorating and remodeling bring joy to many people as they get to incorporate their own personal touches and ideas into the space. While not everyone can afford to give their homes a makeover instantly, we still keep our ideas and visions locked up in form of Pinterest mood boards, YouTube videos, or Instagram posts.
Redecorating and renovation is a form of design. An impact of good design and home decor is slowly recognized by people all over, it's becoming a practice for many house-owners to follow. This is where the television comes into play. Numerous home makeover shows, whether its exterior or interior design, is getting a lot of love and attention from fellow designers and everyday people who dream of transforming their desired spaces into much more than a rectangle or square room. The viewers not only have the option of watching various shows about designing but also recreating them as per shown with all kinds of budgets ranging from lowest to highest.
A thoughtfully, well-decorated space has a strong impact on one's mood. And in today's date, the issue of choosing which program/show to binge on first can be a tough decision. So, here's a list of shows which include modern interior design, ideas for home décor, house renovation techniques that will hopefully help you in designing, decorating, or simply just enjoying.
Dream Home Makeover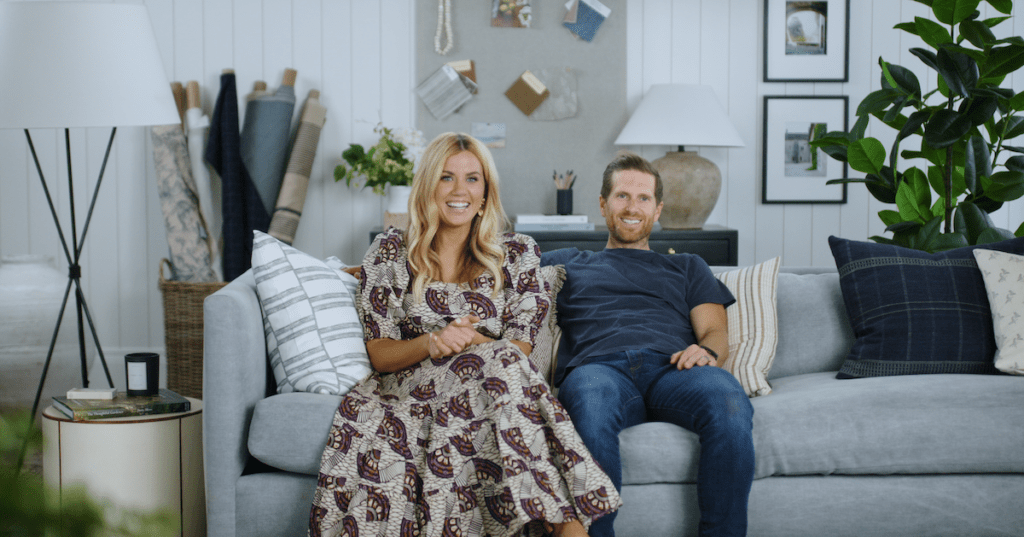 Founder/Host
Syd Mcgee and Shae Mcgee.
Bio
After graduating with a communications degree, Shae found her calling in designing so she channeled her heart and soul into remodeling their first home while documenting the results. Soon Shae became one of the first design influencers on Instagram. With her fresh approach to design and loyal followers, Syd and Shae decided to launch their interior design firm, Studio Mcgee, in 2014 along with their motto, "Make Life Beautiful".
As the firm's design and fan base grew, it paved way for the launch of their e-commerce brand, Mcgee & Co. Today Studio Mcgee has become one of the leading innovations in the interior design industry. Based in Utah, USA they continue to design homes across the country as they bring their vision with Target for Threshold with their new Netflix show, Design Home Makeover. In the show, we get to see various renovations for clients as well their own house built from scratch.
Design Process and Style
Studio Mcgee believes in telling a good story through design. From top-bottom they remodel spaces that bring forms and function to every day. From warehousing all items, directing handymen, and even stuffing pillows, their experienced design team makes sure that all the needs are met.
In the decision-making from incorporating the client's request to personalized styling, the designers present a comprehensive overview of the project. Their system allows the clients to see the status of the production, pricing links, invoices, and feedbacks keeping everything in the loop.
Projects
Mcgee Home, Utah- Shae and Syd's modern and elegant house.
The Sunset House, Utah
You can watch it on Netflix
The Home Edit (THE)
Founder/Host
Clea Shearer and Joanna Teplin.
Bio
Clea and Joanna are both California transplants, living in Nashville. Brought together by a mutual friend, their friendship was at first text and later turned into business companionship. The goal in starting The Home Edit was to reinvent traditional organizing and merge it with modern interior design and styling. Each of their projects is rooted in functional systems that can be maintained for the long term. The main emphasis of their firm is to transform the space visually and add their signature stylized aesthetic.
Design Process and Style
In their new Netflix show, with eight episodes, they take us behind-the-scenes of home makeovers and organizations with everyday clients and Celebrities, helping them to categorize, edit and contain the clutter and create beautiful and functional spaces.
Projects
Episode 1
Client- Reese Witherspoon and a Doctor.
With the help of acrylic-paper drawers, hangers, acrylic stands, storage boxes, boot shapers, risers, storage bins, accessory hooks, and makeup compartments along with their own utility products they create a functional space.
Episode 2
Client- Rachel Zoe and a Multipurpose Garage.
With the help of transparent drawers, sweater boxes, stackable boot boxes, jumbo bin, Elfa bike racks, shelves and gym floor tile they create a functional space.
Episode 3
Client- Khloe Kardashian and a Bedroom Overhaul
Using stackable sweater boxes, stacking shoe bins, shelves, shelves, rolling cart, storage bins, acrylic drawers, and their own utility products they create functional spaces as home decors.
Episode 4
Client- Eva Longoria and a Kitchen
Using stacking bins, acrylic trays, and their own utility products they create a functional space.
Episode 5
Client- Retta and a Converted Office
With the help of acrylic trays, shadow boxes, office storage boxes, jumbo bins, pantry bins, file sorters, acrylic risers and drawers, clipper magnets, and their own utility products they create a functional space.
Episode 6
Client- Neil Patrick Harris and a Brooklyn Kitchen
With the help of storage cubes, bin organizers, cookware organizers, cabinet-shelf, maple racks, drawers, pantry bins, and their own utility products they create a functional space.
Episode 7
Client- Jordana Brewster and a Youth Center
Using kitchen jars, canisters, storage bins, folding stool, pantry bins, kitchen organizers, and their own utility products they create a functional space.
Episode 8
Client- Kane Brown and Siblings' shared bedroom
Using kitchen jars, canisters, storage bins, folding stools, pantry bins, kitchen organizers, storage cubes, laundry hampers, over-the-door rack, hangers, and their own utility products they create a functional space.
You can watch it on Netflix
Motel Makeover
The June Motel
Founder/Host
April Brown and Sarah Sklash.
Bio
April and Sarah, friends for almost 17 years and share a love for exploring new travel destinations, good wine, and creative design. They began their motelier and hospitality careers in 2016 with a run-down 16-room property in Prince Edward County, having zero knowledge and experience in that field. They quit their daily jobs and invested in the properties in hopes of turning boring, old places into fun and quirky motels. In their new Netflix show, we get to see them renovate their second property at the Sauble beach from scratch to finish amidst the global pandemic. While this isn't your usual home makeover show, the style, ideas for home decor, and techniques can be incorporated into everyday scenarios.
Design Process and Style
These women are fun, feminine, and lively and they make sure to live this imprint on their design and house renovations as well. Their designs are cute, chic, retro, modern, and boho-inspired.
Projects
The June Motel, Prince Edward County
A Hip, 16-room boutique motel in the wine country.
Lobby- The June Motel website
The June Motel, Sauble beach
A 70's inspired motel with beach town vibes, spectacular sunsets, and poolside chilling.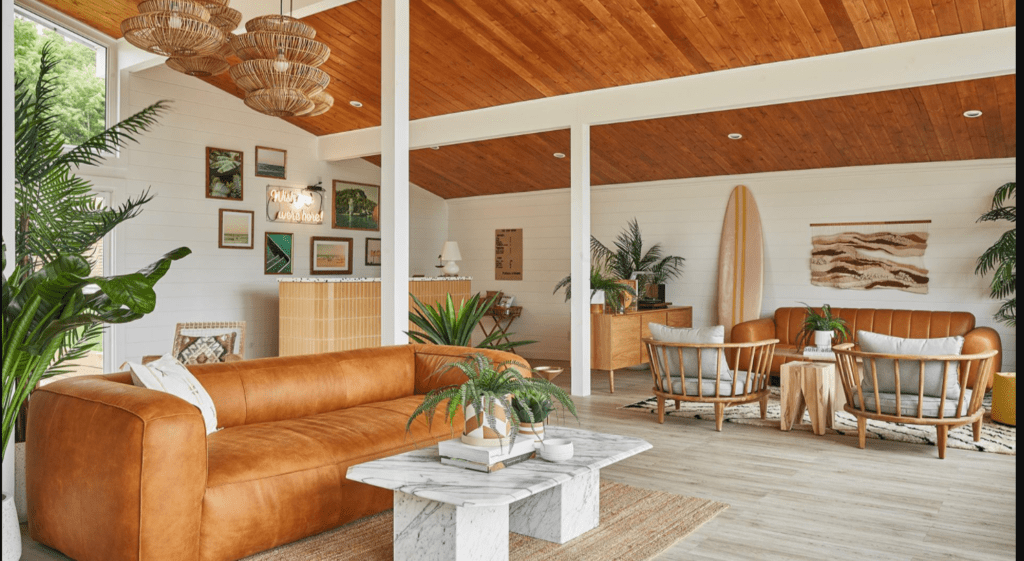 You can watch modern interior design show on Netflix
Property Brothers
Founder/Host
Jonathan Scott and Drew Scott.
Bio
Drew is a real estate expert who scouts neglected houses and negotiate their purchases. Jonathan is a licensed contractor who does house renovations. Together the property brothers help families to find, buy, fix and transform properties. The prospective home buyers find a fixer-upper and remodel it into their dream house while staying within budget. The house renovations often come with a deadline like welcoming a baby or any special occasion.
Design Process and Style
Originally each episode starts with Drew showing potential home buyers a house with almost everything on their Wishlist only to reveal that the house is beyond their budget. However, Drew begins to explain that the home may exceed their budget, but later on, they can buy a house within their price range and significantly make desired renovations to it.
While the property brothers are always adapting new methods and taking risks, it's clear that they have some go-to house renovation tricks and styles that give their project a signature 'Property Brothers' style.
Installing two tone kitchen cabinets- Both Drew and Jonathan lobe bold colours for their kitchen remodelling. But they are careful to not go overboard with it as well. Hence, they often choose two-toned cabinets which makes the kitchen look fresh and clean while adding a contrast element to it as well.
Picking up bold lighting fixtures- the brothers are known for their light and bright contemporary style. And while often accomplish this look by breaking down some walls and letting natural light in, they love installing bold lighting fixtures. The new fixture brightens up a home and also brings extra style into the living space.
Choosing light hardwood floors- they often renovate old, worn-out family homes. Dark floors in these places makes the house look small and closed off, so the brothers keep on replacing them with light, wide-plank hardwood which gives the house a completely different look.
Projects
Louis and Mark
Mark and Lois needed more room for their growing family of three, so when their dream home across the street went on the market, they jumped at the chance to stay on the quiet, tree-lined street they love. They knew the house needed work, but the huge footprint and fenced-in yard were exactly what they wanted. Like most items in their home, the kitchen was badly dated and in need of repair: the hood vent was missing and had attracted all manner of critters, including bees! Once they cleared out the wildlife, took the room down to the studs, and brought back a modern, colorful kitchen that features a continuous counter and backsplash.
Michelle and Brian
Michelle and Brian are forever home have been in their family for 20 years: 10 years with Michelle's mom, and now 10 years with Michelle and Brian, who added twins to the happy family. After two decades, it was time for a little home makeover and a lot of updates. They wanted multiple seating areas throughout the house, and a breakfast banquette was the perfect way to accomplish the goal. The Brothers ran the new, white cabinets all the way over to the seating area so they would have plenty of storage and prep space. Their kitchen redesign came with a view—namely, the one out the window right above the new induction range.
You can watch it on HGTV
Tiny House Nation
Founder/Host
Zack Giffin and John Weisbarth.
Bio
Zack is a professional skier and contractor who has so much love for tiny homes that he built a mobile tiny ski house for himself and has lived in it for years. Each winter he moves to his tiny house across the country and has traveled more than 20 thousand miles in his tiny house. He has met and introduced thousands of people along the way to the wonders of this lifestyle.
John, with more than a decade of live television experience and 6 regional Emmy Awards, brings his high energy and award-winning style to Tiny House Nation. Son of a handyman, he grew up working for his father during the summers. In short, there's no one better to convince even the biggest skeptic that tiny houses are the next big thing.
Design Process and Style
Zack and John, The Tiny House hosts, travel across America to show off ingenious small spaces and the inventive people who live in them as well. They also help new families design and construct their own mini-dream homes in space no larger than 500 square feet. Whether it's a micro-apartment in New York City or a caboose car turned home in Montana to a micro-sized mobile home for road trips- their show celebrates 'Less is More' and explores the movement of tiny homes.
Zack brings his wealth of information and insights about living in tiny spaces. He manages each project and built crew, his carpentry and innovative tricks of tiny trades are always mesmerizing. John has the ability to laugh at himself and connect with people easily. He channels his energy and enthusiasm to guide people through the process of becoming tiny homeowners.
Tiny House Nation is not your average daily home decor or modern interior design show, but that proves that size doesn't always matter- it's creativity that counts.
Projects
Jay and Jodi: Expandable tiny cottage
Moving into a tiny house that's one-tenth the size of their original home is just the way for this couple to spend more time with kids. Selling their old house in exchange for a tiny house is also a great way for Jodi to start her new life as a stay-at-home parent, maximizing family time and reducing overall costs.
Their Requirements-
Space for guests to come and dine.
Privacy for 11-year-old Grace.
Room for daughters Vivian and Lydia to play.
Chaz and Crystal: Country meets City
Chaz and Crystal have moved 10 times in the past five years due to Chaz's line of work, and investing in a tiny house was the best way to put an end to their moving madness. The only thing left to figure out was how to mesh their different styles and pare down their belongings enough to fit into 240 square feet.
Their Requirements-
Country cottage look for Chaz and a modern feel for Crystal.
Separate retreat space and TVs so the two can embrace their "me time".
A deck.
A vanity with storage for Crystal's makeup and accessories.
You can watch it on Netflix
Marie Kondo
Founder/Host
Marie Kondo
Bio
Marie Kondo, a Japanese organizing consultant, bestselling author, and the creator of the KonMari method, pay visits to different families in order to help them organize and tidy up their homes. Enchanted with organizing since childhood, Marie began her tidying consultant business as a 19-year-old university student in Tokyo. Today she is a renowned tidying expert helping people all around the world to transform their cluttered homes into spaces of serenity and inspiration.
Design Process and Style
In her new Netflix shows, Tidying up with Marie Condo and Spark Joy with Marie Kondo, Marie visits a different American family household in each episode who are in need of serious organizing skills and de-cluttering. Each family has individual needs and backgrounds, which both the shows address with hands-on guidance from Marie and her translator.
The KonMari Method-
Commit yourself to tidying up.
Imagine your ideal lifestyle.
Finish discarding first. Before getting rid of items, sincerely thank each item for serving its purpose.
Tidy by category, not location.
Follow the right order.
Ask yourself it it sparks joy.
Projects
Tidying up with Marie Kondo.
Spark Joy with Marie Kondo
You can watch it on Netflix
Honorary Mentions
Flip or Flop
Christina Haack and Tarek El Moussa were married real estate agents in Orange County, California. After the real estate crash in 2008, they began flipping homes in the Orange County area. Christina's expertise is primarily in the design, and she works with Tarek to find and house renovations. She handles the designs of the new spaces and keeps the project on schedule. The show follows them as they buy homes, typically bank-owned, short sales or foreclosures, to a house renovation and resell.
You can watch it on HGTV
Stay Here
This is an American reality television series on Netflix that focuses on home improvements. It features Genevieve Gorder, an interior designer, and Peter Lorimer, a real estate broker, transforming homeowners' short-term rental homes into moneymakers across the United States. Episodes include a houseboat in Seattle, Washington, a brownstone in Brooklyn, New York, and a firehouse in Washington, D.C.
You can watch it on Netflix
Celebrity I.O.U
House renovation experts, brothers Drew and Jonathan Scott, help Hollywood A-listers surprise their dear ones with splendid and heart-warming house renovations.
You can watch it HGTV
Extreme Makeover: Home Edition
Hosted by Ty Pennington, the show features a weekly race against time as a team of designers, contractors and several hundred workers have just seven days to rebuild an entire house.
You can watch it on HGTV