We are all guilty of binging random videos on YouTube for awfully long hours. It's a one-stop destination for both entertainment and learning. Since most videos are 10 to 20 minutes long, viewers don't get bored and stay entertained. On a personal note, the Interior design YouTube channel has been my go-to place to get ideas for home décor, renovation, and redecoration videos to learn some tips, tricks, and DIYs for redecorating my room now that I have been cooped up in this place since the pandemic.
Impact of Good Interior Design
Interior design space planning is no more reserved for the rich rather it is becoming a practice for many homeowners to modify the house and make it their own. Initially, the point of hiring interior designers was to transform their houses into luxurious spaces inspired by hotel room design and movies but today it has become a form of self-expression.
When someone puts their heart into designing and customizing a space to create a pleasant environment for themselves, it automatically transforms into their own. Home is where we spend most of our time relaxing and we must feel like we belong there and what better way than personalizing it to fulfill our needs and also showcasing our personalities doing it.
A well-decorated interior space has a strong impact on an individual's mood. Waking up to a beautiful space immediately brightens up our morning and a dull space can make us feel gloomy as well. Colour of the walls or plants in the room every tiny thing has an impact on our minds. Architecture and design play an important role in every building and atmosphere.

A well-designed restaurant welcomes more customers than the others. Having a thoughtfully curated space is one of the most important marketing factors today. Be it a shop or a spa, any space seems more welcoming if it looks aesthetically pleasing.
Being surrounded by beautiful images on Instagram and Pinterest showing the amazing interior design for different spaces has people interested in bringing some style and chic into their homes which has led to an increase in demand for interior designers. Many people want to avail the services of designers and don't find it an unattainable luxury anymore. Personalizing a space is a form of self-indulgence and that is how it is being treated now.
How does a Interior design YouTube channel come into play?
It will be an understatement if I say that social media is used as a source of inspiration for creative projects. Social media can compel someone into taking an action they have been procrastinating for ages. Platforms like Youtube are not only used for entertainment and taking inspiration from, it is a go-to space for someone who wants to learn a particular thing and costs nothing to be precise. People look up basic how-to's and DIYs as well things like creating an app and computer programming, ideas for home décor, etc.
As for professional interior designers or someone interested in the field, interior design Youtube channels have videos by professionals to teach basic to advanced forms of interior design. It has videos dedicated to the nitty-gritty of decorating a house as well as videos planning and designing interiors for commercial buildings.
Designers who want to broaden their knowledge on software like sketch up, lumion, 3ds max, etc can also learn from this one platform that too in the comfort of your home, on the palm of your hand, and also at your own pace.
List of Interior Design YouTube channels to learn and take inspiration from
Whether you want to learn professional skills or take inspiration for your own interior design space planning or just simply want to stay in touch with interior trends, it can be a mind field when figuring out where to start and with over 300 hours of content uploaded every hour on YouTube, it can be a task finding the right kind for you.
YouTube algorithm definitely helps in recommending channels and videos that might interest you however it will take time to adapt to your current interior and architecture obsession but not to worry, I have got you covered in this article that lists some of the most viewed interior design youtube channels to follow if you are an interior design enthusiast.
Three Birds Renovations
How it all started
Three friends Bonnie, Lana, and Erin who have known each other for over 20 years and have been through all the thick and thin, came together in 2014 and decided to quit their regular jobs and started Three Birds Renovation in the pursuit of doing things they loved and leading a fulfilling life with more family and friends time. The leap of faith they took eight years ago resulted in them owning a successful business and gaining a set of loyal followers for their interior design Youtube channel, who learn a great deal about renovations and interiors from them.
Design Style and Projects
Bonnie is the creative director and the mind behind all things design. She is a self-taught interior designer who has a good eye for color schemes, furniture styling, floor plan but most importantly tile styling. Her design style includes a lot of natural light and a neutral color scheme with modern furniture and gold accents. She incorporates a lot of arches in architecture and design. Every single thing about the project is carefully curated and assembled by Bonnie herself be it the art prints or the light fixtures.
Their style can be labeled as Scandinavian with a hint of country and definitely luxurious.
They have a total of 14 completely renovated projects that are documented and aired on TV as well as their Interior design YouTube channel and their blog. They do not leave any details and try to explain as many of the steps involved as they can. One of the three women sit down and explain some concepts of interior design like choosing a colour for the room or picking out building materials etc. in detail in almost all of their episodes.
One of the projects you must watch is Bonnie's dream home where they go above and beyond to design a stunning forever home with grandeur and space for her family, dogs, and cows. This design alone has 3 different dining spaces, a master suite, a guest cottage, 2 different kid's rooms, and many more. House 14 by Three Birds Renovations
Educational Projects
Three Birds Renovation has also started two different online programs, The Reno School where they teach planning, designing, budgeting and everything else you will need to know for renovations and second is their Styling School where you will learn about the art and science of styling a room to not only look aesthetic but also be fully functional. Following them will give you some great ideas for home décor.
The Sorry Girls
Story
Becky Wright and Kelsey MacDermaid are the brains behind The Sorry Girls. They started their journey in this creative world back in 2010 and their channel mostly focused on decorating dorm rooms as they first met in college, small DIYs, and knitting tutorials but slowly their interior design Youtube channel grew to become this successful brand that people resonated with and took inspiration from. Today The Sorry Girls is a full-scale digital media brand that is known for DIY projects, sustainability, and interior design.
Design Style
Their architecture and design style is not very specific rather ranges very wide, from 50s inspired retro room makeovers to Scandinavian interiors to DIYing room dividers and mirrors. There is a myriad of projects in this channel to look up to, some eclectic designs and some with muted tones. But to put into words, their designs are very student and dorm-room friendly with many DIYs. Their style inclines towards bohemian design but is not limited to it and most of their designs are inspired by Coachella and deserts.
Projects
The Sorry Girls provide their viewers with an abundance of DIY projects and make the complicated work look amazingly effortless as well as great ideas for home décor. They have transformed lofts into studios and a backyard into Arizona inspired patio. Their creativity has no limits and they specialize in making sure everyone feels they could do all the projects and interior design space planning themselves.
The project I would recommend browsing through is Kelsey's Scandinavian basement bedroom makeover. It differs from the rest of their projects and is a complete renovation project where she changes almost everything and shows us how to make any space habitable and aesthetic. Not only does this series have ideas for home décor and renovations but she DIYs a chest of drawers from scratch.
What else to look forward to
Along with interior design space planning and DIY projects, they also upload videos related to fashion and lifestyle. Anyone who wants to see budget-friendly makeovers they can do cooped up at home with limited availability of things since they are bored of their everyday environment in this pandemic must visit their YouTube channel for ideas, inspiration, a starting point, or just for some entertainment.
Mr Kate
Kate Albrecht is a self-taught interior designer, an actress, and a very talented individual. She and her husband Joey Zehr started their Inter design YouTube channel where they renovate, redecorate, make those complex DIYs look awfully simple, and give viewers amazing ideas for home décor.
There is a possibility of these faces looking familiar to you and that's because they have redesigned many famous Youtuber's homes like liza Koshy, Superwoman, Jeffree Star, and tons more in their popular series "OMG we are coming over." Along with interior design videos, she also makes styling and lifestyle videos.
Design Style
It's all Kate when it comes to interior design for changing the look of a space. Her style ranges from bohemian to minimalist. What she values is client satisfaction and therefore has no signature style. Her channel has a plethora of ways to change a space which anyone can do, professional interior designer or not. Her approach is very inclusive and believes everything has a creative side.
Projects
She has a lot many projects to keep binging on YouTube and each project is unique with a variety of colors and designs. To name a few of my favorites, epic two-tone room makeover where she transforms one single room into a studio for two different individuals with polar opposite tastes.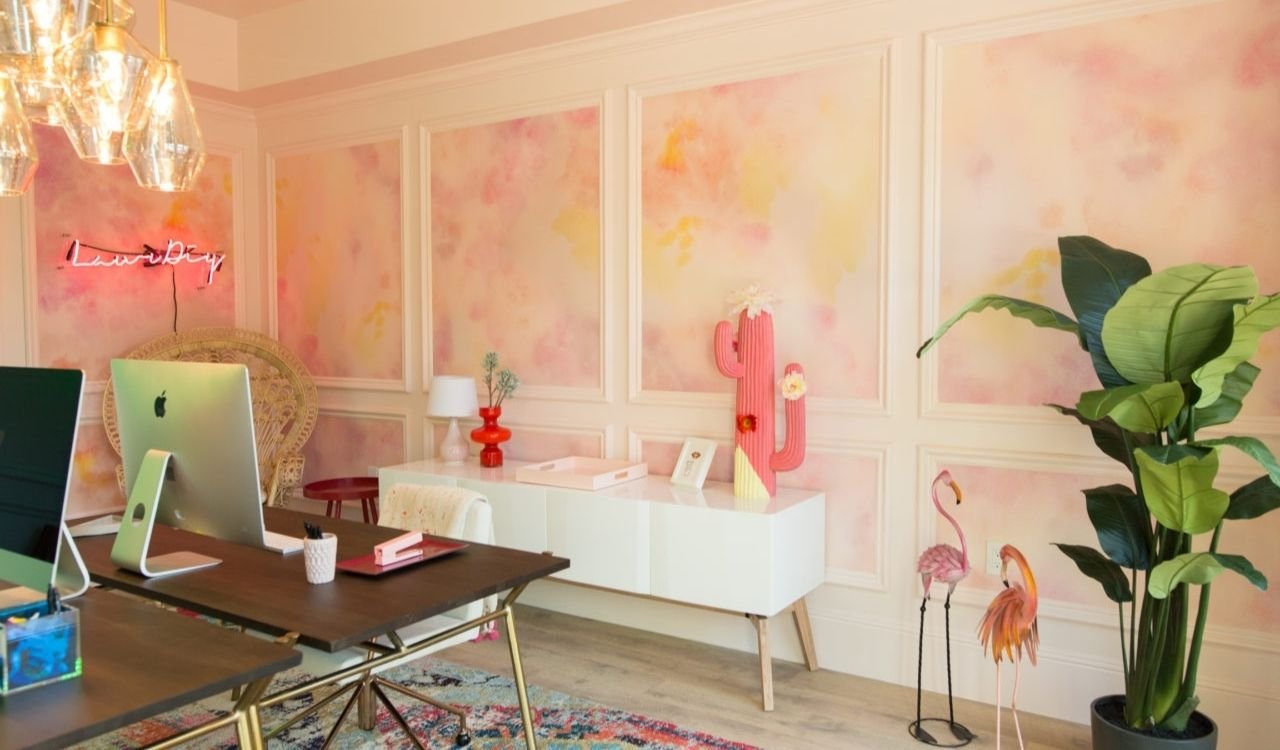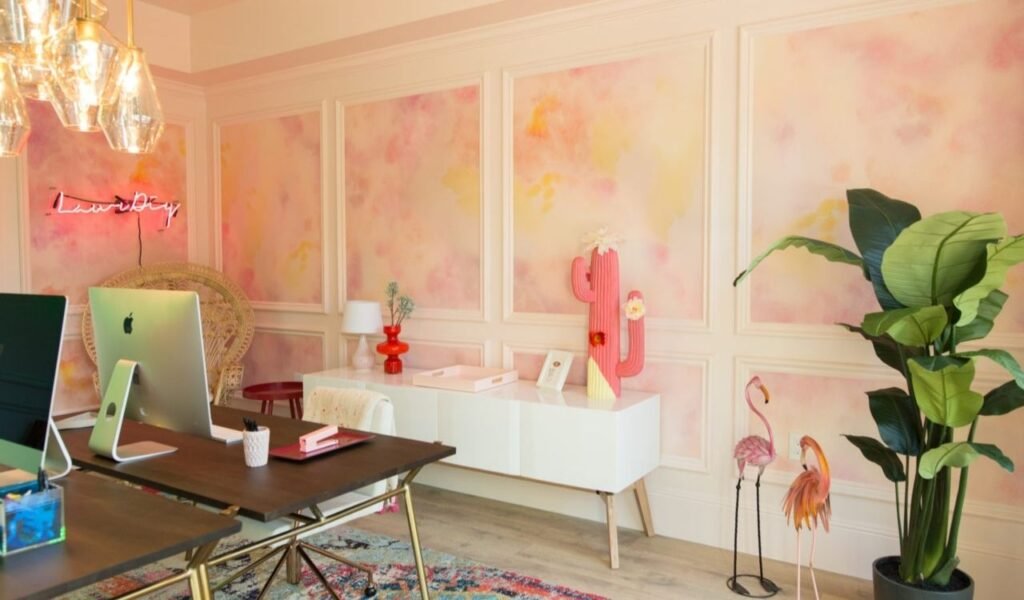 The second one will be Superwoman's bedroom transformation where she DIYs a painted lyric wall. She uses the darkest shade of pink in this room and made it look super chic. The architecture and design of this room were totally transformed by the end of the video.
Lastly, you have to check her "OMG we bought a house" playlist to get some amazing ideas for home décor as this is the series where they buy a vintage house with deep orange interiors and make it into a classy, elegant, and stylish house with white interiors
Mr Kate has recently launched their furniture collection which has stunning vintage and quirky pieces to check out for your own interior design space planning.
Lone Fox
How it started
Drew Scott made his first online presence with a blog named Scrappy Happiness where he posted about men's fashion and had a YouTube channel under the same name with similar content. After graduating college he worked in a home styling store as a sales representative which taught him a great deal about interior design for homes that lead to a series of DIY videos which garnered him thousands of views.
This made him start an interior design YouTube channel under the name Lone Fox in 2018 where he talked about interiors and taught budget-friendly DIYs. In just 3 years he has over 12 Lakh subscribers and a successful interior store running.
Design Style and Projects
Drew Scott focuses on changing any space in a budget and shows his viewers many options to renew a room by making small changes. He has a lot of videos talking about the dos and don'ts for various rooms and interiors. He also changes his interiors very frequently, according to different seasons and festivals but keeps it under budget. He gives informative ideas for home décor.
Drew's style is very mid-century modern where he uses jewel tomes with neutral colour schemes to make a room look elegant yet modern and functional.
He believes in doing all the work himself which will assure him quality work and save the extra buck. In his own room makeover, he did all the work including painting the walls, putting up wood panels, and adding the furniture.
If you are bored of waking up in the same room day in and day out, you must check his room transformation videos. From changing a piece of furniture to changing a room, he has videos that will answer all your questions.
XO Macenna
Macenna started her creative journey through an Interior design YouTube channel in 2018 and made videos related to DIYs, thrift flips, and room makeovers. She focused on renovations that were appropriate for rental homes and small-budget DIY. Along with redecoration and room makeover videos, she also puts out informative content regarding décor tips and budgeting tips for renovations.
Projects
Her projects are warm-toned and will give off an autumn vibe. She makes videos based on seasons and festivals as well. There are many DIYs where she changes interior design for Halloween and Christmas. Macenna's room makeover does incline towards the mid-century modern style and some are contemporary and minimal.
She recently bought a house and took it upon herself to renovate the entire space to make it her home. The series recently came to an end so you can binge-watch it all at once and get your creative side shine later with her ideas for home décor.
Macenna also makes videos dedicated to styling coffee tables and bookshelves which show how we can bring a big impact with small changes in a room.
She also makes guides for beginners that provide great ideas for home décor to make renovations easy. Her viewers will definitely enjoy and take away lessons that will be insightful and useful. She also makes videos where she goes shopping for décor and explains the entire process from planning to budgeting to finding stores and finally shopping.
Open Door by Architectural Digest

Architectural Digest is one of the leading magazines around the globe that feature the best of architecture and design, interior styling, art, and lifestyle news. It features the works of renowned architects and how their designs have an impact on people and the planet.
Open Door by AD is a series on YouTube where a team from Architectural Digest visits celebrity homes and they guide us through all the details and interior design space planning of their home. This series has a total of 85 episodes currently and you can find your favorite celebs taking us on a tour of their home. Viewers can expect everything to be glam and extravagant.
Open Door is a showcase of homes that ooze creativity and is a reflection of the personalities of those celebrities in an artistic form. Some renowned names like Robert Downey Jr., Dakota Johnson, Kendal Jenner, and J Balvin are featured in this series who have ultra-luxurious homes in the midst of nature. Not just homes but some famous tv sets too are shown in this series.
The Cut by New York Magazine
The Cut is an interior design YouTube channel that shows us outrageous and unusual designs. The films are short but detailed and will not disappoint. They showcase some eclectic designs that will entertain their viewers and leave them wanting more.
Wendy Goodman takes us through New York's most unique interiors that have their own character and a touch of eccentricity. These videos are less than 5 minutes long and highly informative so the viewers don't get bored and stay subscribed for the next one.