How many times have you come across a structure that has completely changed your ideals about buildings and Architecture? Travelling opens doors to timeless Architecture. We as Architects feel the burning need to travel. Why is that? Why do we feel the more travelled the person is the more knowledgeable about the field they are?
The same happened to me when I travelled to Chandigarh and came face to face with Le Corbusier's creations. The grandeur in plain ol' concrete made me build up an appreciation for the humble material. Had I not visited these beauts, I would've never grown to love and appreciate concrete in all its glorious nudity. Exploration is second nature to Architects and their profession hence, you may have come across an Architect who has, at some point in their lives, visited a structure that transformed their fundamentals, not only as a designer but as a person.
So, Let's take a look at the top ten must visit places, as Architect, must have visited at least one in their lives.
Top 10 cities for Architects to travel to
Travel and tourism are bread and butter to an Architect. For an Architect, let's look at the list of top 5 cities' must visit places, nationally and internationally.
Internationally
5. Hong Kong
Known for having the best skylines in the entire world, Hong Kong is an Architect's paradise with treats in contemporary architecture, especially Modernism, Postmodernism, and Functionalism. Hong Kong has been the design playground of revolutionary architects such as Herzog and de Meuron, Zaha Hadid, The Gehry Partners, I.M. Pei etc. All in all great architecture plus a bustling city is equal to great adventures!
Must visit places in the city:
Opus Hong Kong
The Hong Kong Design Institute
Jockey Club Innovation Tower
Victoria Harbor
The Chi Lin Nunnery Complex
4. Singapore
Singapore displays a varied range of Architecture for us to feast our eyes upon. Ranging from vernacular Malay houses, European neoclassical, Palladian, gothic to modernist and contemporary architecture, the city has it all. Its skyline has been curated by path-breaking architects such as Ole Scheeren, Foster and Partners, Wilkinson Eyre and Grant Associates, and Moshe Safdie. A very promising tour destination for architecture enthusiasts.
Must visit places in the city:
Marina Bay Sands
Art Science Museum
The Interlace
Gardens by the Bay
Supreme Court of Singapore
Helix Bridge
Thian Hock Keng Temple
3. London
London's rich architectural heritage involves a wide variety of architectural styles ranging from Romanesque, Gothic, Palladian to Postmodernism, and many more. The Iconic buildings housed in the city are designed by Foster + Partners, Richard Rogers, and Renzo Piano. Travel and tourism is a multi-million dollar business in the city with a bus range dedicated to it. It also houses Head Quarters to big Architectural firms such as Zaha Hadid Architects, Norman foster, etc. promising a bright future for architects in India and students alike.
Must visit places in the city:
Westminster Palace and Abbey
The "Gherkin"
The Shard
St. Paul's Cathedral
The British Museum
The London Eye
The Trafalgar Square
2. New York
Infamously ridiculed for being a concrete jungle, New York is one of the many cities that only a specific eye can love. The city's architecture essentially deals with skyscrapers, projects, and homeless shelters and the styles vary from Art Deco to the International Style. It contains masterpieces originating from the Industrial Revolution by Architects such as Diller Scofidio + Renfro, B.I.G., Thomas Heatherwick, Santiago Calatrava, and Skidmore, Owings & Merrill. So, If you love skyscrapers and historical buildings coexisting next to each other, then look no further, N.Y. is the place for you.
Must visit places in the city:
The Shed
Hearst Tower
The Met
The Vessel
One World Trade Center
Seagram Building
Times Square
1. Dubai
The most promising land for new and emergent Architecture to evolve has got to be Dubai, the land of the Sheikhs, opulence, and course oil. Architecture, in Dubai, is influenced by elements of Islamic, Arabian, Persian culture and very recently the International style of Architecture. Sheikh Rashid bin Saeed Al Maktoum, the ruler of Dubai at the time, hired British architect John R Harris to design the sleek modernist architecture that has become synonymous with the UAE's major cities. With Architects such as Tom Wright, Adrian Smith, Janus Rostock that transformed this city, Dubai sits comfortably at the top of our list for Architects to visit at least once in their lives.
Must visit places in the city:
The Palm Islands
Princess Tower
The Palm Islands
Burj Al-Arb
Burj Khalifa
The Dubai Opera
Dubai Miracle Garden
Ski Dubai
Nationally
5. Jaipur
Jaipur, the city for the old soul, also nicknamed the "Pink City" is effortlessly beautiful. Jaipur was designed using Vastu Shastra and Shilpa Shastra principles under the architectural guidance of Vidyadhar Bhattacharya. The primary roadways, offices, and palaces were completed four years after the city's construction began in 1726 and remain to date. The fortified city has Iconic architecture such as City fort, Hawa Mahal, Jal Mahal and of course, the Amer fort which will keep you on your feet.
Must visit places in the city:
Jantar Mantar
Amber Fort
City Palace
Albert Hall Museum
Jal Mahal
4. Ahmedabad
Ahmedabad's architecture ranges from ancient to ultra-modern. Builders blended Hindu handicrafts with Persian architecture early in the city's history, giving rise to the Indo-Saracenic style. This is how many mosques in the city were constructed. Housing Sangath, the prestigious award-winning Architect B.V. Doshi's firm, the city hosts structures such as Jana Masjid, Adalaj Stepwell, I.I.M., Mill owner's building and many riverfront developments. The city is a good combination of the old with the new.
Must visit places in the city:
Sangath
Adalaj Step Well
Shree Swaminarayan Mandir Kalupur
I.I.M.
Ahmedabad ni Nav
C.E.P.T., N.I.D.
Mill Owner's Building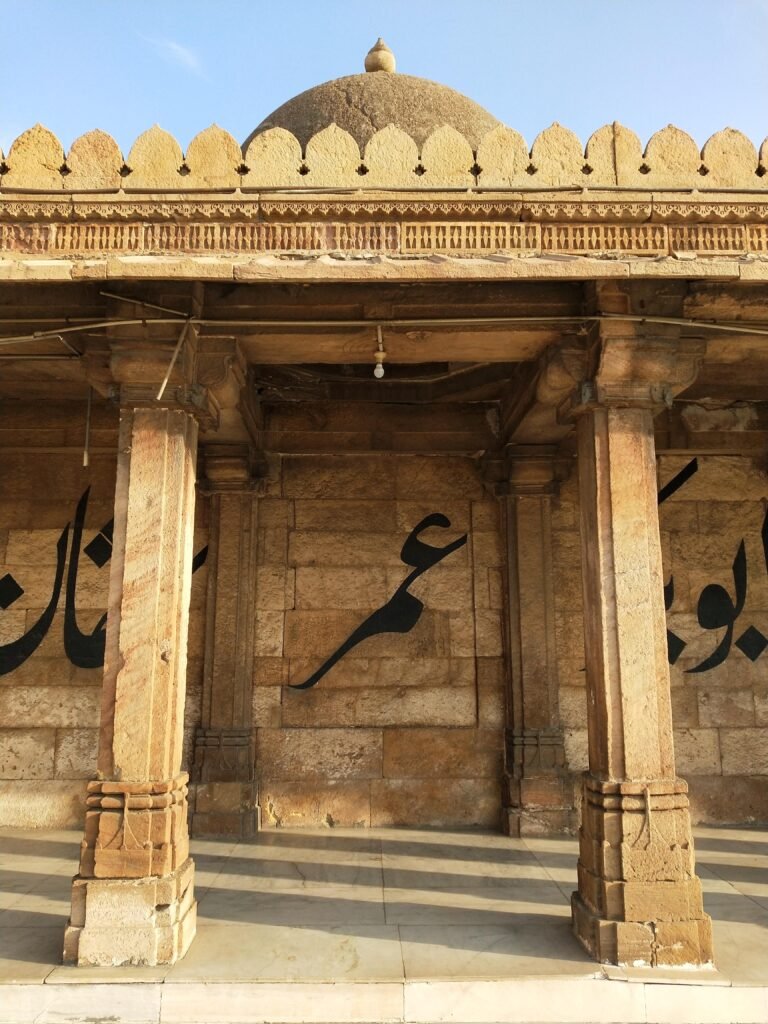 3. Delhi
The capital of the country, has remarkable architecture ranging from Qutub Minar, The Lotus temple, The supreme court of India and the Hall of Nations. The city's architectural history originates from the Mughal period to the Lutyens's city planning period and currently, to the modernist skyscrapers. From the ethnicity of Old Delhi to the modernity of New, the city has it all and ranks third in our list for places to visit for an Architect in India, in their lifetimes.
Must visit places in the city:
Qutub Complex
The Lotus Temple
Old Delhi (Khau Gali)
Lodi Garden
Humayun Tomb
Akshardham Temple
2. Mumbai
Mumbai's Great Architecture is a mix of Gothic, Victorian, Art Deco, Indo-Saracenic, and Contemporary styles. The colonial-era left many buildings, structures, and historical sites. After Miami, Mumbai boasts the second-highest concentration of Art Deco structures in the world. Travel and tourism is a multi-million dollar business in the city as the city has daily tours called "Mumbai Darshan" meaning "Mumbai's worship". Due to the advent of Globalization, Mumbai has attracted many Architects from all over the world to set their insignia's in the city. The architects range from John Adams, Perkins and Will, Colonel J.A. Fuller and many more. It also houses the first Architecture college in the country.
Must visit places in the city:
The Taj Mahal Hotel
Gateway of India
Raj Bhavan
Bandra Worli Sea Link
J.J. College of Architecture
Antilia
1. Chandigarh
Arguably the greatest Architect of the 20th century, Le Corbusier, gave birth to the city of Chandigarh. He designed the city's iconic structures down to the city layout. It is amongst the first-ever planned cities in independent India. The city allows for visual creativity from the Capitol complex, the rock garden to its extensive museums. For this sole purpose, Chandigarh sits at the top of our list for the must visit places for Architects.
Must visit places in the city:
Le Corbusier Museum
Government Museum and Art Gallery
Open Hand Monument
Capitol Complex
Rock Garden
On foot tour of the Sectors
How to Travel on a budget:
Plan, Plan and Plan!
Before you kick off on your journey, it is best to plan your every move. From where you're going to start and down to what amount of time to spend at a certain location, planning will do the trick. It will not only help you strategize your trip but also help you save time to visit an alternative location you might've removed from your list. So my only advice is to plan, plan and plan!
Choose Off-Season and mid-week
Choosing an offseason to travel in will help cut down on considerable costs for the trip you can save to treat yourself during. The most commonly practiced trick is to book tickets on a Tuesday as most companies have their lowest fare then. Also pro-tip: while booking tickets browse using a VPN or on Incognito tabs which will reduce the prices even further and make your trip more budget-friendly.
Book tickets months in advance
Booking your tickets months in advance helps further reduce the cost of the tickets, making them budget-friendly, as they can be the most expensive part of the journey. Also, try flying with only one flight service to claim your fly miles and if you're flying abroad, you might just be amped up to first class. All the more time to plan out your trip!
Choose Dormitories or Lodges over Hotels and Resorts
Choosing dormitories for night stay and hitting the road in the morning is the most common practice of backpackers. The prices are way easy on the pocket than conventional hotels and lodges and what's more, friendly students to acquaint during the stay. Most dorms also provide complimentary breakfast options, so it's a win, win!
Pack all essentials
By packing all essentials, such as protein bars, water bottles, emergency first aid etc., you can be prepared for all the challenges that may occur during the trip. It all comes down to planning and strategizing, which will not only save you money, time and also resources.
What to observe while visiting:
Talk to the locals
Would you prefer to google every factoid about a certain location or prefer to hear about it from somebody who's witnessed the change? If you picked the first one, well, let's just say you won't get everything you searched for and also missed out on amazing stories. So, my only advice is to talk to the locals and you'll be amazed at all the things you find.
Take as many photographic documents as possible
Photography is not only a medium of expression but also a time machine. I'm not joking, look it up. It captures the instant as it were when you visited and unveils itself every time you see the image, like smelling a distinctive smell triggering a long-forgotten memory of your childhood. It also captures the architectural details which you might've missed.
Look for the Architectural history of the place
It is imperative to understand where the structure has originated from. Who designed it to why it's placed, where it is. Question everything. So, do your research or better yet ask the locals.
Hire a LOCAL guide
Would you hire an American architect to build a home in an Indian suburb or an architect in India to do the same job? If you picked the first one, well, there's something called critical regionalism. Hiring a local guide will educate you on the things that have happened in and around their life which is more than any other search engine can provide.
Opt for sketching over filming
Sketching not only captures the tiniest of details but also connects the onlooker to the building. Sketching is second nature to architects and lets you observe details you might've missed the first time around. So, if you can afford the time to sketch in a location, I highly encourage you to do so.
Conclusion:
Not only does travelling serve as an escape, but it also helps the designer get a feel of the structure as opposed to viewing it in 2D. on our screens. It brings forward the other 4 senses into play which is a divine concoction, intangible elements impossible for an A.I. to replicate.
So, my only suggestion is to travel, travel and travel!