Architecture has evolved into a spectacular art form. The designs for the Louvre Abu Dhabi and the Qatar National Museum are as much scenography as they are architecture, according to Nouvel. The rise of designers like Thomas Heatherwick and Bjarke Ingels, who lack the existential sorrow and social consciousness of their predecessors, are pushing architecture toward a form of urban embellishment, dressing up corporate monoliths as fictitious public play places.
This has been going on for some time now. In the 1990s, for example, Jon Jerde's malls effectively mixed film-set fantasy with stark commercial consumerism, and Zaha Hadid's skyscrapers obliterated the distinction between depiction and actuality.
What is Set Design if not Architectural Design for Fashion Shows and Films?
A synthesis of architecture, interior design, and the visual arts Set design necessitates technical understanding, as well as a creative edge and excellent visualisation skills, which architects have been trained for during their undergraduate years.
Set design, often known as production design, is the process of creating a temporary desirable setting for a fashion show, film, theatre, or even an event. The disparity between architecture and set design is that architecture is essentially about erecting structures that last for a long time to represent a region, whereas a set is erected for a shorter period of time, perhaps even less than a day, to represent a real or hypothetical location for a runway event, movie or other kind of show.
Other than representing a place, a set can be used for a variety of purposes. It can be employed to elicit a mood, an illusion, or a thought. From Zaha Hadid to Frank Gehry, a number of well-known architects have worked on set designs.
When Creating a Set, Why is Architecture Important?
Set Design is a discipline of architecture that focuses on the production of physical locations where the acts of a staged event take place, such as fashion runways, film sets, theatre dramas, or even event stages.
Despite the fact that the set's purpose is only temporary, the goal it serves can only be realised if the person constructing it is aware of how to make it as realistic as possible. Although not all set themes necessitate architectural knowledge, the vast majority of them do, whether it's composing parts for a historically accurate theme or constructing a set that is cost-effective.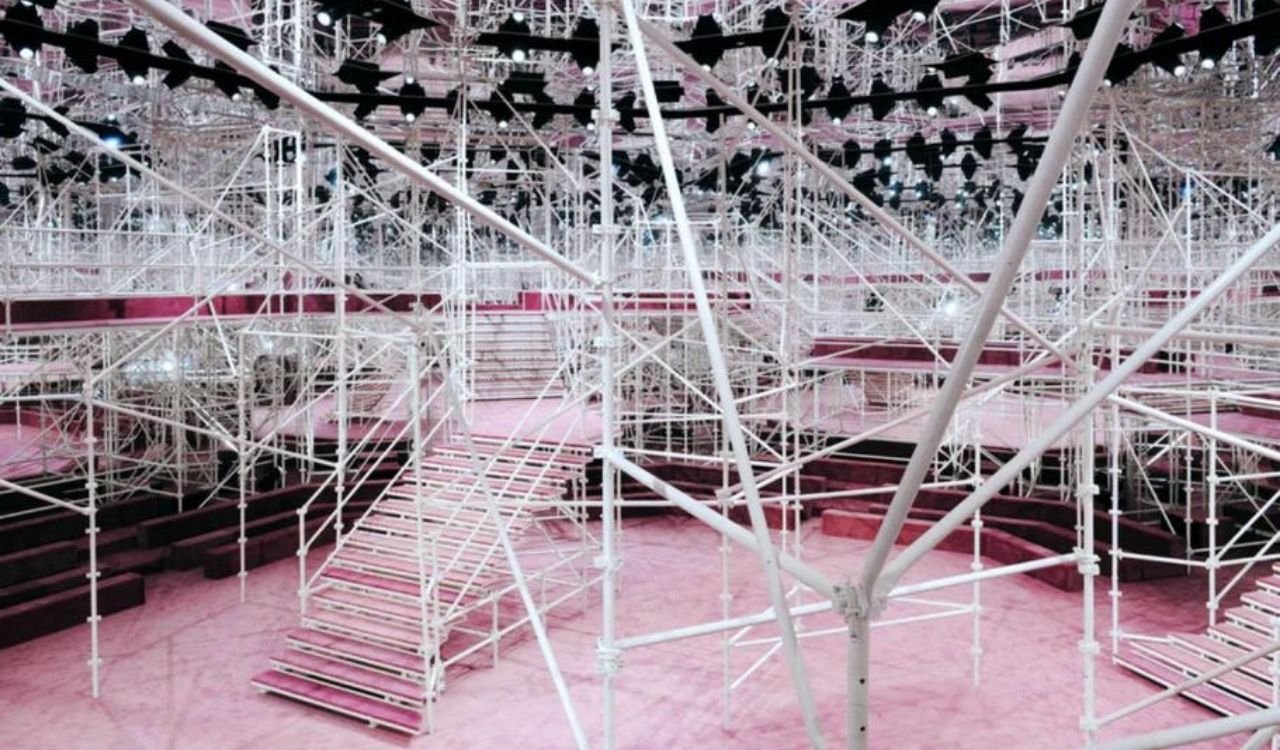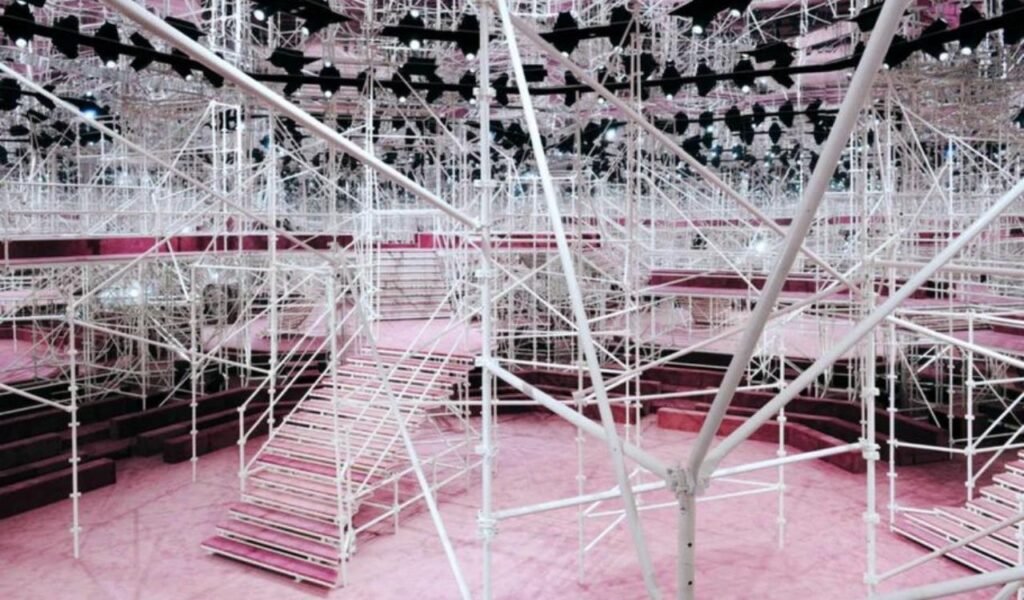 Set designers used to be either architects or artists, but today is the twenty-first century, and specialised courses for mastering the art and engineering of set design are now accessible. The field of set design is enthralling. Architects are drawn to it because the set design has less constraints than architecture. Set design, like architecture, is a combination of art and engineering that requires mastery of both.
Set design entails a wide range of tasks, including experimenting with fashion, trends, research, capturing the spirit, understanding history, copying or reconstructing settings and artefacts from the past as needed, sketching, graphical illustration, and product design. Set designers use a variety of media to create their sets.
Evolution in Set Design
For a long time, stage scenery and architecture have been linked. The stage set architecture piqued the interest of Rome's pioneer architects during the Renaissance, Baroque, and Rococo periods. The theatre served as a metaphor for reality, allowing forbidden themes to be discussed openly.
An intensified arena in which thoughts regarding societal aspects such as politics, morals, and ethics might be explored with a liberty not available in the real-world space of the town square. Set design has fallen out of favour since the end of modernism, when the Bauhaus, German expressionists, and Russian constructivists all employed theatre to promote their radical aesthetic beliefs.
The first widely discussed set designs were those of Greek and Roman theatres. The audience gathered around a circular space that served as the acting area. It was then cut out onto contoured slopes to concentrate the natural sloping seating in a focal place. A semicircular acting space at the Roman theatre, on the other hand, had an ornamental background that could be modified as a set. Set design played a role in this scene.
Runway Set Designers to Follow
A set or scenic designer is a creative mind who strives to imagine settings or bring someone else's philosophy to life and apply it. Scenic design, theatrical design, and stage design are all terms used to describe set design.
Set designers are frequently mistaken for production designers. Production designers are the director's eyes, bringing every concept to life. They're in charge of things like costumes, sets, makeup, and lighting.
The set designer's goal is to grasp the screenplay and scenario in order to create a working environment for the artist. Let's delve a little deeper to understand the significance of a set designer's presence.
The individuals behind the exaggerated worlds we see in cinema and the innovative shows in the fashion business are set designers. They are designers who utilise their imagination to create settings that create lasting impressions on people's minds.
Let's look at some amazing runway set designers you can follow for inspiration.

Alexander de Betak
De Betak, dubbed "the Fellini of Fashion," is a french fashion and furniture designer. His best known works- Dior has a mirrored patio at the Louvre, and Roberto Cavalli has a Moroccan riad-like environment.
Alexandre de Betak, the "King Midas" of fashion events and scenography, is the founder of Bureau Betak, a creative firm known for putting on spectacular runway shows, installations, and exhibitions that has been in operation for over 25 years. At the age of nineteen, he staged his first fashion show in Madrid for Sybilla Sorondo, a fashion designer.
He now stages and produces nearly every runway show during fashion week, including Kenzo, Chloé, Fendi, Isabel Marant, Christian Dior, and Saint Laurent, among many others.
He pushed the Musée Rodin to let him create crystal ice tunnels inspired by The Chronicles of Narnia, he built a massive mirrored box around Moscow's Red Square for a Christian Dior presentation, and he moved designer Raf Simons' Spring-Summer 2018 collection to the streets of New York's Chinatown.

Rem Koolhaas
Rem Koolhaas, a Dutch architect, is the director of the Office of Metropolitan Architecture (OMA/AMO), a research and design company that "applies architectural thought to areas transcending architecture." Universal Studios, Schiphol Airport in Amsterdam, Heineken, Ikea, Harvard University, and the Hermitage are just a few of the clients who have worked with OMA.
One of its defining moments is its long-term partnership with the Italian luxury label Prada. The "epicenter's influence" inside the retail business is attributed to this collaboration. For more than a decade, OMA has worked closely with Miuccia Prada on set design for her catwalks.
Gary Card
Gary Card is a multimodal artist, illustrator, and set designer who isn't afraid to use bright colours in his work. He is among the few designers who achieve international acclaim during the first ten years of their careers.
Louis Vuitton, Kenzo, Nike, Lady Gaga, Gucci, the Sanderson Hotel, Dazed Magazine, and other high-end clientele have helped him establish himself as a designer.
To name a few of his works that found him fame: HYSTERICAL at the Phillips Berkeley Square space, Moschino (Autumn/Winter 2017), Kenzo (Autumn/Winter 2018), and Gucci Window Installation
Esmeralda Devlin
Es Devlin is a stage designer and an artist. Her large-scale performance sculptures and surroundings, which are a play of music, light, and language, represent her strong convictions about humanity, and she is renowned for designing large-scale performative sculptures and environments that are a play of music, light, and language.
Her art has been featured in the Netflix documentary series Abstract: The Art of Design because it is so emotive and inspiring. The London Design Medal, three Olivier Awards, a University of Kent Doctorate, and a UAL Fellowship have all been bestowed upon her.

Stefan Beckman
Stefan Beckman is a fashion production designer and art director located in New York, and the proprietor of the Stefan Beckman Studio. His company has completed a variety of creative projects for well-known fashion designers seeking video and photo shoots, fashion presentations, runway events, or exhibitions.
He's famed for his museum-quality exhibition settings and exaggerated ingenuity in turning fashion presentations to life. Chanel, Fendi, Adidas, Zara, Calvin Klein and Louis Vuitton are some of his notable clients that found him fame.
Some Outrageous Runway Set Design
For aeons, the fashion week circus has been an international event, a pop-culture phenomenon that draws millions of people to watch designers present their latest collections, models strut their stuff on the catwalk, celebrities perch immaculately on the front row, and editors dart from city to city several times a year. The four major fashion capitals, Milan, Paris, London and New York are on the news for months with some spectacular fashion show sets being planned all over these places.
Is it because of or despite their transience that runway show settings have such a strong hold on us? In any case, these embellished stages, which are part art installation, part time travel and telekinesis instrument, are likely to transform a simplistic catwalk into an extravagant occurrence, transporting its audiences through time and space – and every once in a while into otherworldly settings – via clever, and often intricate builds, as well as the smoke and mirrors that lighting and an excellent playlist offer.
Let's look at some of the best fashion show sets we have seen in fashion weeks.

Chanel's Life Sized Snow Village
Chanel has shown us some of the most dramatic sets in the history of fashion weeks, ranging between vintage train stations to recreating a rooftop in Paris inside the Grand Palais and even going as far as designing an airport terminal and naming it Chanel Airlines and to top it all of there even was a Chanel supermarket for one of Late Karl Langerfeld's show.
At Chanel's AW19 show, the Grand Palais was converted into an alpine village, with models walking down a snow-covered catwalk.
Guests stood on benches in the front of wooden chalets set against a landscape of snow-capped forests and hills. Chanel skis were bolstered in piles of snow, and smoke curled out of chimneys.
It's the latest in a long line of spectacular catwalks from the fashion house, which has previously used tropical waterfalls, lush forests, and even a supermarket as backdrops.

Fendi's Glass Maze for Paris Show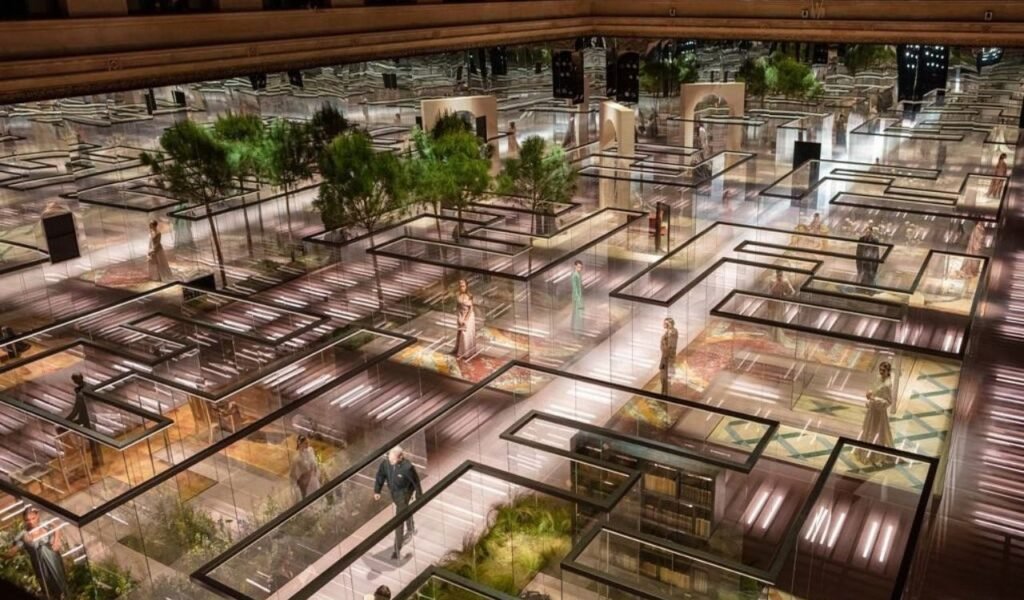 Kim Jones created a shimmering glass maze in Paris for his star-studded runway for his first Haute Couture outing as the Artistic Director of Fendi.
Inside the Palais Brongniart, Jones commissioned Bureau Betak to create a labyrinthine theatrical set made up of large glass 'cases' arranged in the shape of two Fs.
Spotlights above produced glistening reflections in the panes, giving the exhibition a mythical quality in keeping with the English fashion designer's theme.

Prada F/W 2021
Prada is beguiling people's sense of touch with what it claims as a 'inviting and tempting' sequence of locations in the absence of being able to attend its F/W 2021 menswear show in Milan.
The show, named 'Possible Feelings,' was held in a complex of textured rooms built by Rem Koolhaas and AMO and included faux fur walls and chilly marble and plaster flooring. The firm's focus paralleled that of the collection, which incorporates a variety of materials such as leather, bouclé, and tweed.
Yves Saint Laurent
SS22 Show

Doug Aitken created an interactive mirrored pavilion among the lush trees and foliage of Venice's Isola Della Certosa, which served as the runway for Saint Laurent's SS22 menswear show.
The Parisian fashion house commissioned Aitken's interactive sculptural environment, Green Lens, for its first actual catwalk since the pandemic began. The interactive installation, which also serves as a stage, will remain in place on the Venetian island throughout July.

Paris Fashion Week
The Eiffel Tower, which was once again the dazzling backdrop for Anthony Vaccarello's runway show, which was inspired by Paloma Picasso's larger-than-life figure, marked Saint Laurent's return to real-life shows.
The outdoor event took place on the banks of the Seine, beneath Gustav Eiffel's iconic monument, which was lighted in full colour during the show, much to the delight of the audience.
His Bureau Betak-designed pyrotechnic show concluded in the thunder of a 'waterfall,' toying with light, shadow, and all in between.
Jaquemues Recreated a French Village
For his AW19 runway presentation in Paris, designer Simon Porte Jacquemus imagined up a South of France village.
The vividly coloured street set was created by Bureau Betak inside the city's Paris Event Centre, and was designed by Till Duca and Samuel Begis. There was a bakery, a flower shop, and a green grocer's on the premises. Apartments with terracotta tiles, wooden shutters, and billowing curtains were constructed above the stores.
Fendi's Neon Light Set in Milan
Despite the fact that Men's Fashion Week is largely digital, Fendi's Milan show was nonetheless a celebration, thanks to its nightclub-style catwalk and brilliant neon light show.
The set was designed by Bureau Betak and echoed Silvia Venturini Fendi's autumnal collection's vibrant colour splashes. Fluorescent entrances dotted a mirrored runway, flashing with a colour algorithm synced to Not Waving's show soundtrack.
Light-boxes were incorporated onto the space's ceiling. They changed colours to match the models' monotone outfits as they passed through the entrances below.

Dior's Mirrored Cave
For Dior's spring show, displayed at the Musée Rodin in Paris, Bureau Betak creates a mirrored pavilion. The interior of the pavilion is stark white and concrete, with clusters of mirror pieces creeping along the walls, as well as along the floor and ceiling. The artisans had to install over 80,000 mirror shards by hand throughout the interior, with the highest concentration at the far end, giving the runway's entrance the sensation of a frozen paradise.
The mirrors created a bright space when the Dior models arrived and moved about the runway's central bench seating, taking up and reflecting the bold colours of Chiuri's Dior collection throughout the room. The mirror's reflections danced on the walls above the seated viewers due to the dim illumination.

Christopher John Rogers
Christopher John Rogers was inspired by private salons of Paris's high society—where fashion displays took place in the early twentieth century—for this Focus-produced show, which was sparked by a study on the essence of what a fashion show used to be.
The Sauras + Garriga design team picked dazzling chandeliers and thick curtains, which add to the theatrical experience of traditional fashion presentations while providing a lavish backdrop for his dramatic, cascading outfits.
Louis Vuitton
For Louis Vuitton's autumn 2012 show, a locomotive—a genuine one, created specifically for the occasion, complete with steam—pulled into the Louvre's Cour Carrée. The train, which was navy blue with the name of the *maison* in distinctive gold lettering on one side, conveyed models who were received by porters carrying their baggage (LV began as a trunk company, after all). They were meant to conjure romantic thoughts of bygone trip splendour, as was the collection.

Anya Hindmarch
Anya Hindmarch's set featured a zig-zagging runway with protruding triangular peaks glued into place to resemble alpine snow tops. It showcases contours and the end result was spectacular.