What is Art Deco?
The word 'Art Deco' or Art Deco Architecture applies to a design era that flourished in the 1920s and 1930s in the United States and Europe. During the 1920s and the Great Depression, this short-lived movement inspired fashion, art, home furnishings, and architectural forms. As a result, the aesthetic sought to strike a balance between grandeur and utility.
Between 1925 and 1940, Americans embraced Art Deco residences as a welcome shift from the eclectic and revivalist attitudes that had before it. The style gets its name from the 1925 Exposition Internationale des Arts Decoratifs in Paris, which served as a showcase for new ideas. The aesthetic was mostly one of applied embellishment. Hard-edged, low-relief motifs; geometric shapes such as chevrons and ziggurats; and stylized floral and sunrise patterns adorned the buildings. Among the archetypes of the Art Deco lexicon were shapes and ornamentation influenced by Native American artwork.
Art Deco in Architecture
The art deco style expanded from Europe and Britain to the United States, where it became popular for modern-era building types such as workshops, airports, cruise liners, theatres, pools, commercial complexes, department shops, power plants, and factories.
There were similarities to Modernism, such as the use of clean lines and minimal decoration, but the style also suited itself well to structures linked with entertainment, creating elegant interiors for hotels, restaurants, and luxury flats. Neon strip lighting was frequently employed to emphasise the streamlined aspect of the designs, and mirrors were used to accentuate and reflect.
Buildings, hotels, cinemas, and other structures were all adorned with iconic Deco patterns such as zigzags, sunbursts, Egyptian motifs, and other geometric patterns in the name of aesthetics. Postwar society was rapidly infatuated with the style because it embodied all that was modern, affluent, and beautiful.
The 1920s were a time of excitement and hope, and the general public welcomed this new style with open arms. It exemplified the country's thriving prosperity. Unfortunately, architectural purists and reviewers despised it. They scoffed at the modernistic use of Art Deco ornamentation, which they considered as commercial. They felt there was too much flash and not enough purpose.
History
Several significant art forms of the early twentieth century were influenced by Art Deco. Cubism's geometric forms (Art Deco has been dubbed "Cubism Tamed"), Constructivism's and Futurism's machine-style forms, and Art Nouveau's cohesive approach are among these foundational influences. Parisian Fauvism may have influenced its vibrant colours. Classical Antiquity, as well as Aztec and Egyptian art, influenced Art Deco. Art Deco, unlike its predecessor Art Nouveau, was entirely decorative and had no philosophical grounding.
The "Roaring Twenties," the Great Depression of the early 1930s, and the years leading up to World War II were all covered by the Art Deco style, which was adopted by architects and designers all around the world. It fell out of favour in the late 1930s and early 1940s, when it was perceived as excessively extravagant and flashy for the wartime economy.
The first revival of interest in Art Deco happened in the 1960s, coinciding with the movement's influence on Pop Art, and then again in the 1980s, coinciding with a rise in graphic design interest. A variety of jewelry and fashion advertisements featured the look.
Characteristics of Art Deco Architecture
Shapes that have been broken up. Vertical lines that were angular and pointed upward and outward were used to construct several facades. A series of steps up to a point capped off these triangle formations.
Geometric detailing with ornate embellishments. A building was decked up with various patterns and ornate embellishments. Chevron, pyramids, stylised sunbursts or florals, zig-zags, and other geometric shapes are some of the most popular Art Deco themes.
Detailing that is consistent A designer or architect would use identical Art Deco components on both the outside and interior of each building to ensure that the overall theme was constant.
Building materials that are both modern and traditional Stucco, terracotta, ornamental glass, chrome, steel, and aluminium were all used in the construction of Art Deco structures.
Colour contrasts are used to great effect. The Art Deco period is known for its use of vibrant, luxurious hues. To enhance contrast, buildings used bold hues such as black and white or gold and silver.
Geometric windows with a decorative theme. Geometric patterns adorned the windows and doors. The windows were frequently arranged in a long, horizontal row and might be made of glass block or a series of opaque glass inserts.
Spires and parapets are common architectural features. Building corners were frequently embellished with tower-like constructions, giving the appearance of opulence to a simple square structure.
Art Deco vs Art Nouveau
Art Nouveau, like Art Deco, is an ornamental style used in building, interior design, jewellery, and illustration. Both styles were prominent in Europe and America, but Art Nouveau was more popular between 1890 and 1910, while Art Deco peaked in the late 1920s and early 1930s.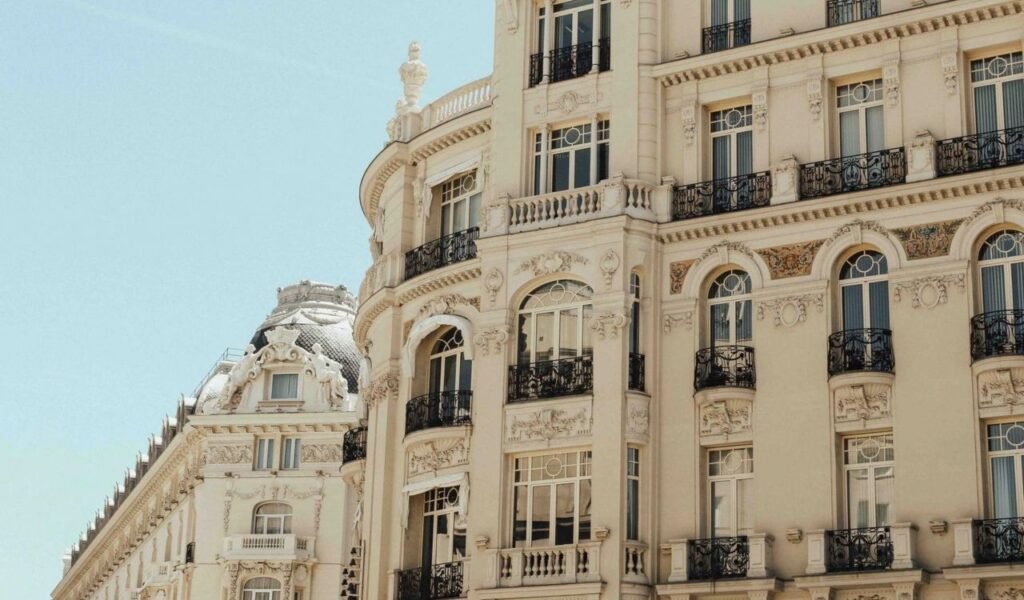 Art Nouveau emphasized nature, and things often were shown as flower stalks and buds, vine tendrils, insect wings, and other delicate natural elements, with asymmetrical sinuous lines. Art Deco, on the contrary, emphasized geometric lines and streamlined forms while celebrating the modern machine.
Art Deco in Interior Design
From subtle touches to all-out glitz, a premium Art Deco decor may be designed to fit any room. In our guide to each of the Art Deco interior design aspects, we'll go over the colours, textures, and patterns that are distinctive of the style.
Art Deco Design Elements
Colour
Because a uniquely Deco appearance will almost always include elements of silver, black, and chrome, it's crucial to keep this in mind when selecting the rest of the room's colour scheme. Bright and deep yellows, reds, greens, blues, and pinks are commonly utilised in typical Deco interiors to accentuate these high-shine metallic or black Deco features.
Softer colours, such as creams and beiges, combine well with silver or chrome accents and are a lovely complement to the polished wood and lacquer finishes that are also distinctive of the Deco period.
To achieve an Art Deco-inspired effect, employ either a dark or light colour palette, depending on the room. Dark walls, when paired with light objects with metallic elements, may create a lush and inviting environment that is ideal for a living room or dining area. Large swaths of mirror and a scattering of high-shine metal accents can be used to emphasise the sensation of brightness created by lighter-coloured walls.
Materials
Art Deco artworks are made of a variety of materials, but they always have a rich, glossy, or reflecting surface. Wood is either highly polished or given a glitzy lacquer finish. Enameled furniture was a crucial feature in luxury Art Deco design, and it was available in a variety of colours, which include pastel and deep tones, enabling more individualized Art Deco interior design aspects?
Mirrored surfaces are frequently used in Art Deco interior designs, which work in tandem with metallic features and materials to improve the sensation of light and space in a space. A geometric or sunbeam-shaped mirror with strong ties to the Deco style will serve as a focal point in the space. A mirrored wall, such as the magnificent, gridded version in the London townhouse by Cochrane Design, may be used elsewhere in the space and has the aesthetic and utilitarian appeal that Art Deco design is known for.
Art Deco lighting was often constructed of glass and chrome, which is still a popular combination today, so there are many possibilities within the Deco design to pick from. Look for angular or geometric forms, symmetry, and a high-shine finish.
Pattern
Because pattern is so enthusiastically welcomed in Art Deco interior design, it is typically the focal point of Deco interiors, making it an essential ingredient in obtaining the Deco aesthetic. Leaves, branches, and feathers, as well as trapezoids, chevrons, and zigzags, stylized animals and nudes, sunbursts, and jagged, stepped, or pointed edges suggestive of high-rises, were all popular Deco interior motifs.
Furniture
A modern interpretation of Art Deco style maintains the streamlined, aerodynamic, symmetrical, geometrical, and futuristic aesthetic of conventional Deco design, but incorporates more modern materials, dimensions, and furniture.
Inlays in contrasting – and often sumptuous – materials like ivory, brass, and mother of pearl are frequently used in Art Deco items. The method of inlaying one material into the other is a way to generate the strong, geometric designs that are so distinctive of the Deco style, as well as a way to obtain an impression of luxuriousness through the artistry required.
Notable Art Deco Buildings
Around the World
Chrysler Building, New York
This 319-meter art deco skyscraper is a Manhattan attraction. It is one of the world's most well-known examples of art deco architecture. With its tiered crown and striking decoration on both the inside and outside, the Chrysler Building admirably exhibits art deco elements.
Eastern Columbia Building, Los Angeles
The Eastern Columbia Building, dubbed the "Jewel of Downtown," was constructed at a time when Los Angeles had a 150-foot height restriction, but allowed an exemption for the glitzy clock tower. Deeply recessed bands of paired windows and spandrels with copper panels are divided by vertical columns, emphasizing the Eastern Columbia Building's vertical focus. Sunburst patterns, geometric designs, zigzags, and artistic animal and plant motifs are among the many elements that adorn the façade
National Basilica of the Sacred Heart, Brussels
Although work was halted owing to the two World Wars, this Art Deco-style chapel was erected to commemorate the 75th anniversary of Belgian independence. The building, which has a green copper dome, was finished in 1969 and was considered an iconic landmark in the country.
Bryant Park Hotel, New York
The structure, which is on the National Register of Historic Places, is a mix of Gothic and contemporary design. It was renovated into the Bryant Park Hotel, as we know it, three years after it was built. The building's firmness and fire are symbolised by the black brick façade with opulent golden decoration, marble, and black mirrors.
Breakwater Hotel, Miami
The Breakwater Hotel was built in 1936 by Yugoslavian architect Anton Skislewicz and is nestled among a row of Art Deco buildings on Ocean Drive in Miami, Florida. While the hotel has subsequently been repainted in brighter colours in order to boost business, original Art Deco aspects like regularity, ziggurat patterns, and symmetry remain as a testament of the refinement Art Deco can offer to even the most unanticipated settings.
In India
Some of the world's most stunning Art Deco buildings include New York's Chrysler Building, Paris' Palais de Chaillot, and Miami's Delano, but what about Mumbai's Eros Cinema, Empress Court, and India Assurance Building? With more than 200 Art Deco buildings, Mumbai is the world's second-largest collection behind Miami. The much-celebrated architectural style originated in Paris, spread throughout Europe and the United States, and eventually made its way to India, where colonisation brought not only British rule but also new ways of seasoning, behaving, and designing, transforming the face of a city that began as a coastal village.
Mumbai's Art Deco towers aren't as majestic as New York's Chrysler Building from the Jazz Age. Conversely, they are reminiscent of Miami's relaxed "tropical deco." The significance of Mumbai's Deco, as Unesco acknowledged, lies not in the narrative of a single body, but in the spirit of the ensemble. This fabric depicts the birth of contemporary Bombay, as it was called at the time.
Listed below are some of Mumbai's popular Art Deco buildings.
Regal and Eros Cinema
American film firms frequently supported or owned Mumbai's Art Deco theatres. Regal is the city's oldest movie theatre, having opened in 1933 with "The Devil's Brother," starring Laurel and Hardy. The theatre was created by British architect Charles Stevens, whose father Frederic Stevens notably constructed the Gothic wonder of the Victoria Terminus, in a perfect representation of the changing times (now Chhatrapati Shivaji Terminus). The Regal was the first ever structure to have an underground carpark, neon lights, and a water fountain.
With its cream-striped red-sandstone exterior, ziggurat roofline, and sumptuous foyer painted with classical and Indian friezes, the Eros cinema, completed five years later, is more visually arresting. (The interiors were created by a Czech émigré, Karl Schara, while the structure was designed by Indian architect Sorabji Bhedwar.) The Rendezvous of the East, a ballroom and café, were previously part of the 1938 cinema. However, because the Eros is closed, you'll have to travel to the Regal to see a movie, which means you'll be more likely to see anything from Bollywood than Hollywood nowadays.
Shiv Shanti Bhuvan
Shiv Shanti Bhuvan is one of a row of Art Deco apartment buildings that border the Oval Maidan's green, gazing over to the University and High Court's Victorian spires. The area's historic status was achieved as a result of this clash between two eras and styles.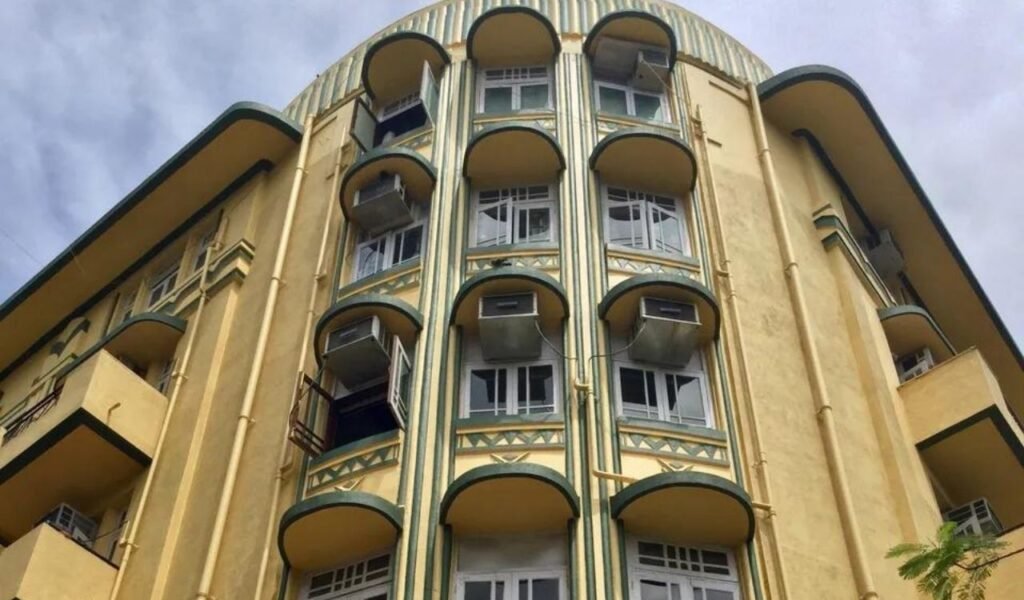 Several flats in this building are among the city's oldest and maybe the most cosmopolitan. You'd think they were mocking the imperial grandees across the cricket field as many of these new residential units have names like Empress Court and Windsor House.
Shiv Shanti, a street corner building with a yellow-and-green colour scheme and a stack of "eyebrows," or concrete weather shades, projecting over the windows, is one of the most stunning. The entryway has a frozen fountain style, which was popularised by the French designer René Lalique in the 1920s.
New India Assurance Fort
The city's Art Deco theatres ooze old Hollywood, and the city's residences are both useful and attractive. The Art Deco office towers, on the other hand, are strong and nearly classical, as befitting their usage by banks and insurance organisations.
The New India Assurance, which was established in 1936 and is located in the city's Fort area, features higher vertical lines supported by two classical-style figures. N. G. Pansare's sculptural reliefs idealise labourers such as farmers, potters, ladies spinning cotton, and carrying water pots. Indian embellishments may also be found on adjoining insurance buildings, featuring elephant sculptures and Lakshmi, the goddess of prosperity.
Soona Mahal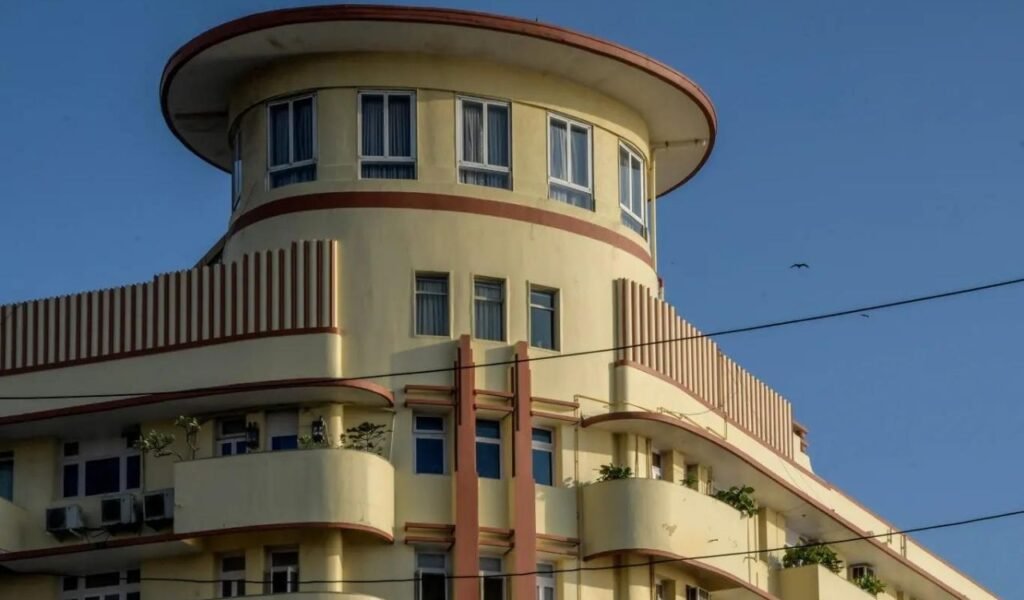 Marine Drive is a short walk from the Oval and is known as the "Queen's Necklace" because of the arc of lights around the coastline at night. The names of the buildings here represent their location — Oceana, Riviera, Chateau Marine — or the fact that they are owned by Indians. Maharajas and entrepreneurs possessed some of them at one time.
The Sidhwa family created and still owns Soona Mahal, which is named for the present owner's grandmother. Curved balconies and strong vertical lines are hallmarks of the Deco style. The spherical turret on the roof, which is reminiscent of a ship's bridge, is in line with the nautical elements of the architecture. The structure, which was designed by G. B. Mhatre, an influential Indian architect at the time, housed a popular jazz club on the ground floor. It's now a music venue and pizzeria, and it's the ideal site for a beer while watching the sun set over the Arabian Sea.
As a celebration of progress, business, and machines, Art Deco was formed. It is a timeless and important ornamental art and architectural movement. The Art Deco Movement's golden phase was a moment of transition, when conventional techniques were blended into current contemporary structures. This trend continues to influence designers and architects all around the world. Though the style as a whole fell out of favour with modernity, many designs retain certain Art Deco elements.