Landscape urbanism is a concept of urban planning along with the landscape. It is the planning of cities, towns, or other urban areas not through infrastructure or built form but with the art of landscape. The term 'landscape urbanism' was first coined in the 1990s and since then it is evolving according to techniques and modern approaches.
According to Sarah Kathleen Peck, she states, 'Landscape urbanism is a mode of thinking about the design and functioning of cities that places landscape architecture as one of the first steps in urban development, rather than the last.'
History of Landscape Urbanism
The word landscape urbanism came into existence by Peter Connolly when he was exploring the field of landscape architecture, urban planning together with architecture in late 1980s, to reach new boundaries.
Landscape Architecture
Landscape architecture in the 1960s was based on designing public or private gardens and was considered the last step of architecture planning. But with the emergence of botanists, urban planners, and landscape planners, and their collaboration to create a bridge between urban planning and landscape to manage cities. These principles were mainly derived by Ian McHarg, Peter Connolly, and Charles Waldheim.
Industrialization was the era in which planning and construction were at their worst phase i.e the dark age. Due to the rush of migrants from rural to urban, the planners realized that only construction of roads and buildings were not an effective way to develop a city where one can raise a family, this thought led to the initialization of new urbanism that is around ecology.
Importance of Landscape Urbanism
This concept of landscape urbanism inhibits not only the planning of the city but also works on technical management like water management, infrastructure, and biodiversity and moves a step towards sustainability.
Landscape as Urbanism – A general theory a book by Charles Waldheim the author presents a clear picture on how to rethink and develop cities in collaboration with the landscape. Landscape as Urbanism examines works from around the world by designers ranging from Ludwig Hilberseimer, Andrea Branzi, and Frank Lloyd Wright to James Corner, Adriaan Geuze, and Michael Van Valkenburgh.
Through various chapters, he tries to explain how the landscape has evolved from the renaissance to industrial cities and later to the early 20s with urban planning, and how the landscape plays a vital role to maintain the social and cultural order of the contemporary city.
Important Ideas
Some important ideas by James Corner in Terra Fluxus for the process of designing
According to him, Landscape urbanism is the dissolution of two words, 'landscape' and 'urbanism'. With this, he derived four themes-processes over time, the staging of surfaces, the operational or working method, and the imaginary.
Process Over Time
Which states that our life and future should grow considering the ecology and environment, therefore one should respect the surroundings while urban planning.
Staging of Surface
While city planning is due to a lack of horizontal space, the development is done vertically. But according to this theme, horizontal alignment should be considered rather than depending on vertical alignment.
Working Method
While designing an architect should adopt new technologies of the environment and move accordingly.
Imaginary
Limiting the new construction of traditional urban infrastructure and developing according to social and geographic conditions and opening scope for new imagination.
Genesis
Frank Lloyd Wright's – Broadacre plan
Urban Landscape Architecture
Every city once was a swamp filled with landfills or nooks or corners which are unplanned. These parts of the city need to be planned and not just with infrastructure but with beautiful elements which can enhance and add value to the urban public space. Urban landscape planning is taking a piece of land big or small, corner or centre analyzing, evaluating it to make the place interesting and useful.
Process for Planning
Elements of Landscape Urbanism
Today urban planning aims to develop cities in collaboration with natural surroundings. This is the requirement of the hour in the time of global change. Urban landscapes must be designed to meet the needs of today and the growth of tomorrow.
Safety and transportation
Streets and sidewalks
Parking lots
Signs
Transportation infrastructure
Public Spaces
Site Amenities
Parking
Restrooms
Cultural preservation
Public artwork
Historical monuments
Local colleges and universities
Residential Living
Noise and safety
Commute
Proximity
How to Merge Landscape and Urbanism
Vegetation – Plantation and tall trees help to slow down stormwater and increase the groundwater, this, in turn, will prevent surface water runoff to drains where industrial pollutants are present which can be harmful to the cities growth. Also, the groundwater increase will help to provide effective water for usage for citizens. Tall trees will also provide shade in public areas and streets. The shade will therefore cool down the region both outside and inside creating a comfortable environment.
Green belts- Green belts refer to preserved wildlife corridors, streams, parks, wetlands, coastal dunes, and other natural spaces in a city. This helps to preserve wildlife and create a safe way between wildlife and city dwellers. By preserving this wildlife and insects, urban landscaping can ensure that honeybees, birds, and other species continue to bring calmness to city dwellers.
Park Pockets- after the covid times, planners need to ensure to create spaces with pockets for playing and breathing clean and purified air to stay fit. Small pockets and also individual gardens should become a necessity for better urban planning.
Benefits of Urban Landscape
Environmental benefits
Climate Change
Social Integration
Physical and mental health
Food security
Historic Urban Landscape Project
This project is started jointly by UNESCO, Government of India and Madhya Pradesh to conserve the historical and cultural values. It is being initiated in the cities like Orcha and Gwalior.
These two cities were added in the list of UNESCOs world heritage cities under its urban landscape city programme in December 2020.
The expected changes under this project for Gwalior will be chemical treatment of Mansingh Palace, Gujri Mahal, Sahasrabahu temple and other heritage structures
Bill and Melinda Foundation Campus
Bill and Melinda foundation campus converted a 12-acre parking lot in Seattle into an ecological and social interaction hub. The foundation's requirement was to help all lead healthy, productive lives. This project was designed by Gustafson Guthrie Nichol Landscape Architecture. Over the years. The industrial activities contaminated the site with chemicals which led to the isolated site.
The transformation was done to the streets which developed into furnished sidewalks with amenities and elements. Inside, there is a space for global meetups and a passage. The center has a tree-covered plaza and the local ground has meadow-like drifts of grass. Rainwater harvesting is also present to make the landscape more green
Place Making
Placemaking is a multi-disciplinary process that uses an urban planning approach to plan and design public places with the aim to promote people's health and well-being. This can be a private, government, or community initiative to utilize urban spaces and bring them to the maximum benefit of the citizens.
75 Hours- Placemaking Marathon
Placemaking marathon is an initiative under the Smart Cities Mission which promotes cities to develop one or more public spaces within 75 hours.
The three key principles for making a placemaking project impactful are:
Light, quick, and cheap transformation– while keeping citizens at the heart
Build for the citizens and by the citizens to co-create a brave and bigger future together
Anchor with events that educate citizens and celebrate our public spaces.
Pahari Bus Stand at Chetak Circle, Udaipur
The street chosen for placemaking as it plays an important role in connecting many important landmarks, the site acts as an unauthorized parking space.
The major development which happened is the planning of dedicated zones for street vendors and parking.
For pedestrian safety traffic calming elements were introduced
For social interaction , interactive zones are created.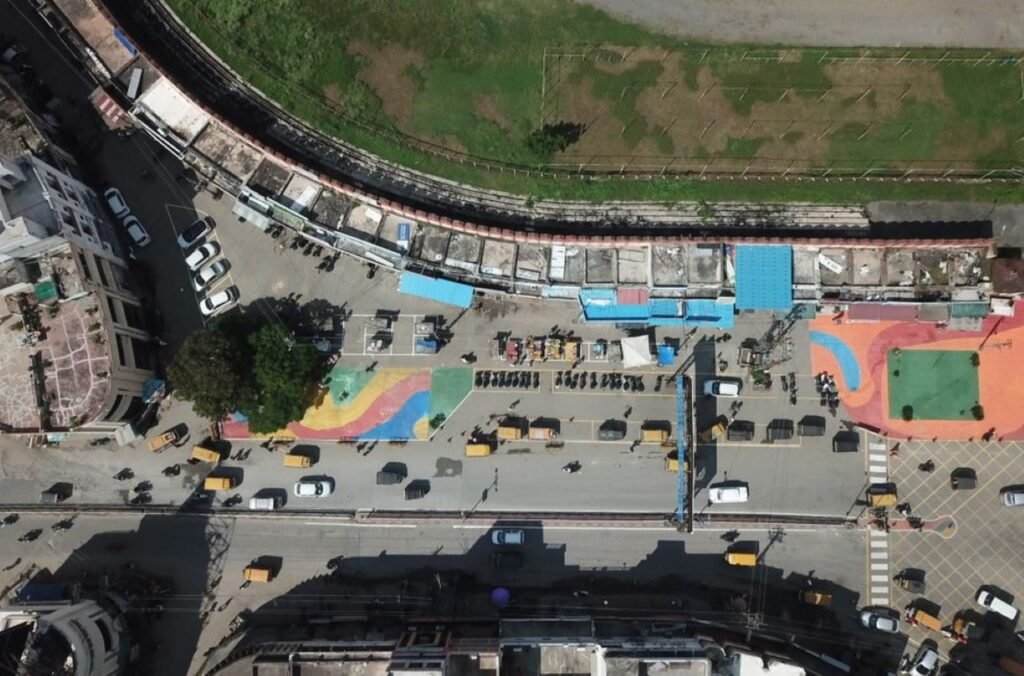 Conclusion
Similarly, many other projects are started by the government for effective urban development, the most famous is the smart city initiative which is in process in many cities. With a smart city mission aiming for a digitally forward city simultaneously working towards a greener world.