Background
Delhi, also known as the National Capital Territory of Delhi (NCT Delhi), is the second-most populous urban area in the country after the Mumbai metropolitan area. According to the 2011 census, the population exceeded 16.7 million people. Much of the growth in Delhi took place along the outskirts of the city, such as East Delhi, Noida, Ghaziabad, and Gurgaon. The Delhi Metro has transformed the features of public transport in Delhi.
The NCT Delhi covers an area of 1,484 km² and has an average population density of 11,289 inhabitants / km². Density varies from just 4,000 inhabitants / km² in the inner core of the New Delhi district (Lutyens Delhi) to 36,000 inhabitants / km² in some peripheral areas, such as the donut-shaped spatial structure of the northeast district. The outward growth of Delhi has occurred in an unplanned manner, dominated by unapproved colonies, slum settlements, and urban villages.
Spatial Growth and Public Transportation
In 1969, a study on the characteristics of traffic and travel revealed the need for a massive high-speed rail system for Delhi. Although buses were the common mode of transportation until the late 1970s, the increasing affordability of private vehicles changed modal trends. Lack of safety for pedestrians, non-motorized transportation, and poor public transportation conditions led people to choose private motorized vehicles.
The number of vehicles in Delhi increased dramatically between 2000 and 2011 (Delhi Development Authority, 2010). The number of buses increased from 15,514 to 34,251, but the number of motorized vehicles far exceeded this (29.51 lakhs in 2000 to 70.01 lakhs in 2011) (Delhi Economic Survey, 2012-13). Private motorized vehicles increased, although Delhi has an inexpensive and affordable transportation system.
Modes of Transit
Failure of Ring network of Railways
Ring Railway is a circular railway network in Delhi and runs parallel to the Inner Ring Road. This service began operating in 1975 for freight trains but was upgraded to transport passengers in the city center in 1982 during the Asian Games. Multiple Electric Units (EMUs) work clockwise and counterclockwise on your circuit. In the following years, Delhi expanded well beyond the ring road and thus reduced its passengers.
Today, this railway system is almost forgotten in Delhi. The reasons for the failure of this rail network are:
Lack of integration with road traffic
Railway stations that are not well connected with high-density crossings
Local public transport, NMT and poor pedestrian infrastructure
Industrial and low-density areas along the considerable length of the railway line ring
Station exits infrastructure (water, toilets, lighting)
Unsafe conditions at many stations
Today, the network is used as a freight corridor, although during peak hours, limited EMU trains are available to transport passengers. It is not being used the way it is intended to be
Impact of Delhi Metro
The Delhi Metro Rail Corporation (DMRC) opened its first corridor between Shahdara in East Delhi and Tis Hazari in North Delhi on December 25, 2002. Since then, the DMRC network is spread over Noida, Ghaziabad, and Gurgaon. The system kept over 3.9 lakh of vehicles off the roads in 2014, resulting in a saving of fuel consumption, reduction of environmental pollution, lost jobs and fuel consumption because of decongestion, and other benefits.
The metro network emerged in response to the reduction in high-demand travel patterns along Delhi's major thoroughfares, but it did not change travel patterns; it eased highway congestion by accommodating the increasing number of commuters along existing corridors.
Bus Rapid Transit system in Delhi
Delhi has one of the largest bus transportation systems in India. Delhi Transport Corporation (DTC) controls the bus system. Buses are the most popular mode of transportation, making 27% of all trips in Delhi (GNCTD, 2010). Since 80% of trips in Delhi are less than 10km and are efficient, a high-capacity bus network can also help car owners to the metro for longer trips. The bus system has a greater geographic reach and provides access to areas outside of Delhi. Despite this importance, Delhi's bus system has gaps in service quality, as seen below:
The gap between the number of buses needed and the actual number of buses operating in a mega-region like Delhi is considerable. Estimates show that while 10,000 buses are required (including as ordered by the Supreme Court on July 27, 1998) to provide regional and last-mile connectivity, the existing fleet only includes 6,088 buses on 773 routes, and only 34% of the fleet meets the specifications of urban buses.
Poor operational and maintenance quality of the bus fleet leads to frequent breakdowns and insufficient utilization of the bus fleet, which reduces the frequency. Some estimates show that the average waiting time for buses in Delhi is 70 minutes.
These two factors and the congestion of the streets of Delhi make the bus a less preferred means of transport compared to the metro, despite the greater penetration of the bus network in the streets of Delhi.
To change the culture of the city's buses, the government planned a bus rapid transit system. In April 2008, Delhi started its first dedicated bus corridor, which was only 5.8 km long, from Moolchand to Ambedkar Nagar along JBT Marg in South Delhi. Because of its limited length, the corridor was designed as an open system with no dedicated buses that only run on the route.
The system began with problems related to extended queues lanes due to 4-minute signal cycles at peak hours, accidents and deaths from reckless crossing and over-inflated buses, and the lack of reliability of the bus because of breakdowns and lack of training of the bus driver.
Pedestrian and Non-Motorized Transport
Create street-level activity and vibrant urban spaces.
Provision of facilities and infrastructure for pedestrians, cyclists, NMTs, and users of public transport
All streets and public spaces must be accessible.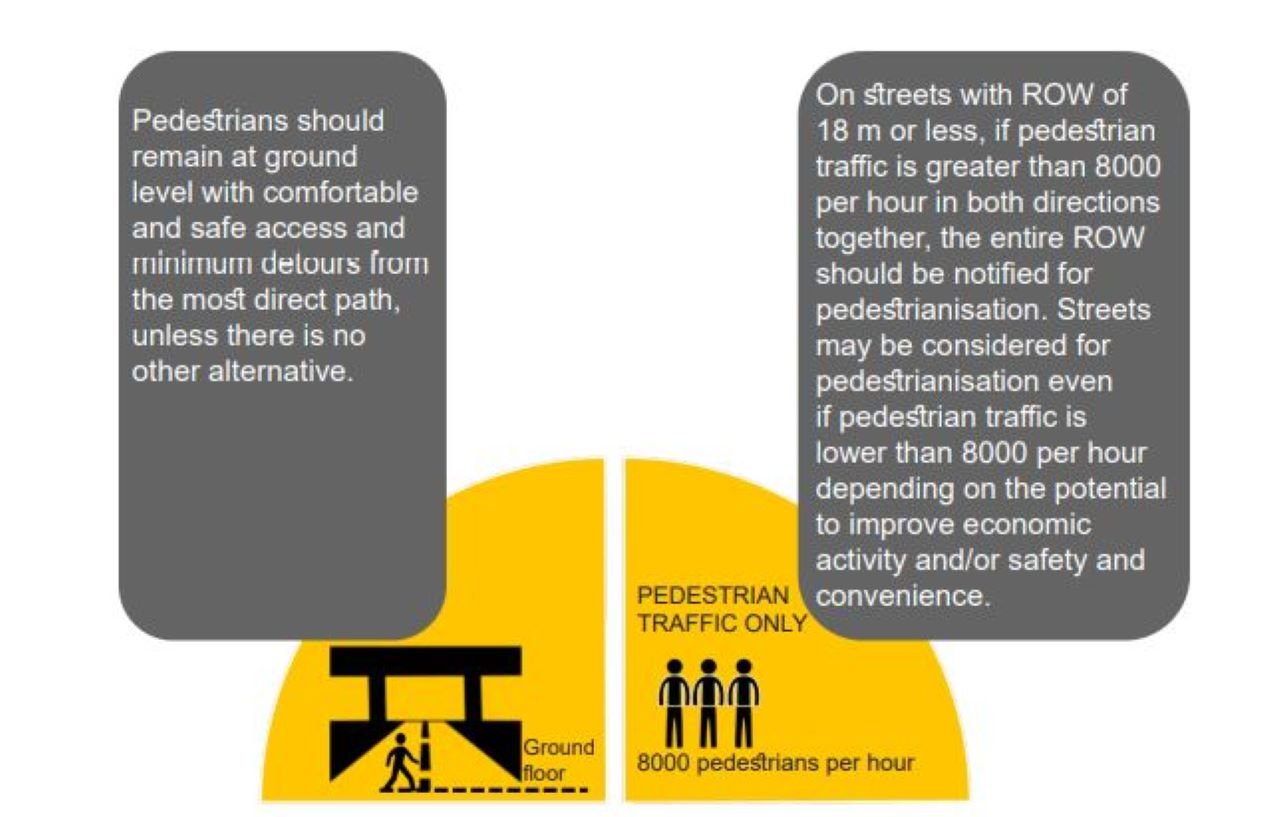 Connectivity and Network Density
Distribute heavy traffic on a road network instead of concentrating traffic on a few major streets and intersections.
Provide the shortest direct route for pedestrians and non-motorized modes to the train station and between individual buildings/complexes.
Integration of infrastructure development and travel demand management strategies (TDM), eg bus lanes, train station seats, intersection improvements, etc.
Multi-modal Interchange
Minimize travel time and costs for most travelers.
Offer multiple mode options for all walks of life with security and affordability. Ensure reliable, frequent, and affordable public transportation systems/networks throughout the city.
Minimize the number and time required to change modes for up to travelers.
Give preference to pedestrians, public transport, medium public transport (IPT), and NMT modes over private transport in the design and management of urban spaces.
Inducing Modal Shift
Locate public transportation stops, apartments, workplaces, and public facilities as far as possible in an area that is accessible to each other, in order to create incentives for walking and biking / NMT use, especially for short distances.
There are no incentives to use private vehicles. Limit the availability and prices of private parking lots to spaces to avoid the use of private vehicles in transit-oriented development zones.
Placemaking and ensuring safety
Create a safe, vibrant, and comfortable urban "space" by providing active streets and ancillary rooms to relax 24 hours a day. Introducing mixed land use and other informal street activities, such as vendors to promote activities and also promote informal surveillance.  
Minimize boundary walls and connection holes and build up to the edge of the street line. Transparent street walls, buildings constructed on the edges, minimal setbacks, and non-opaque fences all contribute to the natural surveillance of public spaces.
High Density, Mixed Use, Mixed Income Development near Stations
For the development of new land, higher density, lower infrastructure costs per kilometer.
Allow for a balanced combination of workplaces and living space along the MRTS corridors, combined with parking space restrictions, increased apartment affordability through design and technology options, and improved efficiency and equity in the resulting
Factors of Transit-Oriented Development in Delhi
Influence Zone Demarcation
The catchment area along the MRTS corridor is developing as an intensively developed zone with possibilities to restructure the city and better plan the station areas. The idea is to bring a sizeable population of residents to the MRTS corridor while providing facilities and employment opportunities for people that would improve their quality of life.
The traffic-oriented development concept will be adopted for developments within the catchment area, so that a maximum number of people can live, work or find leisure opportunities within walking/cycling distance of MRTS corridors/stations.
Amalgamation
Consolidation and reconstitution of lots for town planning purposes is allowed in all redevelopment plans, including transit-oriented development. To participate in transit-oriented development, an individual/ group of homeowners may need to work with other adjacent homeowners/ owners to form a Development Company and prepare a single contiguous scheme of at least 1 acre.
Edges
The outskirts can be defined in terms of the visual limit of space. It is a transition zone that facilitates the exchange of information between the areas. Within the policy of transit-oriented development in Delhi, the idea is to have permeable edges, reducing the emphasis on the concept of setbacks.
Far & Density
The floor space quota (FAR) represents the total floor area of the building as a fraction of the total area of the property in which the building is located. Government agencies use it in the area code as a tool to control the density of a location by enforcing acceptable FAR standards. The minimum lot size for development is 3000 m² in the case of mass rapid transit system but all other development standards must be followed.
Land use mix
A minimum of 30% of overall FAR shall be mandatory for residential use, a minimum of 5% of FAR for commercial use, and a minimum of 10% of FAR for community facilities in all integrated schemes. According to Zonal development plan use, there shall be at least 50% of the total FAR.
Parking Standards
In transit-oriented development zones, the allowed ECS (equivalent spaces allowed for cars) per 100 square meters base is 1.33.
Roads
Depending on the ground conditions, the road network (i.e. the distance c / c between rows) within the Regulation Area of transit-oriented development in Delhi can be relaxed by a maximum of 10%. Only pedestrian / NMT networks as walkways running through/under buildings are considered as long as they are kept open to the public.
Street Design Regulations
Based on the general mobility, safety, and environmental objectives of the city, the following:
Regulation must be followed for the town planning, construction, management, and maintenance of all highways.
To promote the preferential use of Transit-Development in Delhi
For the safety of all traffic routes through design
For the safety, comfort, and convenience of pedestrians on all roads
For climatic comfort for all road users
To ensure universal accessibility and convenience for all
To reduce the urban heat island effect and support natural rainwater management
Green Public Space
Urban green spaces such as gardens, parks, forests, green roofs, and bodies of water offer critical ecosystem services. Green spaces also promote physical activity, mental well-being, and public health for city dwellers.
Social Infrastructure
Social infrastructure comprises those assets that provide a service to society. The growth of such infrastructure since is vital for the development of any country, as it helps improve the quality of life and scores high on human development indices.
Conclusion
The transit-oriented development in Delhi and redevelopment policies provide opportunities to correct accessibility issues while making policy changes to the existing development control ordinance. In Delhi, the lack of decent and affordable housing has forced citizens to travel long distances or live illegally close to where they work.
The transit-oriented development in Delhi addresses the need for affordable housing within walking distance of transit stations. The Delhi Metro serves only a part of the city therefore attention has to be given to the regional transport system.
Although buses represent 27% of the mode of transport, the lines were not realigned to complement the metro system. The effectiveness of the transit-oriented development in Delhi, which allows for higher density by increasing the FARs allowed around MRTS stops, is being diluted in the city by the redevelopment and pooling directive that allows similar limits on the FARs allowed. When multiple agencies work together, such as with the DMRC and DDA, coordination plays an important role in resolving conflicts of interest.