Introduction
Open spaces are areas that are consciously undertaken schematically to play out a function in Architecture and design to generate public zones or private utility zones like Parks and Gardens, Natural and Semi-natural Urban Green spaces, Outdoor Sports Facilities, Green Corridors, Amenity, Children and Teenagers, Allotments, Community Gardens and City Farms
They serve in the category of developed or undeveloped areas under urban development. Most of the public spaces come under government authority, providing people with recreational areas. One such example is the development of the Sabarmati Riverfront in Gujarat state of India placed in the heart of Ahmedabad city.
Its Function in Architecture and Design
All the above-discussed open spaces act as a catalyst in architecture and design to experience the urban landscape in nature's parameters like vegetation, land, fresh air, and water in the utmost opportunistic way with its other various functional and cultural aspects. The fulfilment of housing, agriculture, public buildings, industries, and other utility areas has led to the spike of urbanization because of circumstantial increasing population, leading to more concrete cover and fewer open spaces.
Through forces of these circumstances, removal of green lands has been directed for a fateful time, affecting an imbalance of urban biodiversity. However, it has added concerns for government authorities and people to balance our build-up and open spaces. Various steps are incorporated to establish open spaces within or around buildings and cities/towns under the Urban development schemes.
Government And Netizens Action for Urban development
Considering this risk to the open spaces, the Government of India has issued city and building bye-laws to plan policies considering the environment. According to the Indian housing ministry's 2014 Urban and Regional Development Plan Formulation and Implementation (URDPFI) guidelines, open spaces fall under three categories: recreational space, organized green space, and other common open spaces. Urban development sustainably minimizes the inadequate methodology for buildout where nature is characterized less before humans.
Cities like Mysore and Chandigarh top for the greenest cities of India despite the population factor, one of the Best-planned cities of India and has become an inspiration for other cities to develop their green envelope and improvise their urban landscape for a preferable and healthier environment to live, this has risen the inclusion of open spaces in architecture and design by considering them from the initial stages of designing a building or area
Advantages of Open Spaces:
Natural Ventilation
Open spaces tend to bring the outdoor air indoors by the conventional placement of openings, depending upon the requirement of a building while considering wind direction and velocity of the surrounding environment. It supports energy efficiency in a building by reducing the application of mechanical ventilation. Elements like airflow direction and its distribution play an important role in affecting the overall performance of space efficiently and economically.
The Architecture and design of Historical buildings in India are the epitome proof. With Art and culture, their versatile capability to establish thermal comfort indoors is commendable makes them exceptionally more fascinating.
Like in India, some historical buildings today also operated with no mechanical means because of their architecture and design. One such example is the architecture of Rajasthan State, of India. It holds cities and mahals like the famous "Hawa mahal" or the palace of winds with 953 carved jharokhas or windows, creating the Venturi effect (doctor breeze) air conditioning the entire structure during the hot summers to face the arid climate.
Natural light
Open spaces provide a medium to have Natural Lighting that plays a crucial role in any building's architecture and design to engage more positivity in the space and mood upliftment. A high working rate is proven for people who work in spaces lit with natural light. Magnificently, it helps to reduce the use of artificial lighting. That is quite an appreciable factor in today's times.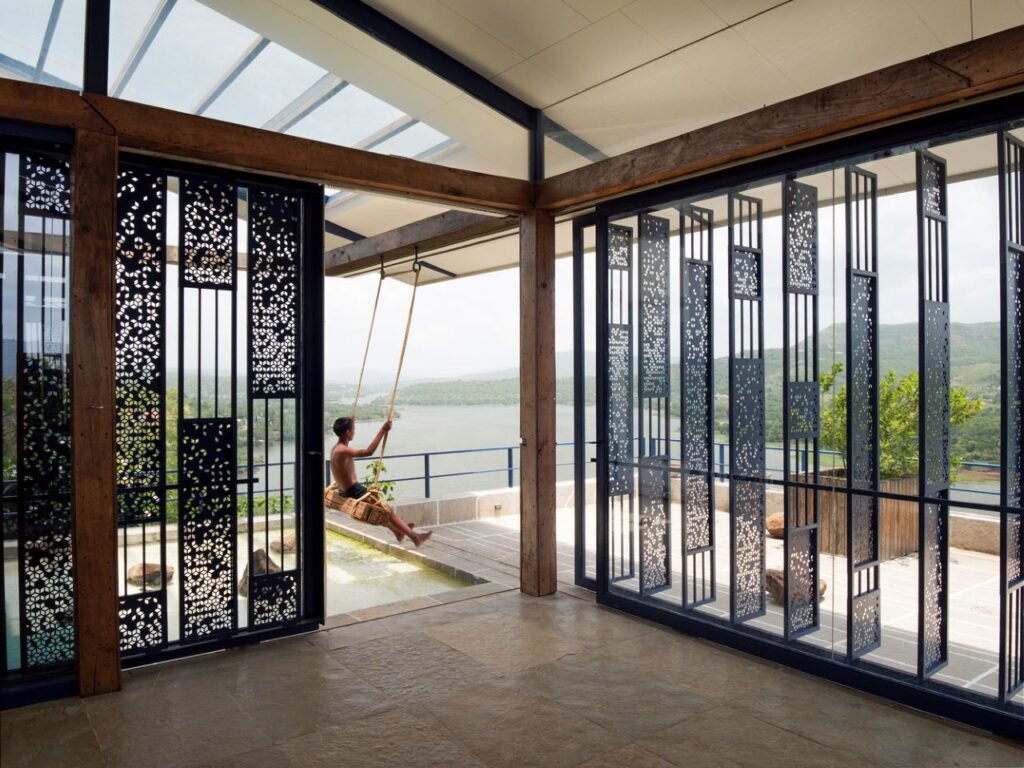 A Space becomes supplementarily energy efficient with the help of daylight. Hence, saving energy in the best possible way. Natural light not only induces light in space but also adds depth. It can create some astounding effects if used artistically. "Church of the light" building designed by the architect "Tadao Ando "is one such example, like here light plays a symbol of spirituality, accounting a unique and showing the flexible nature of light.
Sustainability/Energy Efficiency
Energy efficiency in an urban landscape is achieved through open spaces as it allows Natural light and ventilation. These are dominant factors contributing to making a building sustainable if used in its natural form or contributing to lessen the requirement of mechanical energy that is approximately (35-60%) required for air-conditioning, heating, ventilation, and artificial lighting that affects consumption of energy. Conscious steps taken for it may achieve the target to attain sustainability in buildings, as each type has its distinctive requirement.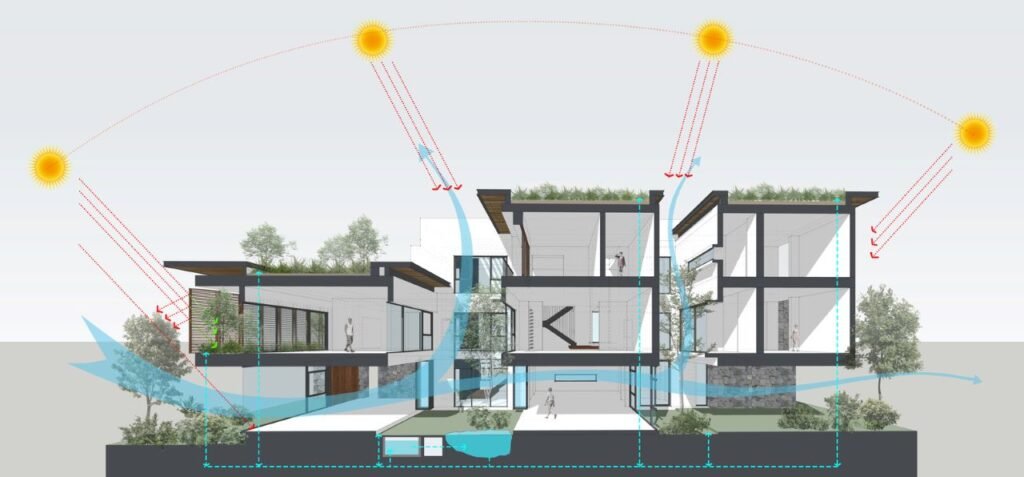 Recreational Space
Open spaces are developed through landscape architecture to create green outdoors where people relax or gather, away from the hustle of work, and feel comfortably relaxing under the blue sky. Also, these spaces habitats leisure activities. In institutions, offices, hospitals, around residences, and within towns/cities. A community park is a place that encourages people around to engage themselves in an activity like walking, jogging, exercising, playing, or having social meet-ups.
It acts like a magnet in a city, as it attracts people from all age groups with distinctive cultures and backgrounds, as well tourists to feel harmony with the environment. This urban development makes these spaces active unit zones to relax and play. They offer quality to the lives of people around them as it inclines them closer to Mother Nature.
Human health benefits
Open spaces are getaway places for people to be close to nature, feel active, and psychologically improve mood and focus. Not too far, we all were in the pandemic situation locked under our roofs and what helped people to feel positive and unconfined open spaces around residences like balconies and Private Terraces. And only allowable access for them to be outdoors and feel nature's vibe. An individual optimism boosts when they are in such places.
Indoor-Outdoor connection
Open spaces develop a connection between indoor and outdoor spaces, manifesting feelings of independence, less isolation, and more imagination. Indoors are filled with light and break the isolation of closed walls. A seamless transition is possible through large glass facades or windows. This concept of indoor-outdoor connection in an urban landscape is popular in demand today as people have believed in the balance of open and build-up spaces. Landscape architecture makes the vibe of surroundings more relaxed with added vegetation or water bodies to them, makes it more natural and energy-efficient. Courtyard planning is one such example of it.
"Indian habitat centre" in New Delhi, India, is being designed with a core courtyard holding vegetation, water bodies in such a way that it creates an image of a mini tropical forest and allows constant regulation of improved quality air. A-frame roof structure uniquely catches the eye because of its aesthetics. While functionally permitting, the required amount of sunlight and shade that purely justifies the concept of an urban landscape.
Vegetation
Open spaces can also be transformed through landscape architecture into green spaces with habitation of vegetation, creating a soothing environment. It controls the microclimate and escalates the aesthetics. The Green colour makes you feel optimistic and refreshed. That encourages better physical and mental health. Hence, it is highly in demand today because of its property of being a mood lifter.
Open space as a catalyst!
There are unlimited benefits of open spaces for an urban landscape. It entails a building with better quality to function and gain sustainability from its design features. Hence, a balance with the natural environment is paramount for today's building to breathe and provide a thermally comfortable, fresh indoors responsive to the climate outside.
We all know global warming and how it is striking the lives of all living beings or how huge may be the future circumstance. This issue may decrease if all architecturally designed spaces or buildings are in coexistence with the natural environment. To bring about energy efficiency and sustainability for our mother planet Earth.
Landscape architecture is the primary element for urban landscapes to achieve a human and nature balance. Open spaces all together make this world a better place to live in by promoting better physical and mental health for all living species.