Paris is without a doubt one of the world's most glamorous cities. The French capital understands how to make everything look uber elegant, whether it's clothes or furnishings. So we don't turn down a chance to see inside a Parisian home.
French style appears to be ever-so-stylish. After all, with its envious fashion, gastronomy, design, and lifestyle, Paris is the epicentre of luxury. And, of course, there are the magnificent French châteaux. Whether it's a living room, dining room, or foyer, each space has its own je ne sais quoi, distinct personality.
Vintage furniture with gold accents, sumptuous tapestries, and towering chandeliers—not to forget a fresh bouquet for a splash of colour, just a few of the touches that give these spaces character and a particularly Parisian feel.
In this article, I will tell you how some designers have transformed Indian apartments into chic Parisian pied-à-terre.
Parisian Interiors
What comes to mind when you imagine a quintessential Parisian apartment, it's most likely a traditionally magnificent 19th-century Haussmanian architecture with high ceilings, big French windows, finely carved mouldings, marble fireplaces, herringbone oak flooring, with wrought-iron balconies. Anything looks good in a room with those great bones.
Many Parisians, however, live in a considerably fewer movie set apartments and manage to create stylish, dreamy spaces with an approach that is as much about attitude and style as it is about space.
What will follow is a list of factors that make a Parisian apartment chic and desirable.
Blend old and new
The French can give a sense of sleek refinement to any environment by combining old and new elements. Restore old furniture with classic style and free-flowing lines with a coat of paint and new paisley upholstery. Parisians adore one-of-a-kind, fashion-forward goods. It's all about the details that make a difference.
Simply defined, the key to mastering the Parisian modern look is contrast. It is imperative to integrate a variety of design styles and materials. Always include a few edgier pieces to create visual interest and avoid going too delicate, feminine, or classic. Consider an elegant gilt mirror next to a modern accent chair, or a sculptural chandelier above an antique dining table.
Maintain the Au Naturale state of things
Over the contrived and over-styled, Parisian contemporary embraces all things natural. It's okay, if not preferred, for rooms to feel a little unfinished, just like that perfectly imperfect, messy bun they've perfected. Consider vases packed with a particular fresh flowers, half-burned candles strewn about, and slightly crumpled linens. Instead of like a museum, your workplace should be warm and inviting.
A Neutral Colour Palette
French decorators keep their walls low key to keep the focus on the decor items. White is the most popular colour, but subtle pastel colours like rich cream or silken beige are also popular. In French artistic sensibilities, bright or vivid colours have no place. This decorating style expertly combines colours, tints, and hues to add visual poetry. After all, it's not for nothing that Paris is known as the world's design centre!
Celebrate Architecture
Good bones are the foundation of the Parisian style. With a canvas like this, it's no surprise that Parisian modern spaces feel so refined. Herringbone floors, ornate moldings, and elaborate fireplaces Installing architectural features like picture moulding, a fireplace, and natural wood flooring may transform your home substantially if you're up for a labour of design love.
Floral Arrangements
Fresh flowers can be found in plenty in France, whether as a posy on a street corner or large buckets of garden roses on a table. Bring a little touch of Paris into your home with a beautiful vase of flowers that will brighten up your space and lift your spirits. Allow the blooms to blossom to their full potential; you can never have too much beauty in your life!
Take note of lighting
In French design, lighting is crucial. Ornate chandeliers with crystals and delicate ironwork ornamentation are commonly used to light ceilings. Table lamps with pleated shades and ruffled valances, as well as wall sconces with elaborate decorations, can add French touches to your house.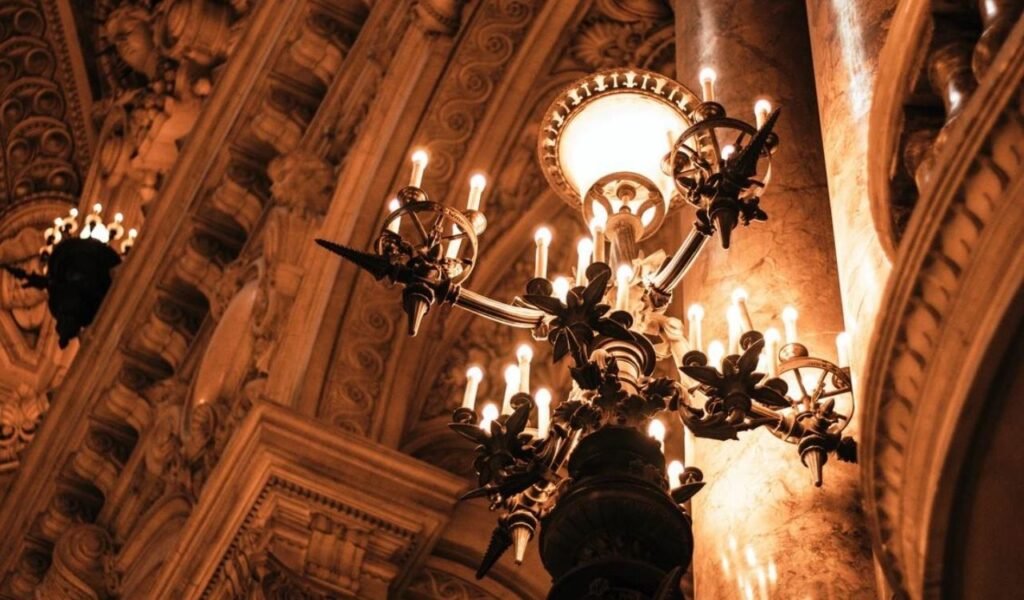 Elegant Drapes and Complimenting Rugs
Free-flowing silky curtains that soak into the floor and are held back by fluted valances and tie backs can establish the scene in these residences, which are high on luxury. Pleated details, lacey edges, and romantic designs are all the rage right now. Rugs and carpets that complement your walls will add to the sense of muted sophistication.
Gilded Mirror
Mirrors are a must-have in a French-inspired home, and the more the better! These mirrors come in a variety of shapes and sizes, with frames that are decorated in enamel, wrought iron, or even gold or bronze. For a sense of sophistication, hang them or prop them against the walls. If you're going for the full French experience, add some mirrors to your French kitchen for a unique twist.
Add a little bit of YOU!
People prefer the Parisian Modern style because it appears to be curated and collected rather than cookie-cutter. Make room for treasured heirlooms and valued antique treasures as a general rule, whether it's a broken tea collection from your granny or a vintage work of art that appeals to you. Take the time to accumulate meaningful objects and decor.
Some Design Ideas to transform Your Indian Home into a Chic Parisian Pied-á-Terre
Even in your French kitchen, use warm, neutral colours that go well together.
Maintain a straightforward colour scheme. Small splashes of colour here and there add to the overall look, although harsh colours are discouraged.
Let your life experiences to affect your décor by combining vintage and additional elements.
Plants, wall hangings, artwork, and books can all be used as accents.
Pay close attention to the smallest elements on the walls, ceiling, and floor.
Add wall panels to add elegance and texture
Choose items with opulent textures and patterns that evoke a sense of opulence.
Choose draperies and rugs that are lush and sumptuous.
There should be no element that takes precedence over the others; they are all equally vital.
Indian Homes with Parisian Interiors
Netflix hit Emily in Paris inspired Mumbai Apartment
Emily in Paris, a Netflix smash, allowing viewers to escape for a little time into a city that is a moving postcard amid a pandemic. Paris, oh, Paris! Not only did the presentation highlight the protagonist's Chanel-heavy clothing, but it also highlighted the city's magnificent architecture!
Designer Noorein Kapoor set out to create an interior design story for a 913-square-foot property in Mumbai, which has two bedrooms for a couple expecting a baby, with this romantic theme in mind. The Paris theme worked brilliantly because the lady of the house works for a Mumbai-based French company, so what Kapoor set out to accomplish was met with a great streak of serendipity.
The Doorway
The home's first appearance, like the show, is spectacular and appealing. The wall mouldings, together with the stylish black door and the chequered flooring, provide a lasting impact. The designer used monotone in the entrance foyer to create the impression of a jewel box.
The patterned flooring provides depth to the motif, while the white passageway walls help create the feeling of spaciousness. They took off the old flooring and replaced it with black-and-white marble stone from Topstona, Jaipur. Mouldings or wainscotings are a vital part of all Parisian-style residences, and the designer used colours to flow from one space to the next while keeping the wall adornments consistent.

The Space In Between
The swing chair, herringbone flooring, ornamental ceiling, and chandelier add refinement to the area, giving it a parlour-like feeling as if it were designed for great tea parties. The curved sofa was necessary for two primary reasons: one, to stay loyal to the design aesthetic, and two, to make room in the living room for a dining table. A small eating space is within the living room. The little but unexpectedly sophisticated area is the ideal utilitarian addition to any home.
The Way Through
The lengthy, art-filled hallway leads to the bedrooms, and the bird lights serve as sculptural illumination, illuminating the path throughout the apartment. The home's monochrome aesthetic is complemented with tiny black-and-white images on the walls.
The Bedroom
The blue walls, the four-poster bed, and the floor-to-ceiling windows are all whimsical aspects in this cocoon-like refuge. The bedroom's wall colour was influenced by Emily's meeting room in Paris. Terra Luna is a blue colour from Asian Paints. The bed was Kapoor's unique endeavour, as she designed it herself in their workshop with the help of their in-house crew.
A Parisian-chic Pied-á-Terre in Mumbai
This home by Jason Wadhwani Design Studio is a French-style paradise, filled with fine artworks, à la mode furnishings, and a definitely French feel. The strong dosage of monochrome is the first thing you'll notice when you walk into this Mumbai home. As a house for a millennial couple, it has a modern feel while still preserving some quirkiness. The architect drew inspiration from Parisian design and made white wainscoting and French wall mouldings the apartment's unifying theme.
The Entrance
A lengthy passage leads to the living room and dining room, defining the entrance. The waiting area is anchored to the left by a charcoal wall, which serves as an appropriate backdrop for the bespoke leather chaise longue. The basic backdrop is given an attractive, impressionistic twist by art prints from a local artist in Lisbon.
The Living Room
The living area is transformed into a luminous paradise by a rolling expanse of pure white marble. The area has a typical country chateau feel to it, thanks to the French-style mouldings on the walls. The room's focal point is the TV unit, which is flanked by two glass-front etageres, while modest wall sconces offer a layer of understated elegance. Wadhwani created a mix of store-bought and custom-made items for the furnishing plan.
The Dining Room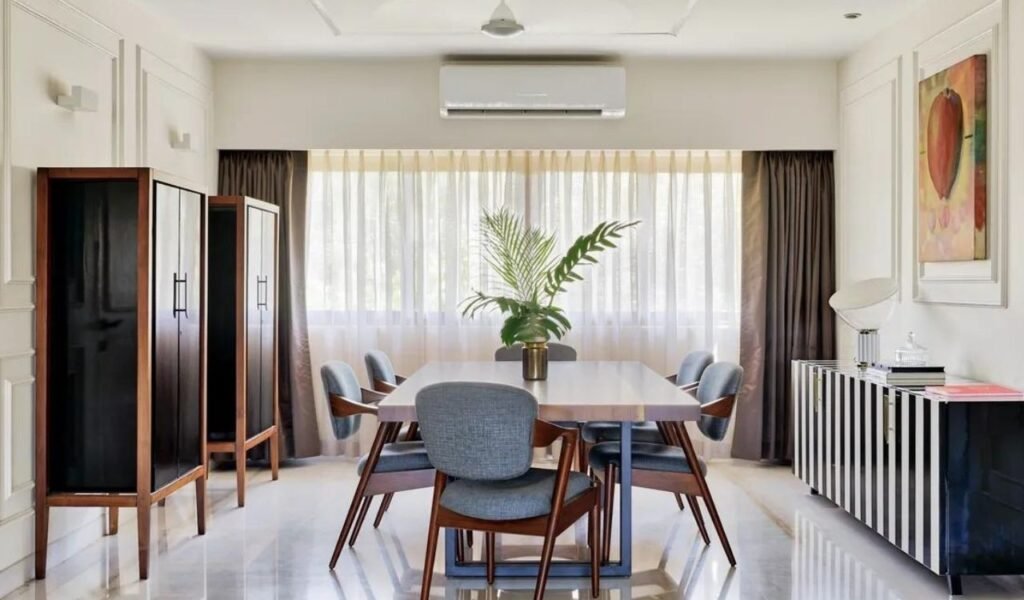 Broad strokes of indigo and white are used to accent the dining room. All eyes are drawn to the end of the room by the veneer-topped wooden dining table and blue upholstered seats. The main point of the room is a stunning monochrome sideboard that Wadhwani custom-designed.
The Bedroom
The main bedroom has a bespoke bed and side tables made of wood and brass. The slate grey headboard is set back from the wall, enabling the panelled wall above to take centre stage. The pared-back design is complemented by a brass display cabinet by the window.
Parents Room
The parents' bedroom is opulently decorated in rich jewel tones. The wall above the headboard is accented with a mottled, moss-effect wallpaper overlaid by a wooden grid, while the wall opposite is enlivened by a neon graphic art poster. The room is finished with an emerald-upholstered headboard and a black-and-white striped Josmo recliner.
Dressing Room for Parents
The parent's dressing room, encased in jade, leaf-printed wallpaper, exudes a distinct tropical vibe. With its crazy charm, the mirror, a geometric spin on Mediterranean arches, steals the show.
Den
The den is designed to be a cosy refuge as a multipurpose area. A tufted beige sofa gives abundant space for lounging, reading, and movie evenings, while a sleek study surface is provided by a bijou workstation on the opposite wall.
A Parisian styled Bangalore Home
Natural light, golden, elusive, and amorphous, has a way of enveloping a space in various ways at dawn and twilight, by daytime and moonlight, dazzling and fading before disappearing entirely. When Shernavaz Bharucha was building a couple's two-bedroom nest in the Garden City, she was inspired by this phenomena of altering light.
The Entrance
Perhaps it's the piano-key marble tiles that bring harmony to the foyer, or the traditional mouldings highlighted with enormous mirrors, but there's something about the foyer that harkens back to a black-and-white, silent-movie-era Paris. While a sculptural chandelier by Aura blossoms from the ceiling, an artwork adds a splash of colour to the muted monochrome.
The Living room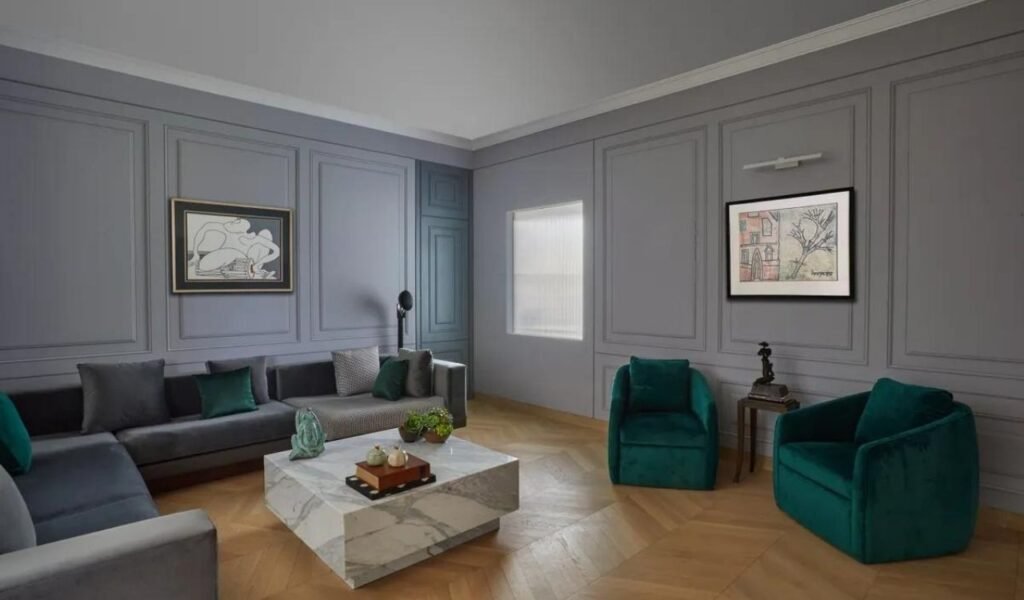 Indigo and white dominate the formal living room, leaving no room for pomp or whimsy. The seating space is anchored by Goodlines sofas, while a hole in the elevator serves as a stunning art installation.
The Dining Room
A custom circular dining table by Goodlines balances out the angular definitions on the periphery of the room. Tufted seats by BoConcept are arranged around the table, and a chandelier hangs over it. A corrugated storage box serves as the dining room's backdrop.
The Master Bedroom
The main bedroom features a subtle duet of grey and royal blue, with clean lines and muted accents that inspire comfort. A deep-blue upholstered tableau frames the bed, which is flanked by grey panels. Goodlines designed the bed and nightstands.
The Master Bathroom
In the main bathroom, pewter marble creates a calm, yet sophisticated atmosphere. The mirrored wall multiplies the quadrangular floor patterns.