Commencement Of Development
Bombay City, which is referred to today as 'Mumbai', started as a congregation of seven islands, gifted as a dowry in 1661 to the King of England. In 1667, these islands were handed out to The East India Company for 10 pounds every year, after which the development of Bombay began. During this time, The East India Company was just a trading company and India wasn't under British rule. The inauguration of Mumbai Architecture was done by the British. They started with the fortification of the main island for protecting their land. This area was later called 'fort', which lies near the current-day CST Station.
Mumbai City is a blend of people, beliefs, religions, culture, heritage, and languages. The same goes for its architecture and design that has always expressed the bygone era's practices through the old rustic buildings, resting silently in the middle of chaos and forming the irresistible cityscapes of Mumbai. Countless buildings are asserted to be heritage buildings of national prominence and UNESCO world heritage sites.
Mumbai Architecture in Today's Time.
Mumbai is a fusion of building designs that are a visual representation of its history aging back centuries. Mumbai Architecture includes architectural gems influenced by Neo-Classical, Victorian-Gothic, Art Deco, Indo-Saracenic and contemporary architectural styles, which are still alive in the city's commotion for those who are careful to observe it. The European colonists brought a massive collection of European architecture including Romanesque, Neo-Classical, Gothic, and Renaissance.
Towards the South, one would find buildings from the colonial era and soviet style offices. Towards the East, factories, and slums and the West Coast, skyscrapers after the destruction of old textile mills. The best part about Mumbai's architecture and design, unlike Delhi, isn't just about monuments and buildings of cultural significance. It contains residential buildings, offices, schools, municipal buildings, administrative buildings as well as cinema halls, i.e., spaces that are open and usable to the public on a day-to-day basis and therefore, relatable.
Types of Architectural Styles
Neo-Classical Mumbai Architecture
The Neo-classical architecture was brought by the European colonists in the 1800s, giving an incredible monochromatic yet sophisticated look. As European architecture was first found in Kolkata, the local traders adopted this style for their own building design. They constructed houses and mansions as an attempt at a fusion of architectural styles. Several houses with a combination of European and Hindu architecture with eccentric decorations dyed in loud and flashy colors can be commonly witnessed there. Inculcation of these styles in monuments of public importance showed rising knowledge of Europe's broader administrative and majestic role.
The same process followed in other cities under British Rule. After the disturbing events of the Sepoy Mutiny, the heart of all activities moved from Kolkata to the up-and-coming city of Mumbai that went from a forgotten backwater to a magnificent city in less than thirty years. The grand town hall constructed between 1820 and 1835, by Colonel Thomas Cowper, is one of the finest neo-classical buildings in India. The magnitude with which the European notions of townscape, planning, and layout were being inflicted on Mumbai architecture hadn't been witnessed by anyone before this.
Victorian Gothic Architecture
Victorian Gothic, also known as Gothic Revival, replicated new European elements like bold colors, carvings, flying buttresses, lancet windows, and stained glass, making it more dramatic and expressive. This style originated in the mid-19th century under the British Raj. During the age of the cotton boom, many parts of South Bombay have building designs only in this style. A majority of public buildings from the 1860s to the latter 19th century are constructed in this style, still catching the eye of many spectators today.
Since Gothic buildings took a large amount of space, this style used to be reserved for religious buildings during the 11th century. Not long after, a growing need for buildings of public usage was recognized for which Gothic architecture and design was an answer. The architectural traits incorporate a variety of European inspirations like German gables, Dutch roofs, Swiss timbering, Romance arches, and Tudor casements, often inter-fused with traditional Indian features.
The Fort campus of the University of Mumbai, Bombay City Hall, Saint Xavier's College, Convocation Hall at Bombay University, The Secretariat, Telegraph Office, The University of Mumbai Library, earlier known as the Victoria Terminus, are one of the many exceptional examples of Gothic architecture and design in Mumbai. Rajabai Tower, constructed by the British, is a replica of Big Ben in London. According to writer Jan Morris, "Bombay is one of the most characteristically Victorian cities in the world, displaying all the grand effrontery of Victorian eclectism.".
Art Deco Architecture
A new movement in decorative arts, architecture, and design came to life through an exhibition held in Paris in 1925 called 'Internationale des Arts Decoratifs et Industriels Modernes'. This style was later termed 'Art Deco. Art Deco was introduced in Mumbai in 1930 and is one of the least noticed styles in Mumbai. It has the second-largest number of Art Deco buildings in the world. The first is Miami, whose "tropical deco" is resembled by Mumbai.
Features of Art Deco in Architecture
Art Deco compriseding design persistently inspired this style.
The characteristics included simple façade treatments, geometric orientation, rigid lines, symmetry, flat roofs, curved and smooth walls, and decorative elements. The buildings along Marine Drive and at the west of Oval Maidan are acknowledged by UNESCO as part of a World Heritage site, a merit that is required for the preservation and advancement of the neighborhood. These buildings resemble the laid-back building design in Miami.
Progression to Deco-Saracenic Architecture
In Mumbai, Art Deco progressed into Deco-Saracenic, an exclusive style combining Islamic and Hindu architecture and design. In Deco-Saracenic buildings, the interiors depicted Victorian architecture and the exterior was Indian. All aspects like lamps, flooring, wood paneling, lifts, railings and grills, muntin, chajjas or weather shades, plinth copings and moldings, cornices, verandahs and balconies, bronze and stainless-steel fittings, brackets, etched glass, ornamental sculptures that extended to names carved out in giant letters, facades that are very airy and inbuilt stepped -back style, etc. were influenced by Deco style.
Two of the major reasons for Art Deco to be standing out in Mumbai Architecture are the easy blend of Deco-Saracenic as well as the variety of materials used. For example, a lot of buildings were constructed out of reinforced cement concrete but had a finish of Malad stone. This treatment was enormously trendy amid a lot of cinema halls that were built during the 20th Century. Metro Cinema, Eros Cinema, Liberty Cinema and Regal Cinema are some examples.
From Mumbai, it spread to other cities in India and lasted till the early 50s paving the way for modernism post-independence. For decades, Art Deco as a style was ignored by people. The best part about Art Deco is that in a city like Mumbai, with gated societies, skyscrapers, and self-centered culture, it gave us buildings with low compound walls and neighborhoods with openness and reminded us of an age of urban harmony. The best examples of Art Deco building design in Mumbai are Regal and Eros Cinemas, Dhanraj Mahal, native residential societies along Oval Maidan and Marine Drive, New India Assurance building at Fort, and Soona Mahal at Marine Drive.
Indo-Saracenic Architecture
From the 1860s, buildings were constructed with domes, arches, minarets, spires, etc. combining features of Islamic and Hindu architecture and design known as 'Indo-Saracenic' architecture. Most of the buildings reflecting 'Indo-Saracenic' were constructed between 1858 and 1947. These structures partly reflected the British desire for a Royal style of their own, portrayed on a massive scale. They were used to making a metaphorical statement to the world that the British Raj is unbeatable and unshakable. It was a part of the 19th-century movement where they displayed themselves as the natural descendants of the Mughals.
This style was mostly used for grand public structures like clock towers, courthouses, government buildings, colleges, town halls, railway stations, etc. The first example of Indo-Saracenic building design is said to be Chepauk Palace, completed in 1768, in present-day Chennai, for the Nawab of Arcot. This style was famous outside India as well, where architects mixed Islamic and European architectural styles. The style was transferred to Malaysia, Sri Lanka, as well as the United Kingdom majorly for big houses.
Features of Indo-Saracenic Architecture
The basic layout was almost the same as other revivalist styles such as Gothic revival and Neo-Classical architecture. Most important elements of Indo-Saracenic architecture include onion domes, chajja, overhanging eaves, pointed arches, cusped arches, or scalloped arches, horseshoe arches, contrasting colors, especially red and white, curved roofs in Bengali styles, domed chhatri kiosks on the roofline, domed chhatri kiosks, pinnacles, towers or minarets, open pavilions, jalis, jhakora styled windows, lawns, etc. The typical material of construction for building design was stone, at least for the facade. Along with this, the groundwork of iron, steel, poured concrete, and later reinforced concrete with pre-cast concrete.
The cost of construction for this structure, including customization, ornamentation, decoration, stone and wood carving, and usual accessibility to mandatory raw materials was quite high, which is why this style was only used for building designs of a larger scale. Although, occasionally constructed residential structures, either entirely or partly in this style, have grown in value by regional and foreign inhabitants because of the increased aesthetic and heritage value of those structures today.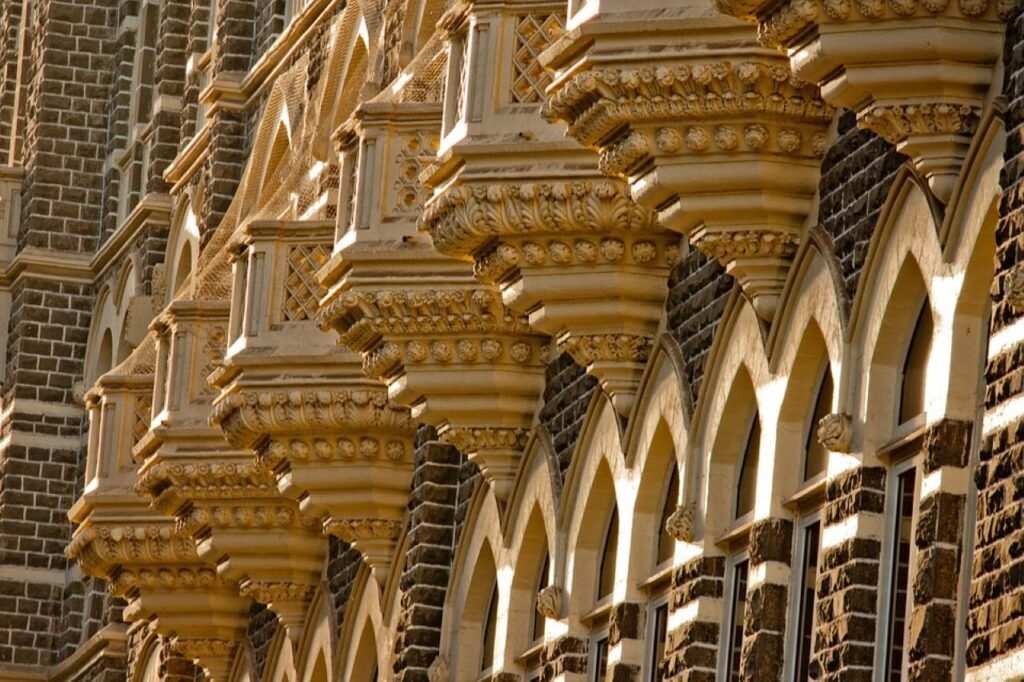 Contemporary Architecture
Modern style architecture can be seen in the suburbs of Mumbai with high-rise buildings and glass facades. Several contemporary high-rise office buildings with glass facades can be seen in the suburbs. Mumbai is said to have the largest number of skyscrapers in India. MMRDA (Mumbai Metropolitan Region Development Authority) was formed by the Government of Maharashtra in 1974 for the planning and up-gradation of city suburbs.
Since then, a grading system has been adopted by the authorities in Mumbai to classify structures as per worth. In this system, buildings that are well-known landmarks of national importance are under Heritage Grade I. Buildings of regional and Urban importance are reserved in Heritage Grade II and Heritage Grade III, respectively. After the requirement of Gothic architecture for constructing public halls, parliament houses, mansions, etc., architects from India combined it with Modern style architecture concerning people's needs and the climate of Mumbai. This style was later known as "Mumbai Gothic."