Definition and History
Victorian-style architecture in Great Britain and former British colonies was a type of house generally built during the reign of Queen Victoria. At the time of the Industrial Revolution, successive housing resulted in the building of tons of Victorian house designs that are now a defining feature of most British towns and cities.
Interestingly, many of the details that we now associate with this style are actually interpretations of older architectural movements featuring Medieval Gothic and Romanesque. Thanks to the size of the British Empire during that time, Victorian house design has an incredibly wide reach. It is widely populated across the UK, North America, New Zealand, and Australia.
Victorian house designs have managed to capture the hearts and minds of people for over two centuries now. There is so much to the design than those dollhouse-like exteriors. This architecture style includes multiple and distinct variations that all deserve a critical look. Also, as the name suggests, Victorians became popular among the upper-class White people during Queen Victoria's reign.
What makes a house Victorian Style?
As per the words of Thomas Jepsen from the design firm Passion Plans, "A Victorian Style house is something between a colourful dollhouse and a great English Remnant. While the style refers to a period of time in history, it is generally associated with certain characteristics.
Here are a few common characteristics of Victorian house architecture:
Exterior
Two to three stories
Steep, gabled roofs
Intricate woodwork
Towers and turrets
Rich colours
Interior
High ceilings and windows
Closed off rooms
Detailed trim
Ornamental architecture
Types of Victorian style houses
Italianate houses
Italianate homes were popularized first in the 1840s and lasted until the Civil war, drawing inspiration from 16th-century Italian villas. The main structures were often simple, rectangular-shaped houses with low sloping or sometimes flat roofs that protrude far out from exterior walls. The windows are usually tall and skinny often rounded at the top with trim. Some Italianate houses have square towers or cupolas that rise out of the centre of the house giving a Tucson villa vibe.
Italianate houses are mostly seen in the greatest number in North American cities that experienced exponential growth during the mid-19th century Cincinnati, Ohio, New Orleans, Garden District, and parts of San Francisco, Brooklyn, and New York.
Other characteristics are:
Wide eaves
Quoins chimneys
Single storey porch
Tall and narrow windows
Double doors with glass panels
Queen Anne houses
Queen Anne homes were popular in the US from the 1880s until sometime around the 1920s. This was theoretically a revival of the style du jour during the actual reign of Queen Anne which lasted from 1720 to 1714 but there is a very quiet resemblance in practice. The Queen Anne homes are quintessential Victorian homes having asymmetrical, two or three-storied tall, steeply high-pitched roofs.
They are often adorned with various wall textures and ornate trim which gives them a 'gingerbread' effect commonly associated with Victorian houses- typically painted in a variety of accent colours. Few of the Queen Anne homes have octagonal towers (topped with a round pointed roof) and ornate bay windows which makes them subtle in look and design.
Other characteristics are:
Gable ends
Towers with balconies
Bold exterior colours
Bay windows
Built from wood, stone and brick siding
Stained glass window
Decorative spindle work
Wide and spacious verandas
Gothic Revival houses
The Gothic Revival-style homes were first introduced in the 1880s. These homes are the classic representations of romantic and picturesque architectural elements that manifested in the US. The main properties of these structures were inspired by the medieval design of churches. Therefore, making the Victorian Gothic Revival style homes different from that of medieval architecture such as high pointed arches, biblical and heraldic emblems.
Other Characteristics include:
Steep, pitched roof with overhanging eaves.
Castle like turrets.
Slender columns and decorative posts
Unique modern trims
Pointed arches above windows with high dormers
Folk Victorian houses
The Folk Victorian house is the most common type of home found in the US. This gained popularity in the 19th century and was considered as a more affordable alternative to Queen Anne's style of design. The architects of Folk Victorian-style houses created a pimped-up version of a Victorian house by using cheaper materials in a relatively plain design and decorative trims for low-budget families, but with almost similar and prominent front-facing gable and steep under eaves.
Other characteristics include:
Decorative detailing on the porch
Ornamented gables
Symmetrical structure
Trimmed windows
Shingle style houses
The Shingle-style homes are basically known for their simplicity and make a popular choice for summer or weekend houses of the rich and famous. Shingle-styled houses are made up of clapboard or brick, despite their misleading name. These types of houses are characterised by their rustic appearance which was favoured by the working class. Used as a holiday cottage by the wealthy, these homes became popular in New England from 1831.
Other characteristics are:
Symmetrical exterior
Pitched roofs
Shingled roof and walls
Wide porches
Sash windows
Round towers
Octagon style houses
The octagon-styled houses were hugely popular from between 1850 to 1870 after its mention in Orson Squire Fowler's book called "The Octagon House: A House for All". This style of the Victorian house took its inspiration from the Gothic and Greek Revival times to create a unique approach to residential architecture by specializing in bright and airy spaces in affordable dwellings.
The Octagonal style house is the world's only 8-sided Victorian house design with the benefits of being a practical and energy-efficient property. This unique style has evolved over the past decade or so thanks to the new constructive innovations.
Other characteristics include:
Domed shape
Wide eaves
Low pitched roofs
Partially encircling or full porches
Second Empire style houses
The second Empire-style houses gained popularity between 1865 and 1880 in the late Victorian era. This originated first in France, with some of the most famous hotels featuring the same architectural elements as the Second Empire houses. The attic or the upper storey is usually light and airy with a high ceiling. The most stood-out, striking feature of a Second Empire house is its mansard roof, which is named after the 17th-century French architect, Francois Mansart. This type of roof is a 4-sided gambrel roof with two slopes on either side.
Other characteristics include:
Imposing tower
Side veranda
Balustrades
Diamond shaped dormers
Wrought iron railings in balcony
Bay window
Quoins chimneys
Stick style houses
The Stick-styled houses date back to 1860 and are widely characterized by their vertical, diagonal, or horizontal planks resembling Tudor-style buildings. This Victorian-style home has a more decorative aspect to it but with a simple design. Unlike other elaborate architectural designs of the Second Empire and Queen Anne styles, the Stick style home lacks the bay windows and decorative elements that are so characteristic of the Victorian era.
Other characteristics are:
Pitched gable roof
Wooden exterior walls
Towers
Cross gables
Decorative trusses
Diagonal or curved braces
Wooden decorative trims
Richardsonian Romanesque style houses
The Richard Romanesque style is the most dramatic of all architectural styles in the Victorian era (1838). This Victorian-style architecture was named after the architect, Henry Richardson. It didn't take long before becoming popular all thanks to Medieval Spanish and Italian Romanesque elements that blended with modern materials and features.
A typical feature of this type of house included circular arches above the porch supports and windows. These round arches were often set on huge pillars that were built directly into the wall.
Other characteristics are:
Round masonry arches
Recessed entrances
Heavy stone materials
Square and cylindrical shaped towers
Eastlake style houses
By the end of the 19th century, a new movement in the US transformed the interior and exterior designs of properties. This movement was inspired by the British architect, Charles Eastlake, who convinced homeowners to replace their heavy furnishings with attractive pieces that were made by hand. This was termed as a start of reform which subsequently was followed by a simple layout.
The Eastlake style is mainly recognized by its Gothic design with decorative shingles and trusses on the gable end. These types of Victorian houses often feature overhanging, second storey porches as their design feature. It also boasts paneled brick chimneys inspired by the Queen Anne period.
Other characteristics are:
Carved panels
Perforated pediments
Lattice work on porch eaves
Interlaced wood strips
Mansard porches with iron cresting
The two architecture styles Grant noted to be most famous of the Victorian period- Italianate and Queen Anne are technically revivals of earlier architecture styles. Although both took on lives of their own and were often exuberantly decorative without much concern for historical accuracy according to Grant. Each has distinct features but what they have in common is an emphasis on vertical elements i.e. homes often stood at two or three stories with tall windows and porches and detailed ornamentations on the top.
Building Materials
The most common building material during the Victorian era were the ones that were local to the area. The buildings of the local material are sometimes called of Vernacular style. The known Cotswold villages were made of white Jurassic limestone, central England had buildings of red sandstone, Cornwall towns in the south and Aberdeen in the north were built of local granites, and places like Norwich, which had no local hard stone, was faced with flints.
Victorian architecture was constructed with brick, local stone, and mortar, as these were the primary building materials and were an integral part of the construction. The roofing was typically composed of multiple layers of coal and tar over tongue and groove planking. The Victorian houses were usually made of wood or stone as they were quite large and imposing.
Stone
The number of full-blown Gothic stone mansions was never too large. Most early homes, especially in England, were built of stones and enhanced decorative stone tracery. Only the wealthy were able to afford such homes which required labours of highly skilled stone carvers. The over-priced Gothic style was eventually made into wood and lots of 'Carpenter Gothic' houses still stand even today.
With the innovation of new manufacturing processes and emerging of railways, the previously locally produced building materials were instantly available all over the city. Henceforth, all houses started being made from bricks from Bedfordshire and slate from North Wales instead of being made off the local stone, time, and straw.
Limestone
The Portland Limestone was the most common white stone used across England for public buildings, for example, the Whitehall. Equally popular was also the Bath Stone, orangish sandstone of great value and beauty. Permian sandstone, reddish coloured sandstone, often weathered to give a deep pitted and honeycombed appearance such as the walls of embankments on seaside towns.
Victorian Bricks
A renaissance of brick was seen in the Victorian era. The local brick-making material for London was the London Clay, which were yellow and greenish-yellow in shade. Older, more hand-pressed bricks were often irregular in shape and had lines, squeeze-marks known as Stock Bricks. The Oxford Clay Bricks, plain red of most modern brick, dominated and ruled.
The railways used fired Black brick. Minton's perfected the encaustic tile (the colour in the material of the tile rather than just on the surface of it) and thereafter tile-covered buildings such as public houses became common with a flourishing of nouveau decors after the century.
Victorian houses in different countries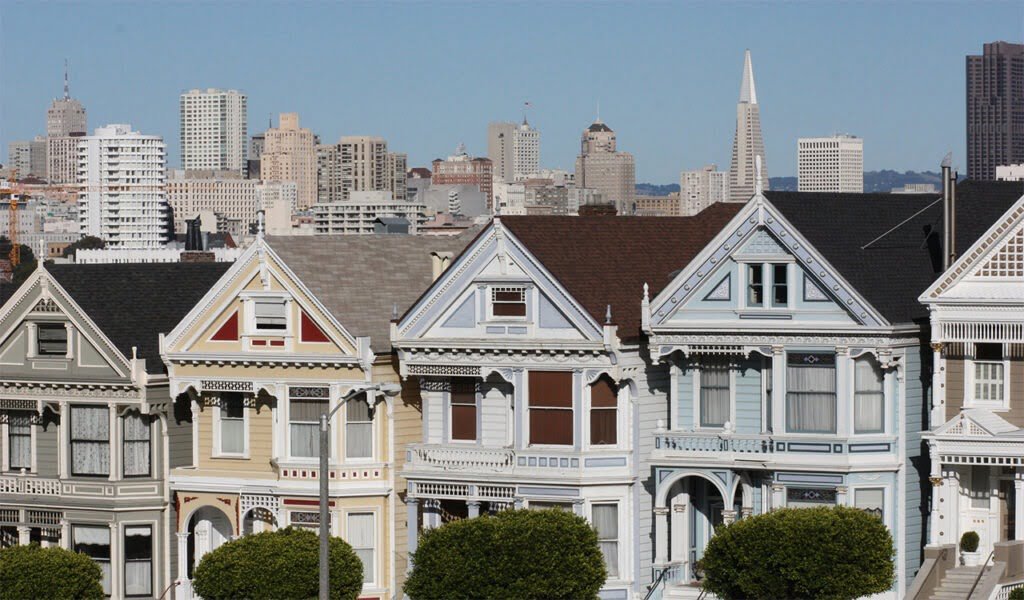 United Kingdom
In the UK, Victorian houses follow a wide range of architectural styles. The houses in the 1840s were influenced by classicism of Regency styles, the Italianate style, and the Gothic Revival style in the 1880s. The simplicity of Regency classicism fell out of flavor as the Italianate style influenced the domestic architecture which is now incorporated by varying's of Stucco. The additional general features/influences brought out a progressive change in style that resulted from several other factors.
The abolition of tax on bricks in the 1850s made these items cheaper yet a suitable material. The emerging railways allowed them to be manufactured elsewhere at a lower price and to standard sizes and methods. There was also a progressive introduction from the 1850s to building regulations.
In deprived areas, Victorian houses were often very small. Victorian houses for the middle classes and upwards tended to accommodation for servants. And for the middle and upper classes, it aspired to follow the purest forms of contemporary architecture.
North America
Victorian houses in east American cities were three stories and those in western American cities were two stories. One feature that became hugely popular in the Victorian era was the use of wooden gingerbread trims to create ornate embellishments to decorate their homes. The Victorian-era residential architecture in America and Canada was a procession of styles borrowed from different countries and historical sites.
Few examples of this style are:
Carson Mansion, California
John B Kane Residence, Los Angeles
Alamo Square, San Francisco
Farnam Mansion, New York
Australia
The Victorian period in Australia lasted roughly from 1840 to 1890. There were 15 styles that predominated of which, 8 were used for homes.
Victorian Georgian
Victorian Regency
Free Gothic
Rustic Gothic
Free Classical
Filigree
Italianate
Tudor
Victorian house roofing materials
During the Victorian period, many different types of roofing materials were used. Some were more durable than others and some were less. Like wood shingles, modern enhancements made restoring a Victorian roof design possible without compromising longevity and protection.
There isn't a single, one-size-fits-all ruffing material foot these types of houses but using the current roof as a guide, can be the best indicator of what materials to use. Slate tiles, Asphalt, wood, and clay tiles are mostly used as roofing materials
Slate tiles
Slate tiles began to rise in popularity during the end of the Victorian period. These are extremely durable, resistant to fire, and environmentally beneficial. They also last much longer than some other roofing materials, but these added benefits also come at a cost.
Asphalt
While asphalt roofs weren't used during the Victorian period, they can be made to resemble Victorian-style roofing, such as wood shakes or slate. Asphalt shingles can also come in varying shapes and sizes for added Victorian appeal and durability.
Wood
Wood roofing was used primarily for early Victorian houses. Wood is cost-effective and visually appealing, but it is not a long-lasting material. This is because wood is susceptible to rot, insect problems, and damage.
Clay Tiles
Clay tiles were also used as roofing materials in the early Victorian houses. Clay roofing is durable and long-lasting, but it's important to match clay tiles with the Victorian period.
Evolution of Victorian houses
During the Victorian era, architecture saw rapid changes. A variety of Victorian styles emerged, each with its own distinctive features and personalities. The most popular Victorian style spread quickly through vast published pattern books. Builders often borrowed its characteristics from several styles, creating unique and sometimes quirky mixes.
In the 20th century, despite having the availability of these new products, several working populations in the countryside lived in tiny cottages, hovels, and shacks. In towns, people lived in back-to-back houses called terrace houses. Innovation in building techniques and mass-produced building materials that could be transported by rail saved builders time and helped them lead a housing boom during the 1850s and 1870s that witnessed millions of Victorian constructions.
While the Victorian era officially ended in the 1920s, its accompanying architecture styles stuck around for another decade or so until the colonial movement surpassed them in popularity. Victorian homes became disliked in the following decades. As Grant said, "There was a time when the Victorian house was considered an unwelcomed presence in many neighborhoods. Indeed, it became a stereotype for the 'haunted house'".